Kia Carens 1.7 CRDi 2 Eco roadtest review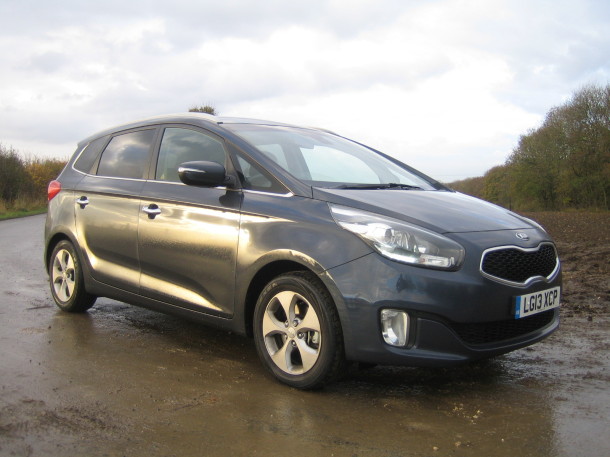 ROAD TEST REPORT AND REVIEW: Kia Carens 1.7 CRDi 2 Eco – We drive the car which completes Kia's design revolution but, DAVID HOOPER asks if it's a case of form over function?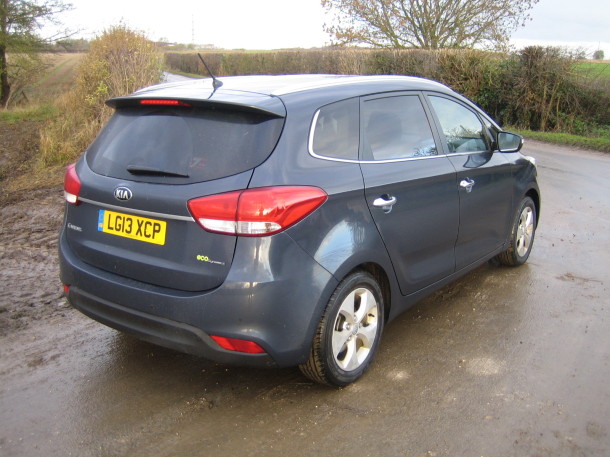 THIS is the third generation of Kia's increasingly popular Carens range and is the model the Korean manufacturer claims has completed its design revolution.
Led by Chief Design Officer – and now company president – Peter Schreyer, the Kia brand has been transformed in the last five years and now offers some truly exciting and eye-catching models, combined with equally inspiring names, like Soul and Venga . . . and cee'd!
Unusually, while most new models get bigger and bigger, the new Carens is 20mm shorter, 15mm narrower and 45mm lower than its predecessor, yet can still accommodate up to seven people.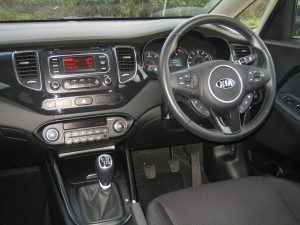 The Kia Carens range comprises four trim levels following Kia's simple numbering system, 1, 2 and 3, and 3 Sat Nav and three engine choices, either a 1.6-litre petrol engine with 133bhp, or a 1.7-litre diesel engine, which comes with a choice of 114 or 134bhp power outputs.
Our test car features the mid-range 2 specification and comes with most of the things owners will need, with the exception of a sat-nav system which is the most notable omission at this level, but comes as standard on the higher 3 Sat Nav specification.
A trip computer, CD player, electric windows and mirrors, Bluetooth telephone connectivity, which also gives you the ability to stream music from your MP3 player or phone, automatic air conditioning, cruise control and parking sensors are all on the standard kit list and make the Carens a comfortable car to live with – that is, once you've got the hang of what the 15 buttons on the steering wheel all do!
The interior is well designed, and parents will appreciate the drop down wide-angle mirror which allows you to keep an eye on the hordes of youngsters the rear of the car can accommodate if all the seats are occupied.
The Carens will seat up to seven people on individual seats, with the rear-most ones being a little on the small side for anyone beyond their early teens, unless it's for a short distance. During my test, they spent most of their time folded into the floor, which gives a spacious, flat load area for carrying your luggage.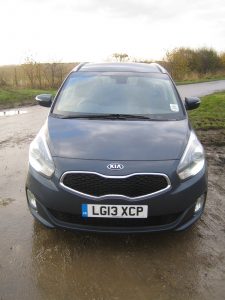 The middle row of seats can be individually adjusted, or folded flat to extend the load space, so you won't be stuck for options, whether it's people or cargo you need to move. The front passenger seat will also fold flat.
There are ample storage bins around the cabin and the door pockets are a good size – always a bonus for busy families on the move. Middle row passengers also get aircraft-style trays and storage nets on the back of the front pair of seats.
The 114bhp 1.7-litre diesel engine is a willing and smooth engine, which runs quietly once on the move. During my test of around 350 miles, it returned 49.7mpg over a mix of driving conditions and roads. The Intelligent Stop & Go stop/start system worked faultlessly in traffic, restarting the car promptly in traffic jams, and the timer, which relates how long the engine is off for at the traffic lights, made interesting reading, although it would have been even more interesting had it totted up the total time the engine had been turned off for between trip meter resets as well. That said, it regularly got to 45 or 50 seconds at some lengthy traffic light stops, so during an average week in busy traffic, that could add up to several minutes-worth of fuel saved.
On the road, the Caren's perimeters are easy to judge, but the steering has three settings, Comfort, Normal and Sport. I found the first two a bit on the vague side and opted for the Sport setting to provide the level of feel I prefer, even when I was driving at a very leisurely pace.
Prices for the Carens range from £17,895 to £23,895 and with the reassurance of a seven-year warranty, I doubt many owners will lose sleep wondering if they've got good value for money in their new Kia.
Rating: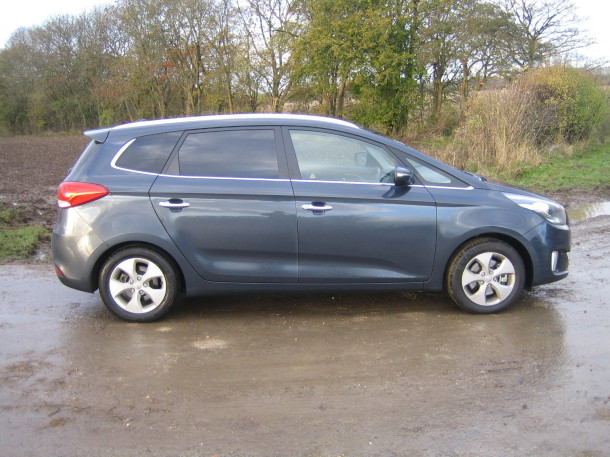 THE VITAL STATISTICS
MODEL: Kia Carens 1.7 CRDi 2 Eco.
KIA CARENS RANGE: From 1 1.6 GDi ISG 5d (£17,895) to 3 1.7 CRDi ISG 5dr (£23,895).
ENGINE: 1685cc, 114bhp four-cylinder diesel engine, driving front wheels through 6-speed manual gearbox.
PERFORMANCE: Top speed 112mph. 0-62mph in 12.6 secs.
ECONOMY: City: 48.7mpg.
Country: 68.9mpg.
Combined: 60.1mpg.
Fuel tank: 58 litres.
CO2 EMISSIONS: 124g/km.
INSURANCE: Group 12.
PRICE: £20,595.
WARRANTY: Seven years/100,000 miles.
WEBSITE: www.kia.co.uk
• All data correct at time of publication.