Nissan Juke Nismo road test review – 200bhp + 2WD = ?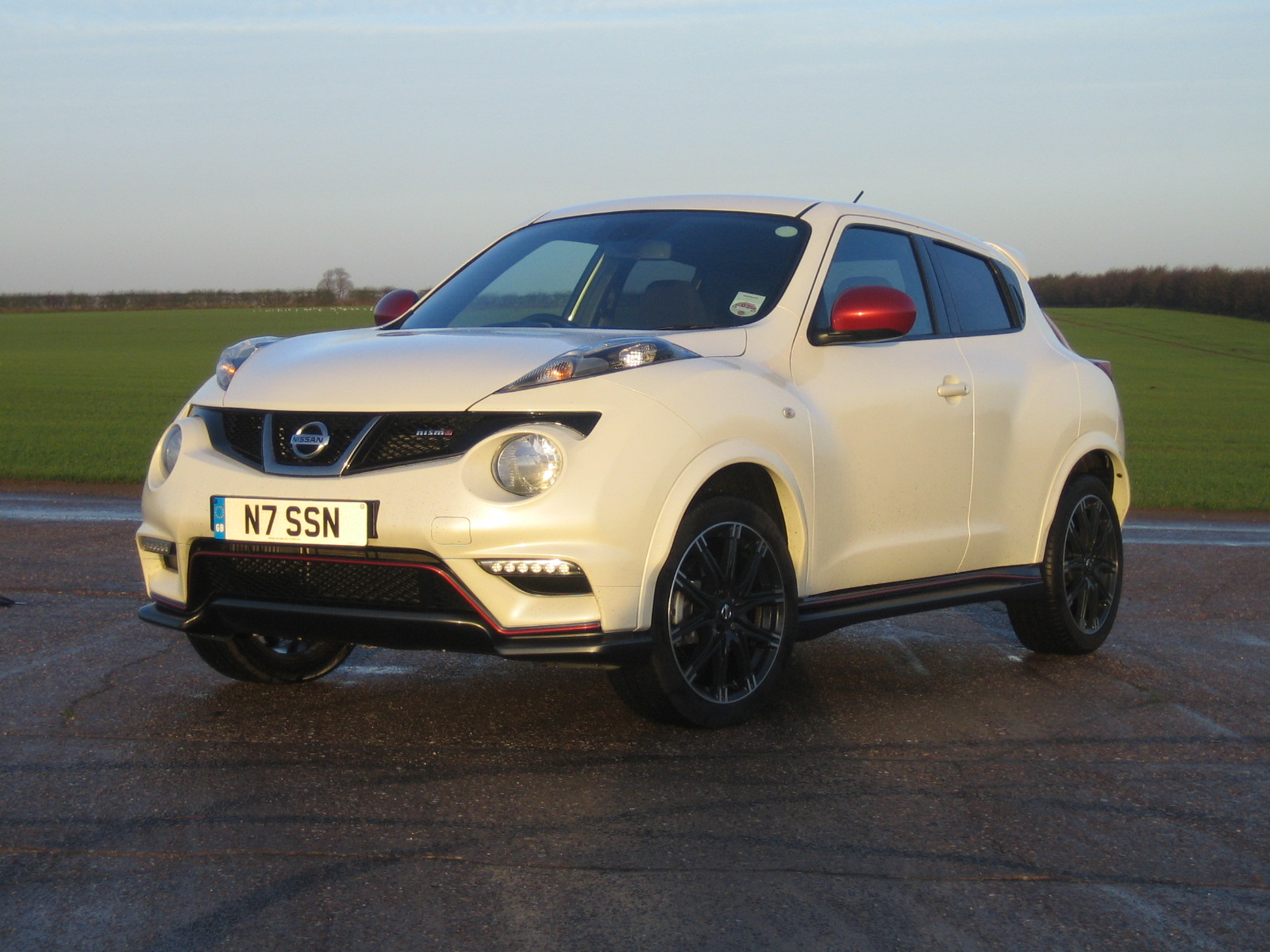 Nissan Juke Nismo road test review – 200bhp + 2WD = ? – A bit of a Marmite car the Nissan Juke may be – but I like it! So does its high stance and 200bhp in the Nismo version work well? DAVID HOOPER puts one to the test to find out.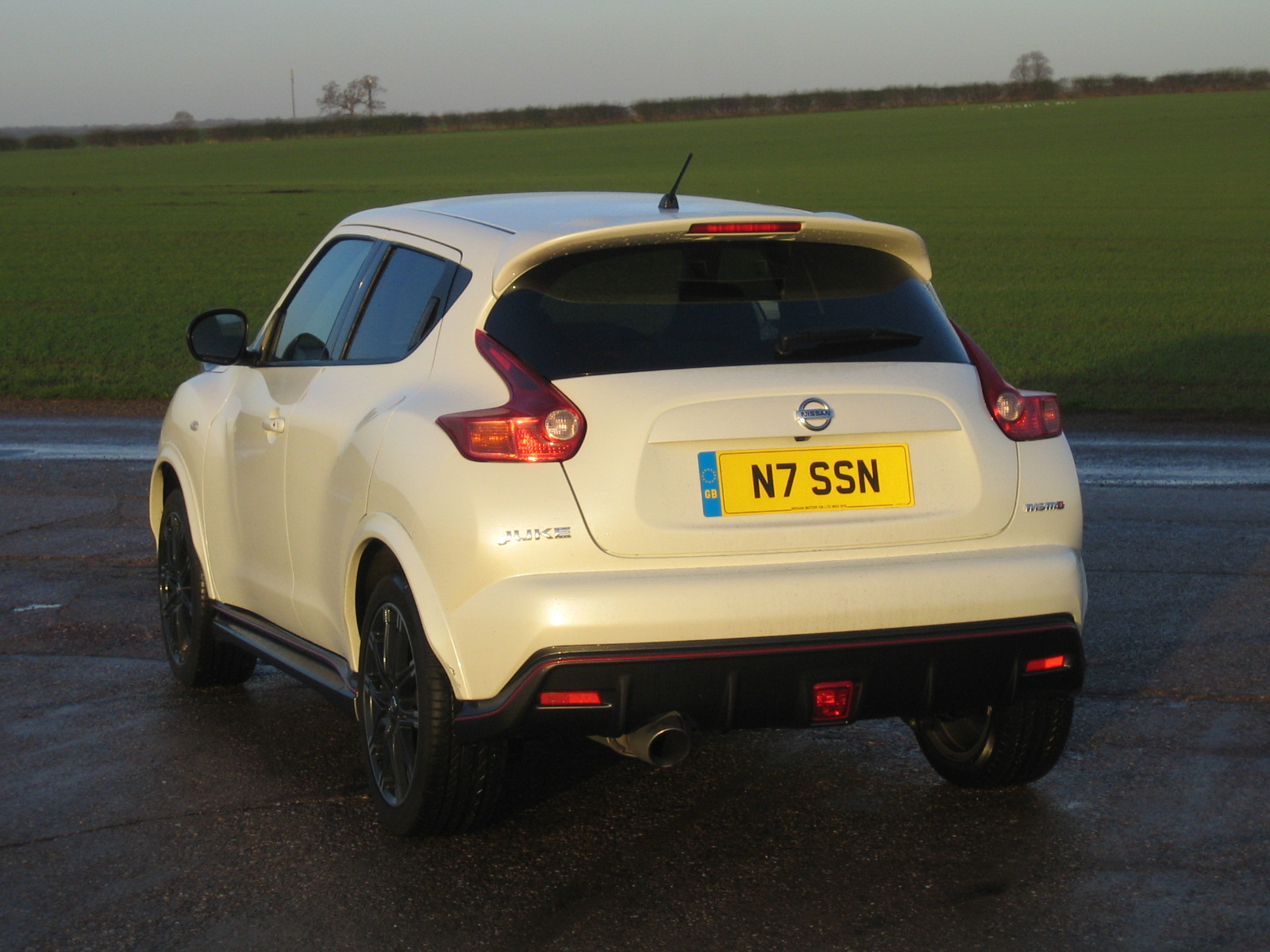 FOR many, the Nissan Juke is a bit of a Marmite car, you either love it or you hate it. I'm in the former camp and think it's slightly bug-eyed appearance is actually quite endearing in a quirky kind of way. It was also a fascinating treat a couple of years ago to visit the factory where the car is built in Sunderland, which left me with a strong affinity with the Juke.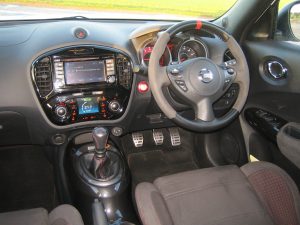 It actually looks bigger than it is thanks to its lofty structure, but internally, the proportions are on the compact side – think Fiesta. The boot is also quite small and rear legroom isn't overly generous either.
In this sporty Nismo guise, with its smart alloys, red stripe around its flanks, and assorted spoilers, the car definitely looks the part, with the "look" being finished off with Nismo badges inside and out.
Inside the dash is suitably sporty, with a Start button to strike up the engine, keyless entry and a steering wheel with a red stripe at the top of it, a nod to race and rally cars so that the driver always knows which way the front wheels are pointing, even when the car is sideways.
I also like the way the heater controls change to the D-Sport display at the push of a button, with even the labels on the switches subtly changing. The driver can then choose from Normal, Eco or Sport settings, depending on their mood.
Drive it gently in the Eco setting and the car during my test returned around 36mpg, averaging 34.1mpg overall, but select the Sport mode and that figure will drop.
It's 1.6-litre engine is heavily turbo-charged and create a generous 200bhp. The Juke can be quite quick through the gears in a straight line and feels quicker than its 0-62mph time of 7.8 seconds would suggest, but its problem is actually getting the power down.
Its combination of a raised ride height and stiff damper settings mean that if you deploy much more than half throttle on anything but a bone dry surface, the front wheels start scrabbling for grip and the front wheels are affected by the road camber and pull in different directions as the grip changes.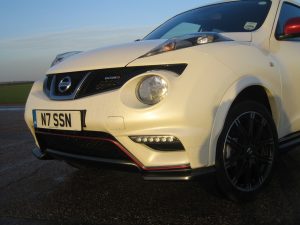 This problem persisted in second and third gears when driven enthusiastically, and even accelerating out of fairly gently bends on A roads in second or third gear, led to the wheel with the least weight on it breaking traction and the orange traction control light flashing on the dash.
Similar problems were revealed when braking firmly too, with the ABS, which is actually quite subtle on this car, working far more frequently than I would like, although there were no issues with body control.
In my view, the Juke Nismo is flawed as a performance car because it is simply too tall to have 200bhp coursing through its drivetrain. There is a reason racing cars are low-slung!
The model  below, the 1.6 DiG-T Tekna comes with a four-wheel-drive system and a CVT gearbox, and the range-topping four-wheel-drive version of the Nismo, at £22,700, also has a CVT gearbox, but there's no manual option, which in my book is a shame. I think if Nissan were to offer the manual gearbox with the four-wheel-drive, it would be more appealing to the enthusiasts and make a more driveable performance car.
However, if you like its looks and want something which is pretty quick in a straight line, perhaps the Juke Nismo is for you – it certainly turned a few heads during my time with the car, and despite my criticisms of it, it did put a smile on my face – if only for its unruly schoolboy-like road manners.
Rating: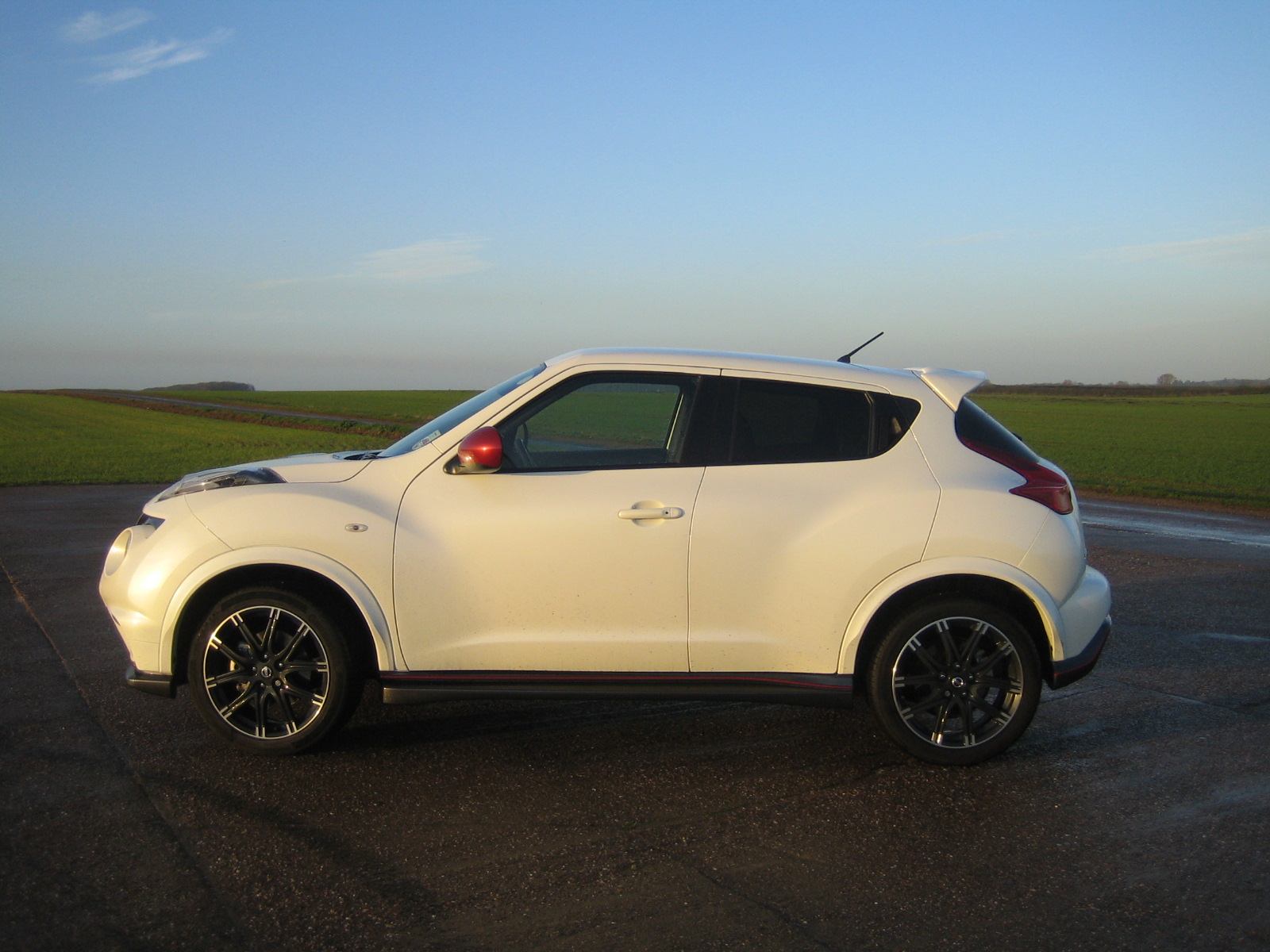 THE VITAL STATISTICS
MODEL: Nissan Juke Nismo.
NISSAN JUKE RANGE RANGE: From 1.6 94 Visia 5dr (£12,995) to 1.6 Turbo Nismo 4WD CVT 5dr (£22,600).
ENGINE: 1,618cc, 200bhp four-cylinder petrol engine, driving front wheels through a 6-speed manual gearbox.
PERFORMANCE: Top speed 134mph. 0-62mph in 7.8 secs.
ECONOMY: City: 31mpg.
Country: 50.4mpg.
Combined: 40.9mpg.
Fuel tank: 46 litres.
CO2 EMISSIONS: 159g/km.
PRICE: £21,095.
WARRANTY: 3 years/60,000 miles.
WEBSITE: www.nissan.co.uk
• All data correct at time of publication.