Toyota Yaris 1.33 VVT-i Icon 5-door road test report and review Red Nose Day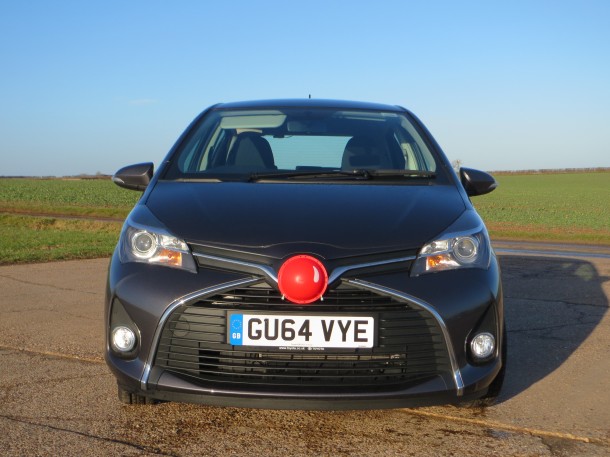 Toyota Yaris 1.33 VVT-i Icon 5-door road test report and review Red Nose Day: Find out why this week's test car turned up sporting a Big Red Nose Day mascot on its grille – DAVID HOOPER reveals all.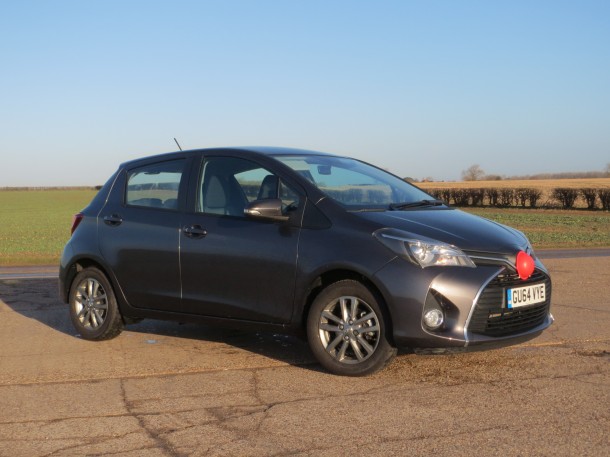 IT'S not every day that your test car turns up sporting a big red nose, but that was precisely what happened with this week's Toyota Yaris test car.
A bit of a surprise, maybe, but it did make me smile – and there's a good reason for it. Toyota is an official partner to this year's Red Nose Day and is aiming to raise £1-million for Comic Relief and part of their campaign is to sell as many of the official red noses for cars, trucks, vans and even mobility scooters as they possibly can.
All I had to do was keep the red nose on the front of the car to put the campaign in the frame on my pictures, which of course, I was happy to do. If you would like a big red nose for your vehicle, they are available at Toyota dealerships and on-line at the official Toyota UK eBay store at £5 a pop, so just go on line at stores.ebay.co.uk/ToyotaOfficialStore.
So that explains the red nose at the front, but what about the rest of the Yaris?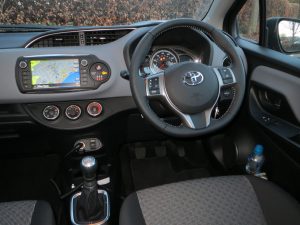 It's now a familiar shape, even in this latest guise with its dramatic front end – red nose or no nose, but the interior of the Yaris is no laughing matter and looks quite plain. I think it looks a bit old-fashioned compared to some of its latest rivals, like the Peugeot 208, for example. You can see what Toyota has tried to do, the dashboard top is black, with the main contrasting colour on our test car being a light grey, and there are a couple of odd ledges, one just above the glove box which would maybe hold a pen or two, but that's about all, and another which I put my mobile in – and that just about filled it.
The middle of the dashboard is dominated by a rectangular display screen which controls most of the main functions, radio, Bluetooth telephone, sat nav and so on, but the screen is dazzlingly reflective and is no laughing matter, to the point that I actually had to put my hand over it to shield my eyes, especially in the mornings during my daily commute, with the low early-morning sun behind the car and reflecting directly off the screen making it impossible to see any information on the display.
The rest of the instrumentation is clear and easy to read from the dials in front of the driver, and there are also two trip meters, average fuel consumption, current mpg and so on.
Switches on the steering wheel allow you to answer the telephone and adjust the radio, although only the front windows on this model were electrically operated – and I do wish the 12V socket was hidden away so you don't have to remove your phone charger every time you leave the car.
The boot is a reasonable size and the rear seats can be folded down to increase the car's carrying capacity in a 60/40 split when needed.
Our test car is powered by Toyota's 1.33-litre engine and mated to a five-speed manual gearbox. A gear-change indicator prompts the driver to change up or down the box at the appropriate time, which helps to attain good economy figures, with the Yaris returning an average of 44.7 during my few days with the car, but it didn't feature a Stop/Start system which is becoming increasingly standard on small city cars these days, which helps to keep the C02 emissions down and avoids wasting fuel in city traffic.
The car is easy to drive and to live with, and for a relatively small vehicle, boasts good road manners, cushioning bumps well and is able to easily pass itself off as one of its bigger sisters in terms of ride quality. It also has an impressively tight turning circle, which makes parking and manoeuvring simple, the reversing camera, which comes up on the monitor when reverse gear is selected, being a big help in squeezing into a tight spot.
So if you've got a nose for a reliable little city car, which is easy to live with and economical to run, the Yaris could be the car for you.
Rating: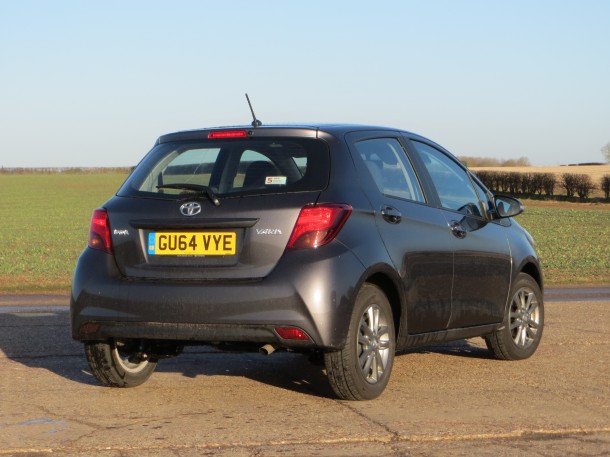 THE VITAL STATISTICS
MODEL: Toyota Yaris 1.33 VVT-i Icon 5-door.
TOYOTA YARIS RANGE: From 1.0 VVT-i Active (£10,995) to 1.33 VVT-i I Excel M-drive S (£16,695).
ENGINE: 1329cc, 99bhp four-cylinder petrol engine, driving front wheels through 5-speed manual gearbox.
PERFORMANCE: Top speed 109mph. 0-62mph in 11.7 secs.
ECONOMY: City: 43.5mpg.
Country: 65.7mpg.
Combined: 55.4mpg.
CO2 EMISSIONS: 114g/km.
FUEL TANK: 42 litres.
PRICE: £14,095.
WARRANTY: 5 years/100,000 miles.
WEBSITE: www.toyota.co.uk
• All data correct at time of publication.