Toyota Aygo 1.0 VVT-i x-cite road test report and review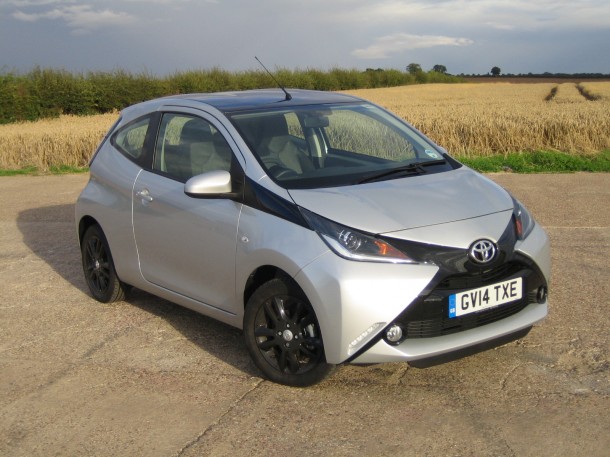 Toyota Aygo 1.0 VVT-i x-cite road test report and review:  The distinctive new Toyota Aygo 1.0 VVT-i looks fantastic, it's fun to drive, and as DAVID HOOPER found out, is impressively economical.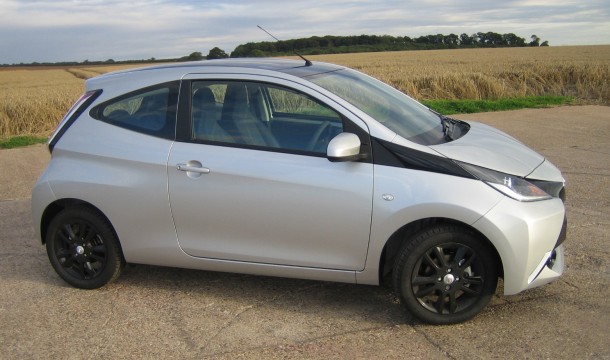 THE new Toyota Aygo has gone all trendy on us and this latest model is a striking little car, with its big black cross design on its face, and in the case of this week's test car, matching black alloy wheels and curvy black roof panel. The bright LED daytime running lights accentuate the low front skirt nicely, too.
The Toyota Aygo 's interior has had a good make-over as well, and now comes with a very modern touch screen sitting on top of the dash and dominating the central area. It controls your phone, music, radio and even portable tablets. It also doubles as a reversing camera to make parking easier, although to be honest, with such a tiny car, it's hardly an issue. There is an informative trip computer display which shows how economical the car is by way of a bar chart which moves along every minute or so as you drive.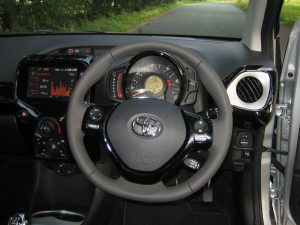 In front of the driver is a large speedometer with the car's trip computer sitting in the middle of it. On the left hand side is a digital rev counter, while on the right a gear change indicator, to help you make the most of the car's economical engine, but strangely for a city car, no Stop-Start system.
Equipment levels are reasonable – you get USB connectors and a 12V socket, electric windows and mirrors and even a speed limiter – although I have to confess it took me a minute or two to work out why the cruise control wouldn't set. I think it's the first time I've come across a car which only has a speed limiter and not a cruise control system as well.
There are seats for four people, so long as those in the back don't have very long legs, and a tiny boot which will take a few carrier bags of shopping. The rear seats can fold down to increase the boot space when only the front seats are needed, but then things would be on show in the back of the car.
Power comes from a trusty three-cylinder 1.0-litre 68bhp engine which makes a distinctive noise, common to most similar three-pots, regardless of which manufacturer makes them.
Being so small and underpowered, the engine has to be worked hard towards the upper end of the rev range to find much power, which in turn means it becomes quite noisy, but it can be quite fun when the mood takes you, and the car's ride and handling are well up to the job, cushioning the bumps well, yet turning in accurately and demonstrating compliant but assured body control through the twisties.
The five-speed gearbox is neat enough, but it has to be stirred fairly regularly to get the car moving with any kind of pace, but the Aygo is more about town driving than cross-country miles.
Here it is very much at home, nippy in the city, easy to park and economical to run, with no road tax to pay and good miles per gallon figures. The official combined figure is 65.7mpg, and during my test of around 250 miles, the car returned an average of 54.6mpg.
I liked the new Toyota Aygo, it looks brilliant, is fun to drive and easy to park. If you need a town or city car, and can live with its tiny boot, it's a great little runabout which is also capable of tackling longer journeys with relative ease.
Rating: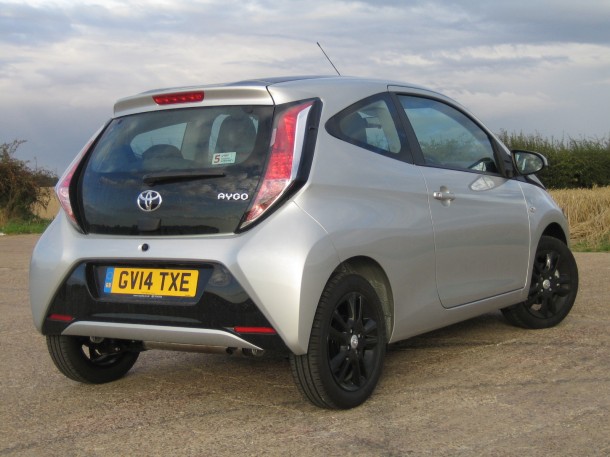 THE VITAL STATISTICS
MODEL: Toyota Aygo 1.0 VVT-i x-cite
TOYOTA AYGO RANGE: From Aygo 1.0 VVT-i x (£8,995) to 1.0 VVT-i x-pression x-shift (£12,095).
ENGINE: 998cc, 68bhp three-cylinder petrol engine, driving front wheels through 5-speed manual gearbox.
PERFORMANCE: Top speed 98mph. 0-62mph in 14.2 secs.
ECONOMY: City: 55.4mpg.
Country: 74.3mpg.
Combined: 65.7mpg.
Wheel World test average: 54.6mpg
CO2 EMISSIONS: 95g/km.
FUEL TANK: 35 litres.
INSURANCE: Group 3
PRICE: £11,195.
WARRANTY: 5 years/100,000 miles
WEBSITE: www.toyota.co.uk
• All data correct at time of publication.