Tonka toys for big boys – the Barbarian does the lot
 Mitsubishi L200 Double Cab 2.5 DI-D Barbarian road test and review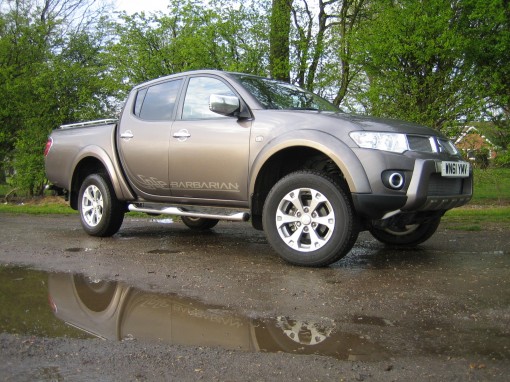 Like Tonka toys for grown-ups, Mitsubishi's Barbarian is big and brash, will go anywhere and do anything. Wheelworldreviews.co.uk editor DAVID HOOPER spent a week getting to know one.
PICK-UP trucks were once the exclusive steeds of tradesmen – but not any more! Today they have become something of a fashion statement, blinged up to their headlights with chromed shiny bits and bold graphics.
While many are still used as reliable workhorses, the rise of the "Lifestyle" sector has seen more and more of them find homes in private hands, rather than on the books of businesses, although being classed as a commercial vehicle does mean business owners can reclaim the VAT.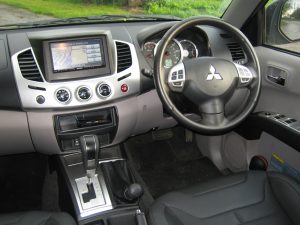 This rise in popularity has seen vehicles like Mitsubishi's L200 range take a sharp turn upmarket – where there was once vinyl seats, or hard-wearing cloth materials, there is now leather. Where once upon a time hairy builders covered in brick dust would stick their arms out of an open window, there is now air conditioning.
You get the picture.
The L200 is a big vehicle – so long it would only just fit on my drive, and I nearly stuck the towbar through my garage door on more than one occasion. It's strong too, capable of towing an impressive 2,700Kg.
The Barbarian model I've been testing is towards the top of the range, sitting just above the popular Warrior as part of Mitsubishi's "High Series". You can have one with either an open back, or various covers, like the one on my test truck which encloses the load bay and is hinged at the rear, opening on gas struts, or more substantial designs that make them look like estate cars on steroids.
You really can't miss the Barbarian graphics, but you also get 17in alloy wheels chrome trim everywhere, surrounding the rear lamps, door mirror casings and handles, a sporty front grille and a reversing camera, which proved very useful indeed as it was quite difficult to see, especially with passengers on board, where the back of the truck was.
The camera was integrated with the Kenwood hi-fi and sat nav system, which I didn't fin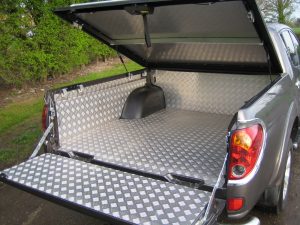 d the most intuitive system to use, and the writing on the buttons was so small it was almost impossible to see – especially when driving.
In the front, I found the seats quite comfortable, although my rear passengers were beginning to get restless after an hour or so on the road, mainly due to the more upright seating position provided in the rear cab, but at least they had comfortable leather seats upon which to perch.
Power comes from Mitsubishi's well-proven 2.5-litre DI-D DOHC diesel engine and a five-speed manual gearbox as standard, or a fully automatic INVECS-II option which was fitted to my test car. The engine in the Barbarian produces 175bhp and 258lb ft of torque. The vehicles are also equipped with a proper four-wheel-drive system with 2WD high, 4WD high and 4WD low ratios, plus a locking rear differential.
Once installed behind the wheel, the Barbarian proved to be as easy to drive as your average family car. Due to the height of the vehicle, the seats are set quite low, and you sit with your legs out in front of you, but it's not at all uncomfortable.
The power steering is low geared, which takes a little bit of getting used to. I found myself hav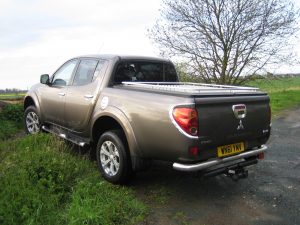 ing to increase the steering angle to make the Barbarian go where I intended it to, but this was just a case of getting used to a different vehicle.
The automatic gearbox was an unexpected bonus, and worked smoothly enough, although as with all automatics, was rarely in the right gear at the right time, especially when tackling bends and roundabouts, but taking charge of the gear changes myself by way of nudging the gear selector up or down, improved matters.
From June, Mitsubishi will be offering a "Black" version of the Barbarian, which as its name suggests will feature a black satin finish instead of chrome to the trimmings, as well as its side steps and rear bar. It will also have 17in black alloy wheels and a black leather interior.
For business users and families who like to get off the beaten track, the Barbarian fits the bill – just make sure it will fit on your drive before you buy one!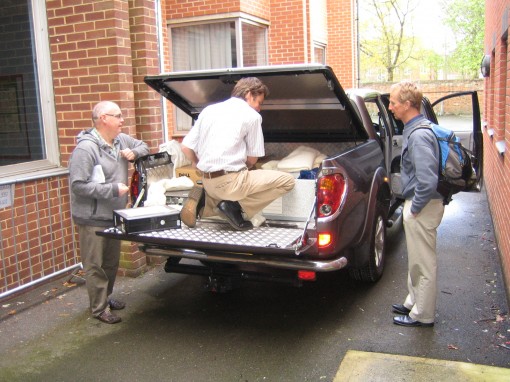 Rating:





THE VITAL STATISTICS
MODEL: Mitsubishi L200 Double Cab 2.5 DI-D Barbarian Auto.
MITSUBISHI L200 RANGE: From Club Cab 2.5 DI-D 4Work (£14,459 + VAT) to Double Cab 2.5 DI-D Walkinshaw Auto (£29,558 + VAT).
ENGINE: 2.5-litre, 175PS four-cylinder engine, driving four wheels through 5-speed automatic gearbox.
PERFORMANCE: Top speed 129 mph.
0-62mph in 9.7 secs.
ECONOMY: City: 26.6mpg.
Country: 35.8mpg.
Combined: 32.1mpg.
Fuel tank: 75 litres.
CO2 EMISSIONS: 233g/km.
INSURANCE: Group N/A.
PRICE: £24,299 + VAT.
WARRANTY: 3 years/100,000 miles.
WEBSITE: www.mitsubishi.co.uk
• All data correct at time of publication.