Mazda drives into future with Skyactiv technology
ROAD TEST REPORT AND REVIEW: Mazda CX-5 range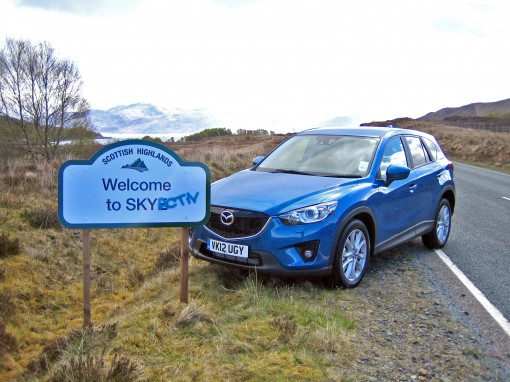 Mazda's Skyactiv technology not only heralds the CX-5 compact crossover, but a whole new philosophy. Wheelworldreviews editor DAVID HOOPER travels to Scotland to test drive the results of some Blue Sky thinking.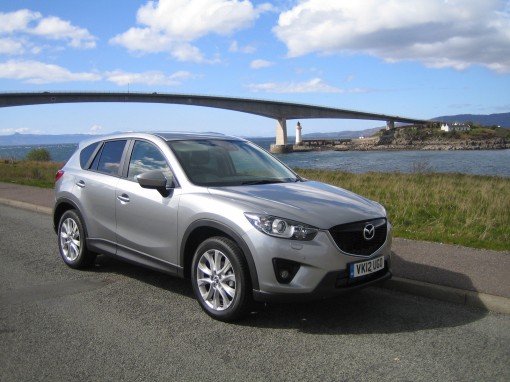 THE boffins at Mazda have been doing some "Blue Sky" thinking about the future direction of the brand and the result of their deliberations is what the Japanese company calls Skyactiv technology.
It all comes together in the brand new Mazda CX-5 compact crossover which has just gone on sale in the UK with an 18-model range – and I flew to the Isle of Skye to test drive the results. The CX-5, however, is far more significant than the sum of its parts and the company believes it marks another watershed moment for the brand to add to an already impressive list of firsts.
Mazda, for example, was the first to mass produce a rotary engine, the first manufacturer to win Le Mans with a rotary-engined car, and remains the only Japanese manufacturer to have won the French classic. It was also the first to produce a Millar Cycle engine and the first carmaker to develop a 1.8-litre V6.
While many manufacturers are throwing their resources at hybrid or all-electric vehicles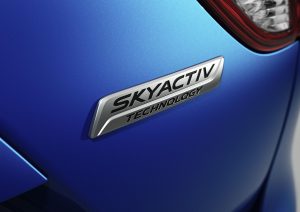 , Mazda has chosen a different path. The company believes the internal combustion engine will remain the automotive weapon of choice for years to come, with 90 per cent of everything on the road continuing to use it as a power source for the foreseeable future.
Although there are some interesting developments on the electric car front, Mazda believes that now is not the time for electric cars due to the limitations of battery life and the lack of infrastructure and claims that two-thirds of hybrid buyers would not buy another hybrid car. That said, to prove it can "do" electric cars, there is a Mazda2-based electric vehicle in Japan which can be leased by utility companies.
In view of the British Government's recent decision to reduce the tax and purchasing incentives it offers on hybrid and electric cars, a move which has quite literally put a spanner in the works for the companies making them, Mazda's decision appears to be an inspired one. At a stroke, hybrid and electric vehicles have suddenly become far less economically viable.
Mazda elected to focus on the internal combustion engine, but to radically improve it, making it as efficient as possible.
In the simplest terms, this has been achieved by creating a cavity in the top of the piston which has improved the combustion efficiency of the engines, improving mpg, reducing emissions by 15% and increasing torque by 15%. It has also reduced the compression ratio of the diesel engine which means it no longer needs a steel block, which brings further weight savings which in turn bring additional gains in fuel ef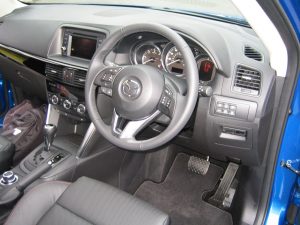 ficiency. In fact, the engines are 25% lighter and already meet the Euro 6 requirements. This means that you can have a Mazda CX-5 capable of 62.4mpg, with C02 emissions of 119g/km – only a few g/km higher than the best of the superminis, and far superior to its rivals, like the VW Tiguan or Ford Kuga, whose comparable models have C02 figures of 139g/km and 154g/km respectively.
All this means better BIK rates for company car drivers and lower running costs for fleet managers, so Mazda hopes to win more business in this crucial area, giving the company a much-need boost after a challenging couple of years caused by the tsunami, unfavourable exchange rates and a depressed British economy.
The Skyactiv banner, however, doesn't just relate to the engines – it applies to an entire philosophy encompassing the design of the car from the ground up. It focuses on the three key areas of car design – lightweight chassis technology, advanced engines and new six-speed manual and automatic gearboxes.
The CX-5 also debuts Mazda's latest Kodo design language, although much more of that will be seen on the forthcoming Mazda6 replacement which goes on sale next year.
Customers have the choice of two engines with three power outputs and either two or four-wheel-drive. First there's a 2.0-litre petrol engine with 165PS, or a 2.2-litre diesel engine with either 150 or 175PS. Add to the mix four trim levels, and manual or automatic gearboxes, and you have an 18-model range to choose from. Standard equipment levels are good and include 17in alloy wheels, dual-zone climate control, an integrated Bluetoot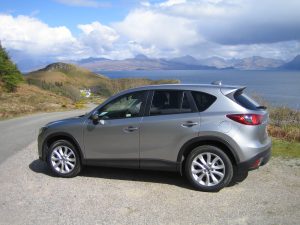 h system, cruise control and 5.8in colour display screen with Mazda's Multimedia Commander system. A user-friendly TomTom-based sat-nav system is also available.
The automatic gearbox is only offered on diesel models, as is the all-wheel-drive system.
Another interesting addition to the entire range is SCBS, or Smart City Brake Support, which will stop the car automatically if the system detects that you are about to run into the back of the car in front at speeds of up to 19mph.
I drove the two and four-wheel-drive versions of the 2.2-litre-engined car featuring the top trim levels, with both the manual and automatic gearboxes.
Both gearboxes are worthy of praise. Mazda has tried to make the manual feel more like that of the acclaimed MX-5's, with slick changes and a short, sporty travel, making it more fun to drive – and it's worked, but my biggest praise is reserved for the new automatic. I'm not usually a fan of autos, but this one works very well. The changes are responsive and well timed, and in manual mode, the shift positions are as they should be, pushing the lever away from you to change down and towards you to change up – something most manufacturers seem incapable of getting right!
The interiors were all quite dark, with black dashboards, black leather seats and piano black trim, but did look classy in a restrained sort of way and felt well put-together. I liked the touch-screen sat nav system which was easy to use.
The driving position is good and with the semi-high sitting position which has become so popular these days, I enjoyed stunning views of Scotland's beautiful West Coast, crossing the recently installed road br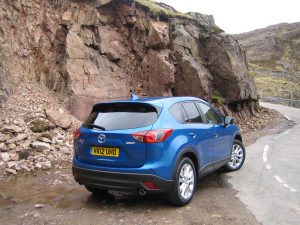 idge to the Isle of Skye, where what appeared to be a vandalised sign caused a bit of controversy on Twitter! In fact, it was a plant by Mazda, but don't tell anyone!
With good road manners, Mazda's new CX-5 lived up to expectations, even on what were at times quite poor road surfaces. The steering felt sharp and communicative, but there was some road noise at times from the Scottish roads.
There is room for five, with space in the back to put your feet under the front seats, which is good, and when not in use, the impressive boot space can be enlarged further by pulling levers on either side of the boot to make the Karikuri seats fold themselves down flat.
We tested the car's handling by dodging various obstacles on our route, ranging from fallen rocks, to sheep, or even larger obstructions – like large woolly cows with big horns playing at chicanes on single track roads, which looked more than capable of puncturing the bodywork had we got too close to the cattle shepherding young calves, but fortunately we managed not to upset them, thanks to our quiet diesel engines.
As a brand, Mazda has been fairly quiet in the last year or two, but the launch of Skyactiv technology and the new CX-5 heralds something of a new beginning for the company with a proud motorsport heritage and loyal customer base, so watch this space, there's plenty more coming soon.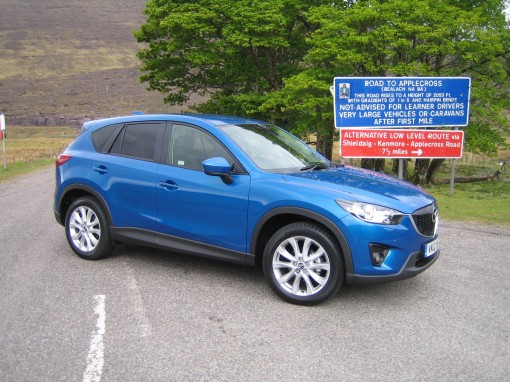 Rating:





THE VITAL STATISTICS
MODEL: MAZDA CX-5 range
BODY STYLE: 5-door hatchback
ENGINES: 2.0-litre petrol with 165PS, or a 2.2-litre diesel with either 150 or 175PS.
TRIM GRADES: SE-L, SE-L Nav, Sport and Sport Nav
PRICES: From £21,395 to £28,795
IN THE SHOWROOM: Now
WEBSITE: www.mazda.co.uk
• All data correct at time of publishing.
CLICK HERE and "Like" our Facebook page for regular updates and follow us on Twitter