To Binbrook and back on an electric Batribike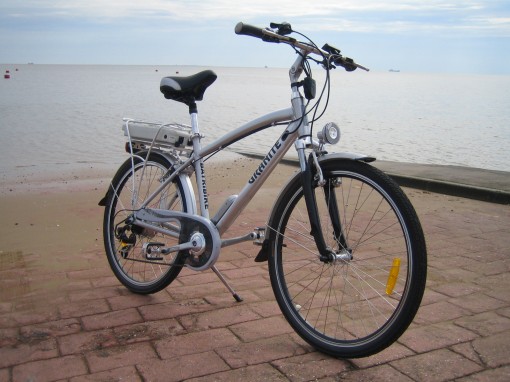 Fully charged and raring to go, DAVID HOOPER takes a battery-powered pedal cycle for a spin on the Lincolnshire Wolds.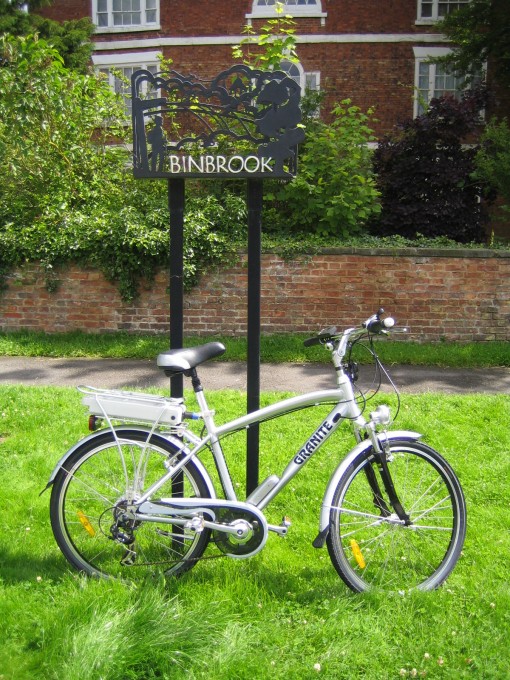 BRADLEY Wiggins may have just made history by winning the Tour de France in some style, but for most of us mere mortals, sipping champagne on the Champs Elysees will remain the stuff of dreams.
For many normal cyclists, the daily routine is more about commuting to work, or enjoying a bit of gentle exercise at the weekends, rather than racing up French Cols, and instead of proudly wearing yellow jerseys, we are more likely to be seen in yellow raincoats – especially this summer!
Cycling to work is great exercise, but arriving all sweaty isn't always ideal, and no matter h
ow much you might like a ride in the countryside, some people just aren't fit enough to pedal a long way, but now, thanks to modern technology, help is at hand.
Electric bikes are a great way of getting around on two wheels and don't need nearly as much effort from the rider as a conventionally powered pedal cycle, as I found out when I put one to the test last weekend.
GP Wheels, on Brighowgate, Grimsby, has a selection of Batribike Electric Bicycles on offer. Made in China and imported by a family-run Lincolnshire company specifically for the British market, they come in various sizes – there are even two folding models – and they can all be ridden by anyone who can ride an ordinary push bike – no special licences are needed.
The 36V lithium battery sits over the back wheel, under a luggage rack and is wired up to a 250 Watt electric motor which forms the hub of the rear wheel.
All the bikes use high quality components, are manufactured to a high standard and are as easy to ride as any normal cycle, thanks in part to their 7-speed Shimano gears. I borrowed the Granite model for the weekend, and as the sun was shining for once, decided to put it to the test on the Lincolnshire Wolds to see how it coped with some hills.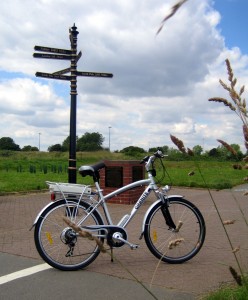 The electric motor will power the bike on its own, but you will only get around 24 miles out of the battery before it needs to be recharged – fine if you're just commuting to the shops, or to work, but if you want to go a bit further, you'll have to do a pit of pedalling yourself. Do that, and you have a range of up to 60 miles.
I headed for the Wolds with a twist of the "throttle", pedalling gently, but letting the electric motor do most of the work. It's great fun to ride and with a fully-charged battery, I was soon whizzing along at around 18 to 19mph, according to its trip computer, although officially, it has top speed of 15mph. Under my own steam, on a mountain bike, I usually travel at around 11 or 12mph and on my road bike, because it is lighter, around 15-16mph, so the Batribike is definitely quicker and needs much less effort, especially in a head-wind.
There are six levels of assistance, an automatic mode and even a launch mode, which can be selected at the press of a button on the little control panel mounted on the handlebars, which also shows your speed, and how much battery power you have left.
As the hills became steeper, I needed to put some more effort into pedalling, but with the seven-speed gears and a powerful electric motor to assist, the hills were surprisingly easy to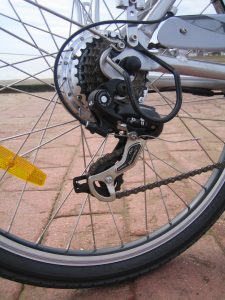 cope with and I arrived in Binbrook far less sticky and tired than I expected to.
The return trip was just as enjoyable and the bike was surprisingly comfortable to ride, thanks to a large padded saddle, Redbat suspension forks on the front and powerful brakes. LED Lights are also  included, but interestingly, these have their own batteries.
I made it home with enough juice left for a trip to Cleethorpes and a stop at the Greenwich Meridian Line, before the battery needed recharging, which takes around six hours and costs between 5p and 20p, depending on your electricity tarriff.
Talking about the Batribike range, GP Wheels owner Mr Petch said: "I think they are great and a good alternative to scooters. They are marketed by a local company and are good quality products made to a high standard, but perhaps the biggest attraction is that you don't need petrol, road tax, insurance, or special motorcycling gear, so Batribikes are a very cost effective way of getting around".
The Batribike Electric Bicycle range starts from £749, while the Granite model I tested costs £949, including the charger. It may sound a lot, but a fairly average mountain or road bike can cost at least as much these days and you can easily spend two or three times that amount, as a quick look around any bike shop will reveal.
For more information on the Batribike range, or to arrange a test ride, call the friendly team at GP Wheels on (01472) 354402.
Rating: