Go on, ask him what his favourite car is . . .
ROAD TEST REPORT AND REVIEW: Kia Sportage 2.0 CRDi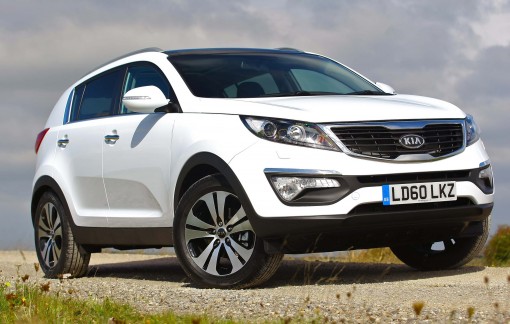 Ask motoring journalist IAN LAMMING what his favourite car is – and his answer may just surprise you!
IT'S the question people always ask me? What's your favourite car? And the answer never fails to surprise them.
After 21 years in the game, badges mean very little, neither does performance, cost or image. A good car has to be so much more than that and many fall short of the mark despite gargantuan price tags.
To become a favourite, the test vehicle must feel right; it's difficult to describe and it has nothing to do with the spec sheet.
So the answer to this question at the moment is the Kia Sportage – it's just great. If it is amazing in 1.7 litre 2WD form then it is absolutely incredible with the 2.0 diesel and 4WD.
Firstly, it looks fabulous; big, much bigger than its predecessor, chunky but ultra modern, with great lines and trick day-time running lights.
Secondly, being big, it is accommodating with a huge boot and spacious cabin, comfortable leather seats, practical and ever so easy to live with.
Thirdly, said cabin is beautifully made, laid out and designed. There is every toy you could ever hope for – including a centre mirror that becomes a reverse camera when needed, and associated bleepers in case you forget to look.
Fourthly, it boasts stunning build quality, absolutely stunning and better than vehicles two and three times the price – really. I'm not surprised the warranty is seven years and that Kia will top this back up on used vehicles, it is built to last. The paint finish and panel gaps are superb, the alloy wheels lovely.
Lastly, it is peerless to drive. The engine is refined, powerful, economical, the gearbox slick, the clutch nice and light. Steering and ride are fabulous and the 4WD effective in difficult conditions. It really is a joy to drive and very forgiving when you are tired.
There isn't anything bad to say about the car and it is fast become a best kept secret among discerning drivers. So ask me again; what's my favourite car is at the moment? It's the Kia Sportage, no contest.
Rating:






THE VITAL STATISTICS
Model: Kia Sportage 2.0 CRDi
Engine: 2.0 litre, turbo diesel
Drivetrain: six speed manual
Power: 161BHP
Top speed: 113 mph
0-60mph:  10.3 secs
Insurance group: 12
Miles per gallon: 37.9 (combined)
CO2 (g/km): 181
Price: £21,535.00