Tough at top, but Audi's Allroad will get you there
ROAD TEST REPORT AND REVIEW: Audi A6 Allroad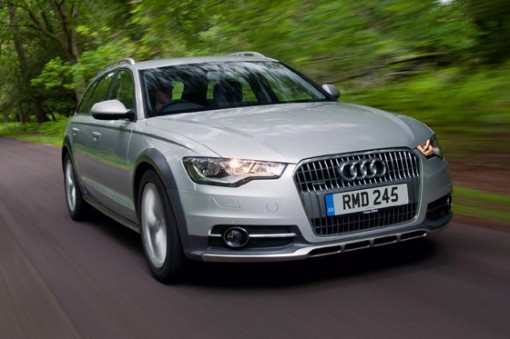 Yes, another fine Audi, but at a price. Motoring writer TOM SCANLAN reviews the latest model.
It's tough at the top. But, for the German prestige boys, it seems the answer is just to go flat out in the production of new models, create new niches (in auto industry terms), and to maximise efficiency. Fine. It's long been like that.
For the time being it's a win-win situation for those with money… like Audi and their top-line customers.
With the launch of a whole phalanx of new or updated models, it's a particularly busy time for Audi. They're on a sort of feeding frenzy of flooding the upper market with a cornucopeia of cars.
Among them, the new A6 Allroad ranges in price from £45,000 to near £50,000 – before options.
My test car was the range-topping 3.0 BiTDI Quattro, which has a twin-turbo 313 PS 3.0 litre diesel engine mated to an 8-speed tiptronic auto gearbox.
Complete with all its gadgets and gismos, the end-total was a gulp-making £63,525.
For that money, a car has to be damn good. Well, so it was.
Whether it will remain damn good throughout its years on the road is the acid test, but, first impressions… yes, damn good.
It goes like a race horse. Sprints to 62mph in a mere 5.6 seconds, making a fine noise, too. Audi's engineered-in acoustics at least give the owner who's spent all that loot some real sensations.
Handling matches the urge. Cornering feels so sure-footed and hard-stopping the car can be sheer fun, strangely enough: g-forces and all that.
The A6 Allroad is a genuine all-rounder in that it's fine for pottering about in, with its impressive fuel consumption figures. In town, providing you put the brake on when you're stationary, the start-stop system switches the engine off. (The re-starting of the engine is possibly the least refined of all the otherwise smooth Audi functions.) Driven gently, or not hard, it's very quiet, very refined. In fact, it stays refined no matter how hard-pushed.
If you do venture off the tarmac, there is height adjustment on the adaptive air suspension, as before. Audi's computerised 'drive select' is user-friendly and allows various settings, including 'efficiency'. I would certainly recommend an owner to experiment with this, because, apart from the sheer pleasure of driving the Allroad to exploit its undoubted capabilities, it's interesting to discover that it's still a very impressive performer even if the edges are taken off in the interest of maximum economy and efficiency.
This new car is longer and wider than its predecessor, yet it is indeed more efficient both in terms of performance and emissions. It should therefore be cheaper to run. The official combined cycle fuel consumption is 42.2 mpg, quite an achievement; in real life this may well be challenging to replicate, but is nonetheless a good benchmark. There is an option of a 75-litre fuel tank (the standard tank takes 65 litres) and this tank does not compromise the already handy amount of carrying capacity in the boot.
Emissions, at 176 g/km, mean it won't cost an absolute fortune to tax each year, at £210.
Audi's option prices have to be queried. Are you really prepared, for example, to pay £520 for ambient lighting? Is £250 justifiable for the sun-blinds on the rear window and rear door windows, especially when they have to be manually-operated?
However, some of the options are 'must have' in this type of car, so the basic price has to be taken as a start-point and then you need to work out how much you can get away with.
Or perhaps the buyers of this car – 90% male – don't need to care about this sort of thing.
For all that, the huge amount of technology on board, whether for performance, for safety, for comfort or convenience, is no doubt now well beyond what it took to get Neil Armstrong onto the moon and, once you've learnt how to use it all, should make your rather shorter mileage during the ownership of this car all very enjoyable.
Rating: