Swift by name, very Swift and fun by nature!
Swift by name, swift by nature, KEITH WARD enjoys an affordable hot hatch from Suzuki.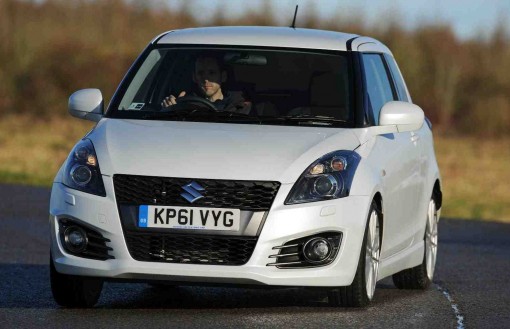 AFTER six years and 2.2-million sales in 40 countries of the old Swift Sport, Suzuki replaced it this year with this all-new version, following quickly on the latest Swift hatch and resuming its flagship role atop that range with pepped-up performance, handling and brakes.
Compact in stature, it looks full of half-pint-sized purpose with its twin exhausts, rear privacy glass, five-dial dash, bulked body and big lights. Metallic paint is standard. White is its best colour.
Some comfort for the stretched pockets of young, recession-hit hot hatch fans comes from improved fuel consumption, tax-friendlier emissions and insurance reduced a full five notches compared with the previous Swift Sport.
Comfort also in a keen price of £13,499 to include such as automatic air-con, xenon headlights, fog lamps, cruise control, push-button start, headlamp wash, rear privacy glass, front sports seats, seven airbags, six-speaker audio and Bluetooth connectivity.
There's a new, rev-happy 1.6-litre engine developing peak torque at 4,400 and power at a buzzing 6,900 rpm. It's mated to a sporty new six-speed gearbox, although it must be said that loping top cog may never be used by owners keen on making this car live up to its name.
Wide of track and short on wheelbase, this is an agile little contender with sharp steering and grippy cornering, just bursting to have some fun. While the rear suspension has been stiffened, the ride is surprisingly comfortable.
Output, up from the previous Sport's 123bhp, is still relatively limited at 136bhp, but a lightweight chassis makes for a vigorous 0-60 sprint in under eight seconds. And at the end of the day there's no shock at fill-up time.
Unspared in its week in our hands, it returned a creditable near-50 mpg. It's then you remember it weighs a third less than a Golf GTI.
There are the practical limitations of a small three-door – a tight pair of rear seats to duck into and a short boot of 500mm or just 20 inches.
Dropping forward the one-piece rear seatback to form a sloping extension to the boot is a two-handed job from the rear, via separate catches at each end. Raising it becomes also a long-armed job.
But this car is at its Swiftest and Sportiest on a snaking open road under summer skies, with damned good fun for your money, not as a family shopper around town.
Rating:






THE VITAL STATISTICS
Model: Suzuki Swift Sport 1.6
Body: Three-door hatch; length 3,890 mm; width 1,695mm; 1,045 kg
Engine: Petrol; 1,586 cc; 16v; six-speed manual; front wheel drive
Power: 136 bhp @ 6,900 rpm; max torque 118 lb ft @ 4,400 rpm
Pace: 118 mph; 0-60 in 7.9 secs
MPG: On test 49.2; official combined 44.1 mpg
CO2: 147 g/km; Band F; tax disc £130
Warranty: 36 mths/60,000 miles; 12 yrs anti-rust; 12 mths Europe-wide breakdown
Insurance: Group 18
PRICE: £13,499
Website: www.suzuki.co.uk