Suzuki's Swift Sport offers big fun for little money
REVIEW AND ROAD TEST REPORT: Suzuki Swift Sport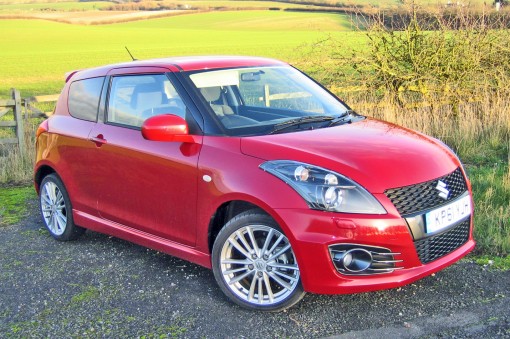 For fun per pound, Suzuki's new Swift Sport takes some beating. Editor DAVID HOOPER enjoys driving this exciting little hot shot.
I GET to drive all sorts of cars, but every now and again, when the time comes to hand back the keys, there's an unseemly tussle – because I want to keep it.
This week's test car, the Suzuki Swift Sport, is one of those cars. It's brilliant and I loved it to bits.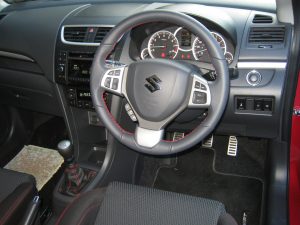 It's brilliant for lots of reasons. First of all it's great fun to drive. That statement can be applied to numerous cars, but the difference between them and this little Swift, is that most of them will cost more than twice the price of Suzuki's little hot shot.
Yet, despite its modest price, it's packed with all the equipment you could wish for. It's economical, it's easy to park, it's comfortable – the list goes on.
Most of all though, it's fun. With a 0-62mph time of 8.7 seconds and a top speed of 121mph, it's not the fastest hot hatch you can buy, but it's certainly one of the most endearing. It's not so much what it does, but how it does it.
The Swift Sport feels taught from the moment you set off. The seats are comfortable with good side bolsters to hold you in place, the steering response is sharp, the suspension set-up is just right, achieving the perfect balance between comfort and sporty handling, and when you plant your right foot into the carpet, the Dual VVT engine pulls enthusiastically, right up to the red line at around 7,000rpm at which point it makes a lovely rorty noise, which only encourages you to do it all again.

The Swift Sport takes rapid changes of direction in its stride, the pedals are nicely placed for heal and toeing, the six-speed gearbox works fluidly, and the brakes are powerful enough to inspire confidence.
If you enjoy your driving, appreciate a good performance car, but don't have bucket loads of money to spend, I think you'll struggle to find a car which will give you more fun per pound than this one will. It provides brilliant value for money.
It won't cost you a fortune to run, either. During my week with the car, it averaged around 40mpg. A lighter right foot and a more relaxed driving style would undoubtedly see this figure improve markedly.
Despite its diminutive size, I noticed it turning heads, especially among the younger buyers who tend to be prone to tarting up ageing Corsas, or Citroen Saxos, which can only be good news for Suzuki. With a spoiler mounted at the top of the tailgate, side skirts, deep front and rear spoilers and twin exhausts sticking out of the back of the car, there's little doubt about this car's intentions. The whole "look" is topped off by a nice set of alloys.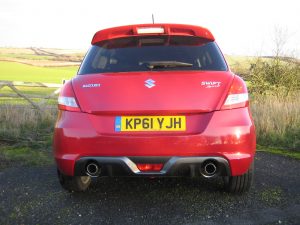 Inside, you are treated to climate control air conditioning, iPod connectivity, Bluetooth, electric windows, mirrors, cruise control – and a push button starter, so you never need to take your car keys out of your pocket. You can even open or lock the car by pushing a little rubber button on the door handle.
I've always been a fan of the Swift Sport, and this latest model has really raised its game. With a Euro 5 compliant engine its cleaner and more economical than its predecessor, emitting less C02 and returning fuel consumption figures which are 10% better, at 44.1mpg on the combined cycle.
In the back, there is only room for two passengers, and the boot isn't the largest I've seen, but the split-folding rear seats can be utilised to improve its carrying capacity when needed.
They say all good things come in small packages – in the case of the Suzuki Swift Sport, I'm certainly not going to argue.
CLICK HERE and "Like" our Facebook page for regular updates and follow us on Twitter
Rating: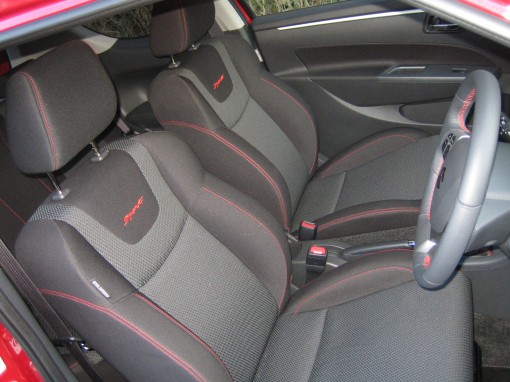 THE VITAL STATISTICS
MODEL: Suzuki Swift Sport 1.6 3dr.
SUZUKI SWIFT RANGE: From 1.2 SZ2 3dr (£10,660) to Sport 1.6 (£13,500).
ENGINE: 1586cc, 136bhp four-cylinder engine, driving front wheels through 6-speed manual gearbox.
PERFORMANCE: Top speed 121mph. 0-62mph in 8.7 secs.
ECONOMY: City: 33.6mpg.
Country: 54.3mpg.
Combined: 44.1mpg.
Fuel tank: 42 litres.
CO2 EMISSIONS: 147g/km.
INSURANCE: Group 18.
PRICE: £13,500.
WARRANTY: 3 years/60,000 miles.
WEBSITE: www.suzuki.co.uk
• All data correct at time of publication.