Supercharged Nissan Micra punches above its weight
ROAD TEST REPORT AND REVIEW: Nissan Micra 1.2 DIG-S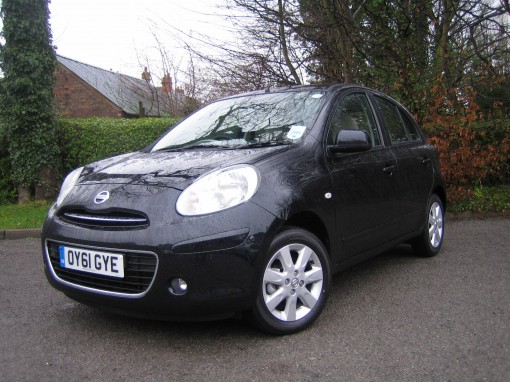 With a fresh look and built on a new, lightweight platform, Nissan's Micra is instantly recognisable, but as DAVID HOOPER, editor of wheelworldreviews.co.uk discovered when he road tested one recently, it also punches well above its weight.
THE Nissan Micra is one of those cars which seems to have been around forever.
It should be no surprise then that this excellent little car is now in its fourth generation, with this latest model built on a new, lightweight platform.
Nissan has been manufacturing the Micra for over 30 years and with its important plant in the North East, many of the 400,000 Micras in the UK are built in Britain.
The diminuitive little Micra had the honour of becoming the first Japanese Car of the Year, is now on sale in 160 countries around the world, with over three-million of them in Europe alone. In Britain, the company is now chasing its target of having 400,000 people driving the Micra.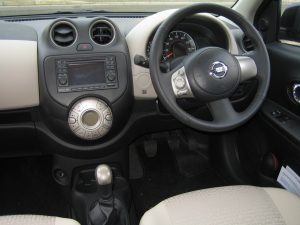 So will it succeed in hitting its target? Well, I've just spent a few days with the latest model, and all-in-all, was impressed.
Although it's a new design, there is no mistaking the new Micra for any other car. It's a cleverly subtle evolution of the previous model which is easy on the eye and has a certain cute appeal which is so friendly you almost want to cuddle it!
The car I tested was the Kuro model, which in Japanese means "black", so no prizes for guessing what colour the paintwork was.
Inside, the seats were clad in a patterned cream cloth, which looked nice when new, but could soon become dirty if your daily life involves children in any shape or form, so that would be something to bear in mind when ordering your new Micra. Although it looked good, the quality of the interior was disappointingly plasticky. That said, it was well screwed together and there were no rattles and the cream sections of the dash, combined with cream cloth inserts in the doors, broke up the black mass of the dashboard quite well.
Another nice aspect of this car was the circular control panel for the climate control, a bonus in a car at this price level. It looked good and was easy to operate. The instrumentation was equally clear and easy to read and most of the controls were intuitive. I particularly liked the fact that it had Bluetooth, which is almost becoming a must-have these days, and a smart sat-nav system.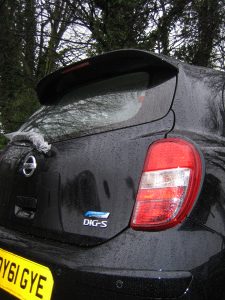 Another clever gadget is a parking slot measurement system, which combines with rear parking sensors, so there would be no excuses for scraped paintwork with this car.
Most impressive, however, was the 1.2-litre engine. It only has three cylinders, so I wasn't expecting great things, but I was pleasantly surprised by its eager performance and sheer driveability.
Faced with a substantial motorway journey in a tiny car, I wasn't looking forward to my trip, but this little engine has a secret weapon under its bonnet – a supercharger. Sparing you the technicalities, what it does is provide instantly nippy performance which makes this car unbelievably entertaining to drive. It pulls strongly when asked to do so, making an enthusiastic noise which reminded me of another tiny engine that punches above its weight, is made by Mercedes-Benz, and is found in the boot of a Smart.
Once up to speed, it cruises quietly on the motorway, and certainly surprised one or two bigger cars with its nimbleness from a standing start. It also feels very grown up and secure on the road, and turns into corners nicely thanks to the near perfect weighting of its electric power steering. For the record, the 0-62mph sprint takes 11.3 seconds, and there's a top speed of 112mph, and despite its punchy performance, it only emits 99g/C02.
I found an unexpected amount of fun to be had in the Micra, all without burning too big a hole in your pocket. On my motorway trip, the car returned 54.3mpg at motorway speeds, so a slightly more sedate pace would see that figure improved upon. During my time with the car, its trip computer recorded an average of 50.3 overall, helped by a start/stop system which turns the engine off in traffic queues.
There's plenty of space in the back for adults, and the boot is also a usable size, so there's very little to criticise the Micra for. It even has usable door pockets and a well thought out centre console, which can hold cups, or cans of deicer!
Built in Britain to a high standard, the Micra is an impressive little car which won't cost a fortune to buy or run. As this road test proves, good things can come in small packages.
CLICK HERE and "Like" our Facebook page for regular updates and follow us on Twitter
Rating: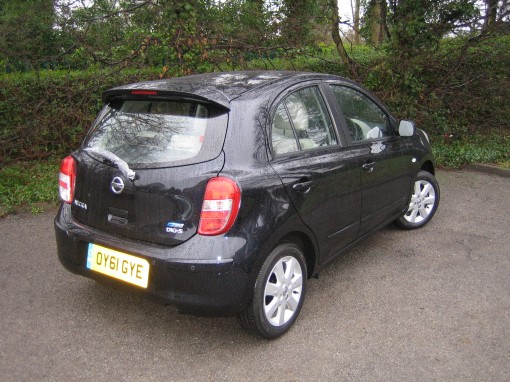 THE VITAL STATISTICS
NISSAN MICRA RANGE: From 1.2 12v Visia 5dr (£9,650) to 1.2 DIG-S Tekna CVT 5dr (£14,650).
ENGINE: 1198cc, 98PS four-cylinder engine, driving front wheels through 5-speed manual gearbox.
PERFORMANCE: Top speed 112mph. 0-62mph in 11.3 secs.
ECONOMY: City: 54.3mpg.
Country: 76.4mpg.
Combined: 65.7mpg.
Fuel tank: 41 litres.
CO2 EMISSIONS: 99g/km.
PRICE: £13,011.
WARRANTY: 3 years/60,000 miles.
WEBSITE: www.nissan.co.uk
• All data correct at time of publication.