A great family day out at the MCC show at ExCel
After a busy day at the Motorhome, Caravan and Camping Show, wheelworldreviews editor DAVID HOOPER reports from the acres of halls at London's ExCel.
I hope all of the lucky recipients of the wheelworldreviews.co.uk tickets to the Motorhome, Caravan and Camping Show enjoyed their weekend at London's ExCel.
My family and I were there too, and still have sore feet having tramped around the smart exhibition halls looking at some of the latest products.
We visited on the last day of the show, and although there were plenty of people around, there was ample room to actually get into the motorhomes and caravans you wanted to see and talk to the company representatives on the stands.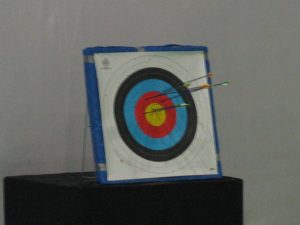 With plenty to keep the whole family entertained, my son enjoyed trying his skills at archery, and the younger members of the family had a go at kayaking on a purpose-built "lake".
Among the manufacturers showing off their latest products and filling one of the larger stands, was Lincolnshire-based motorhome manufacturer Auto-Trail who reported lots of interest in their latest product range.
With many visitors feeling the pinch at the moment, the tent section seemed to be getting lots of attention, with some ever-more innovative ways of going camping.
For those who don't like towing caravans, some excellent Danish trailer tents from Holtkamper, a company which has recently entered the UK market, seemed to offer a surprisingly luxurious alternative, and took only a few minutes to unfold and set up.
The show was also something of a mecca for gadget and accessory fans, with lots of clever ideas to make the outdoors life that bit easier.
Folding bikes, some with electric motors, were getting lots of inquiries and interest and of course, there were the usual stalls of cleaning products and keep your caravan or motorhome in tip-top condition!
If you didn't get there this year, then pencil it in your diary for next year – it's a good day out for all the family!