Boris' Bikes are a fun way of seeing London's sights
On a family weekend away, we put some Boris Bikes through their paces on the busy streets of London.
GETTING around in London can be a stressful business, what with the hustle and bustle of the busy tubes, or the battle for seats on buses.
I wouldn't recommend driving in the Capital these days, not that there's too much traffic, the Congestion Charge in central London has reduced that to some extent although there is still plenty of it, but you try parking anywhere. Get it wrong, and your car is likely to be clamped or towed away in no time at all – and then cost a small fortune to recover.
There is an alternative – the Boris Bikes – and on our most recent trip, my family and I put them to the test.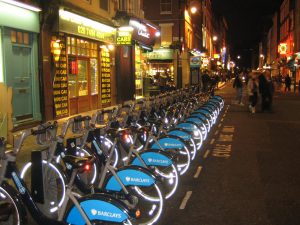 Barclays Cycle Hire, to give the scheme its proper name, has seen the creation of bike stations all over the city, with more being added all the time. Introduced by London Mayor Boris Johnson as a way of reducing pollution in the capital and making it a more cycle-friendly city, they are a cheap and fun way of getting around.
When complete, there will be 6,000 cycles to hire from 400 docking stations across the city.
They are free for the first 30 minutes and then get progressively more expensive depending upon how long you keep them for. They are designed for short-distance commuting, but tourists can take them for an hour or two, as we did, for a pedal-powered tour of the city.
If you are a regular user you can join pre-payment schemes to increase convenience and reduce cost online, but if you're a tourist like we were, you pay with a credit or debit card when you take a bike. The machine then gives you a code to unlock a bike and you simply pick one you like from the row. It doesn't matter which one you go for, they're all the same. The saddle can be adjusted quickly with a quick-release lever to fit you, and off you go.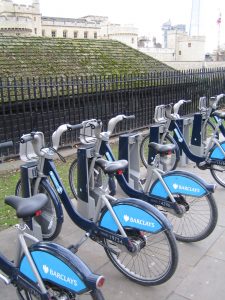 The bikes look very robust and even come with three gears and a stand. There's a little rack which I managed to strap our packed lunch onto, LED flashing lights back and front which are powered by a dynamo and even a little bell.
We picked our bikes up near the wobbly Millennium Bridge and walked across it before enjoying a cycle around some bits of London you rarely get to see. We passed the London Dungeon before making our way up to Tower Bridge – so we just had to cycle over that!
Having crossed the road, we found St Katherine's Dock next to the Tower Hotel and had a look at some lavishly expensive boats moored around the dock, obviously not owned by those on a budget break!
We cycled past some of the swanky new apartment blocks converted from the old Thames-side warehouses, before making our way along some pleasant canal paths I never knew existed before reaching our destination at the Tower of London.
There were spaces in the bike racks, so we just pushed our machines back into their stations. You have to ensure they lock into place, and then the system knows how much to charge you for the time you've been using the bike.
It was good fun, and something a bit different to do, although we were told there can be problems finding a space to put your bike back at your chosen destination. If that is the case, there is a facility of getting an extra 15 minutes for free if your chosen location is fully occupied to allow you time to get to the next nearest bike station.
We tried cycling in the city at the weekend when the roads were comparatively quiet, but you still need to watch the buses in particular, which weren't taking any prisoners!
Why not do as we did and get a map from a tourist information centre, which shows where the bike stations are and gives you a perspective of how far you want to ride.
We enjoyed it and will probably do it again next time we go to the big smoke.
For more information, visit the website, www.tfl.gov.uk/barclayscyclehire