Suzuki Vitara 1.0 SZ-T road test report and review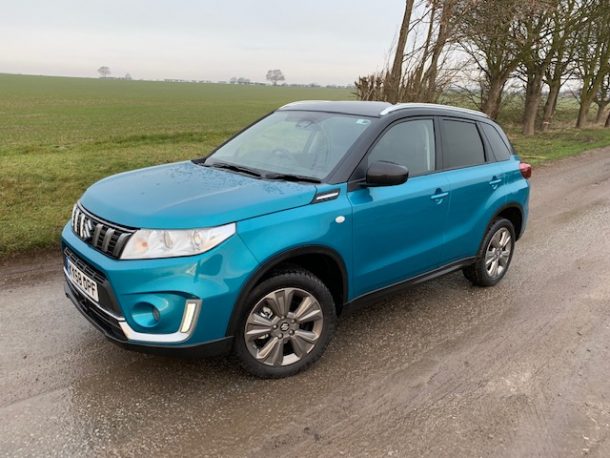 Suzuki Vitara 1.0 SZ-T road test report and review: With a three-cylinder engine, this vivacious little Vitara is anything but underpowered. DAVID HOOPER has been putting it through its paces.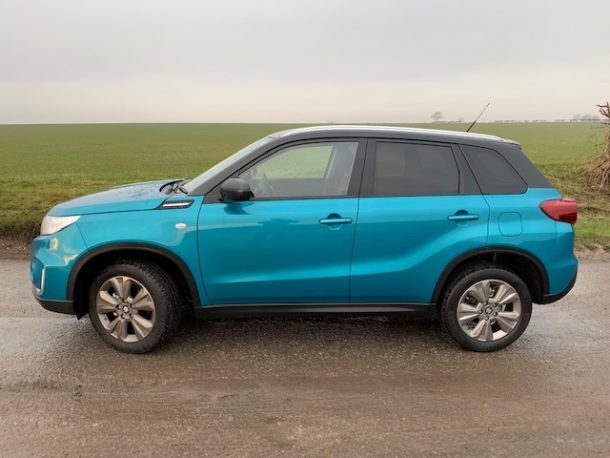 THE Suzuki brand has a real knack of exceeding expectations, confounding its critics and consistently punching above its weight.
While its UK sales aren't a match for some of the more mainstream manufacturers, Suzuki, in its particular niche of the market, continues to grow its loyal band of customers and attract plenty of new ones. The recent launch of the new Jimny is a case in point – the initial UK allocation was virtually sold out before the car went on sale with the factory struggling to meet worldwide demand for what I have to say is a cracking little off-roader!
The Vitara is the largest car in the range, and this latest model has recently gone on sale with a three-cylinder engine in its 4×4 flagship, along with a four cylinder 1.5-litre alternative, but who would have thought of putting a three-cylinder engine in a four-wheel-drive car? Well Suzuki did and it works well, suits the car, and I'm impressed with it!
With no diesel engines to be found anywhere in the Suzuki line-up now, this little 1.0-litre is capable of respectable economy returns, showing 42.5mpg over my week with the car which included the full mix of town, A-road and motorway driving. The little three-pot Boosterjet is an enjoyably lively little performer, and pulls surprisingly strongly towards the red line when you need to extract some performance from it, and the five-speed gearbox slots neatly and accurately through the gears.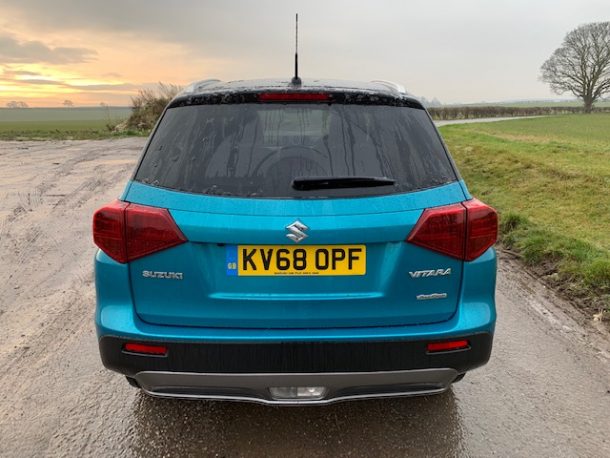 I loved the combination of Turquoise paintwork contrasting with a black roof which makes the car really stand out from the crowd.
On the road, the ride quality is nice and compliant, and the steering light and easy to handle when manoeuvring, a task made all the easier thanks to a reversing camera, but I felt it could do with weighting up a little more than it does once on the move.
Accommodation is comfortable and plentiful and the boot space is also ample, especially if you fold down the rear seats which then creates small van-like proportions of load space.
I loved the Turquoise colour of our test car, with its contrasting black roof which makes the car really stand out from the crowd. The dark-tinted rear glass makes an agreeable contrast, which combined with plenty of silverwork and some smart alloys made the car look almost as trendy as a for more expensive Range Rover Evoque.
Prices for the the Vitara range start at £15,999 and if you've not had a look at one, you should, you will be pleasantly surprised.
Rating: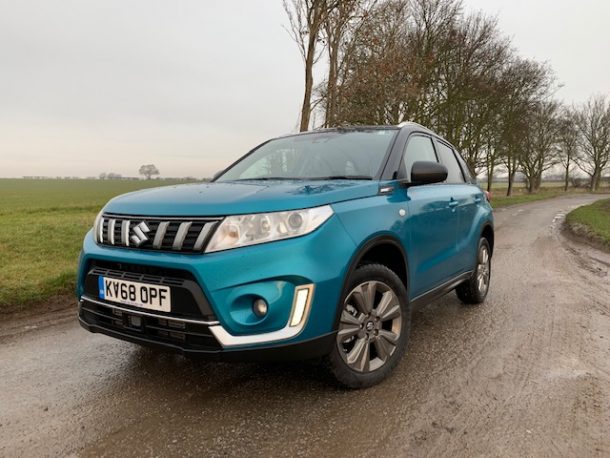 If you like this, read our review on the Suzuki Ignis
THE VITAL STATISTICS
MODEL: Suzuki Vitara 1.0 SZ-T
ENGINE: 998cc, 111bhp three-cylinder petrol engine, driving four wheels through 6-speed automatic gearbox.
PERFORMANCE: Top speed 112mph. 0-62mph in 12.5 secs.
ECONOMY: City: 42.8mpg.
Country: 55.4mpg.
Combined: 49.6mpg.
Wheel World test average: 42.5mpg
CO2 EMISSIONS: 129g/km.
FUEL TANK: 47 litres.
PRICE: £20,949
WARRANTY: 3 years/60,000 miles
WEBSITE: www.suzuki.co.uk
• All data correct at time of publication.