Volvo XC40 D3 Auto road test report review

All the charm of its big sisters, but the Volvo XC40 comes in a more petite package.
Volvo XC40 D3 Auto road test report review: Volvo's new XC40 wraps up all the delights of its bigger sisters into a smaller package which, DAVID HOOPER says, is a pleasure to live with.
YOU just know some cars are going to be a hit, and this trendy little Volvo XC40 is one of those cars.
It's scooped a boot full of awards in its first months on sale, and was narrowly beaten to the Northern Group of Motoring Writers' Car of the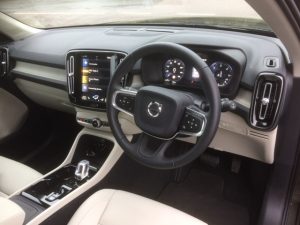 Year gong by the Kia Stinger, a very different car, and also one which has won many industry accolades.
To describe the XC40 as "little" is probably something of a misnomer, as it isn't that small at all, unless you park it next to Volvo's lovely XC90! Prices for the range start from a reasonable £24,965. For that, you get plenty of room inside, and a good sized boot, ideal for Christmas shopping, or pushchairs, or even both, although not so pet friendly as it comes with a hard load cover instead of a retractable one.
I also loved the way that you could wave your foot under the back bumper and the tailgate would open automatically, so there was no need to drop all the shopping bags and find the keys to get into the boot. You could be forgiven for thinking it's something of a gimmick, but actually, it's very practical addition to the car's inventory – which was massive.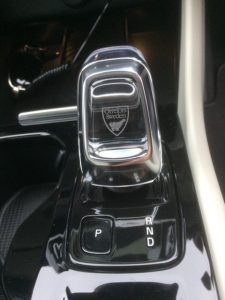 Our D3 test car featured lovely cream leather heated seats, perfect as the first frosts of winter took hold, providing the opportunity to sample the heated windscreen which is brilliant and cleared the frozen screen in seconds.
I also liked the panoramic roof which flooded the car with what little daylight there was on dark, wintery days, but are also a delight in the summer too.
The new XC40 is packed with equipment, and flick left the screen in the centre of the dash which resembles a large tablet and  you discover a whole host of buttons to control the car's functions, including parking itself, or extricating itself from a parking space. It also has all-round cameras which can be helpful in a busy supermarket car park – some of the most dangerous places you can ever take a car.
Our test car also featured Volvo Pilot Assist which is as close to autonomous driving as we are allowed to get at the moment. The system which operates as part of the cruise control will follow the car in front, adapt the car's speed depending on traffic conditions, and adjust the steering to keep the car in its lane. It works well enough, but can't be completely trusted, and the steering inputs weren't as smooth as some systems I've tested.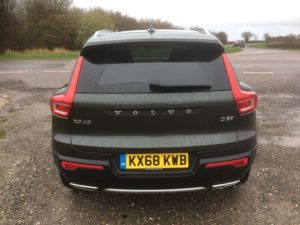 On the road, our two-wheel-drive test car (4WD versions are available) drove beautifully and was never anything but comfortable, even after a long drive. The automatic gearbox was the epitome of smooth most of the time, but did snatch occasionally after briefly coming to a halt and then trying to make a quick getaway into traffic, but nothing particularly untoward.
The 2.0-litre diesel engine was as efficient as ever and very refined, returning an overall average in real world conditions of 42.4mpg during my test of around 480 miles, which included the full remit of roads and conditions.
The XC40 is a little cracker, with the luxury and quality we've come to expect in its bigger sisters, all wrapped up in a smaller parcel which is a pleasure to live with.
If I found one in my Christmas stocking, I wouldn't be at all disappointed!
Rating: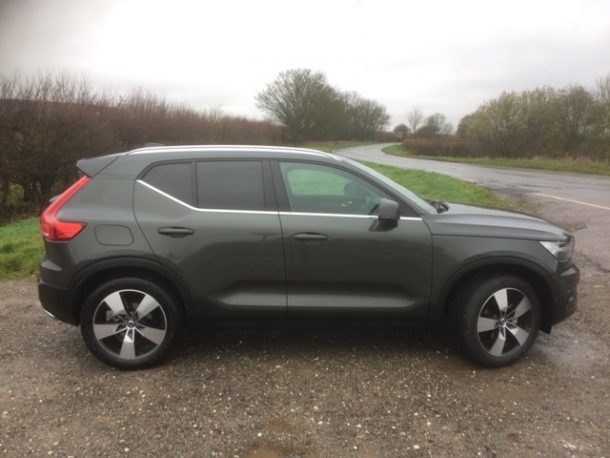 If you like this, read our review on this Volvo XC60
THE VITAL STATISTICS
MODEL: Volvo XC40 D3 Auto
ENGINE: 1969cc, 150bhp four-cylinder diesel engine, driving front wheels through 8-speed automatic gearbox.
PERFORMANCE: Top speed 124mph. 0-62mph in 10.2 secs.
ECONOMY: City: 52.3mpg.
Country: 60.1mpg.
Combined: 56.5mpg.
Wheel World test average: 42.4mpg
CO2 EMISSIONS: 131g/km.
FUEL TANK: 54 litres.
PRICE: £32,635.
WARRANTY: 3 years/60,000 miles
WEBSITE: www.volvocars.com
• All data correct at time of publication.