Impreza is more discreet, but still as fast as ever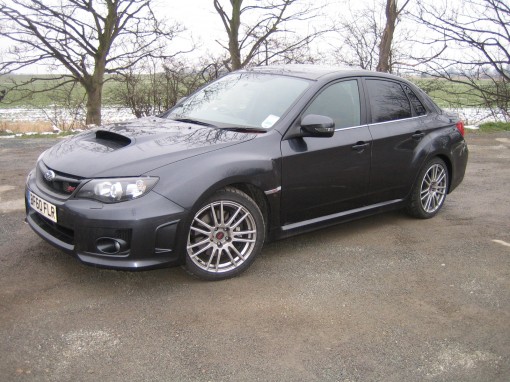 ROAD TEST REPORT AND REVIEW: Subaru Impreza 2.5 WRX STi Type UK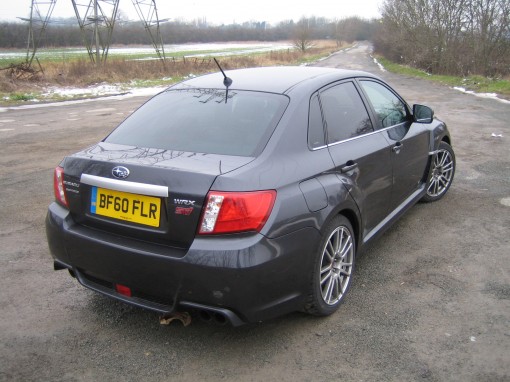 More mature, but just as potent, DAVID HOOPER reaquaints himself with an old friend – Subaru's stunning Impreza WRX STi.
SETTLING into this week's test car was like becoming re-acquainted with an old friend I haven't seen for a while.
They've grown up a bit, matured ever-so-slightly with age, but underneath the sensible veneer, are still just as much fun as they always have been.
Many enthusiasts mourned the passing of the mighty Impreza saloon made famous by its rallying exploits on the world stage, bedecked in big spoilers, body kits and fire-breathing exhausts.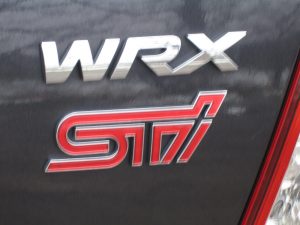 The road-going car was only slightly less fierce, but inevitably, its production eventually came to an end. It was replaced by a much more modern car bearing the same name, but this time it was only available as a five-door hatchback, which for many, wasn't the Subaru they knew and loved. Its relatively small hatchback boot, meant that even some police forces who loved the reliability and performance of the old model, shunned the new car due to its lack of carrying capacity.
The return of the four-door saloon then, is warmly welcomed by aficionados of the brand. The big spoiler perched on the bootlid is gone and the styling, although still sportingly businesslike, is less "look at me" and more "was that a Subaru I just heard". But I like that. It's far more discreet, and in the dark grey colour of my test car, easy to miss. Many would not give it a second glance, although the trademark gaping air intake is hard to miss for anyone who knows anything about performance cars. Yet, despite that, it's almost a "Q" car – and I love that.
Underneath, the hard-core performance saloon is all correct and present. The practical family car, complete with five seats and push-chair swallowing boot, is capable of keeping up with, or showing a clean pair of heels to, many a performance car.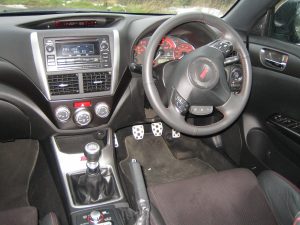 With 300PS on tap, the 0-62mph sprint flashes by in a breathtaking 5.1 seconds on its way to a limited top speed of 155mph. Thanks to its symmetrical four-wheel-drive systems the levels of grip at your disposal, even in damp, slippery conditions, are incredible and the driver even has the option of adjusting the amount of power going through the centre differential to the rear wheels, giving the car more of a rear-wheel-drive set-up should you want it.
The same dial also controls the car's attitude, selecting either Sport or Sport Sharp modes which alter the throttle response from very quick to mind-blowing!
Point-to-point on a cross-country sprint, very few cars can match the Impreza's poise and sheer driveability. The steering wheel is perfectly proportioned and the steering feel excellent. The brakes are very firm when cold and need a firm push, but become powerful once warmed slightly.
Changes of direction are taken in its surefooted stride, and all the while, this balance and poise is accompanied by the Impreza's delightfully burbly soundtrack from its Boxer engine, its flat, horizontally-opposed layout keeping the car's centre of gravity low which in turn helps its balance.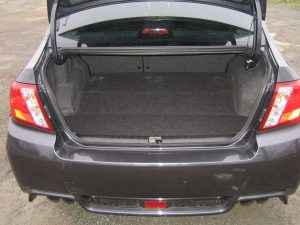 It's a fabulous car to drive, but in these austere times, what's it like to live with? The £33,000 asking prices is just the start. The insurance won't be cheap thanks to its Group 40 rating and with this kind of power, it creates its fair share of C02, which means owners have to pay £445 per year in road tax at current rates.
Then there's the fuel consumption. With a bit of town work, and a couple of high-speed outings, I saw the first half-tank of fuel virtually evaporate in around 90 miles, that's around 30 litres, which is 15-20mpg when you drive it "properly". The second half of the tank, however, saw much better returns thanks to a very steady (mostly) trip to York and back. Deliberately driving it gently, which took an unbelievable amount of will power on my part, encouraged by considerable wittering in my left ear from the passenger seat every time my right foot "slipped", saw the average mpg figure rise to 30.1mpg over a distance of 150 miles. Impressive indeed for a car like this, which proves it can be done.
Few owners will ever see those kinds of returns though, I'm sure. That's not what you buy an Impreza for. While there are still numerous other cars on the market which offer similar performance and running costs, you have to wonder for how much longer.
I know I'm not alone in hoping that, for those who can afford to buy and run them, cars like these will be around for many years to come. The rest of us, can just admire them from afar – and occasionally write about them!
CLICK HERE and "Like" our Facebook page for regular updates and follow us on Twitter
Rating:






THE VITAL STATISTICS
MODEL: Subaru Impreza 2.5 Type UK 4dr.
SUBARU IMPREZA RANGE: Four-door saloon or five-door hatch, both (£32,995).
ENGINE: 2457cc, 300PS four-cylinder engine, driving four wheels through 6-speed manual gearbox.
PERFORMANCE: Top speed 155mph. 0-62mph in 5.2 secs.
ECONOMY: City: 20mpg.
Country: 33.6mpg.
Combined: 26.9mpg.
Fuel tank: 60 litres.
CO2 EMISSIONS: 243g/km.
INSURANCE: Group 40.
PRICE: £32,995.
WARRANTY: 3 years/60,000 miles.
• All data correct at time of publication.??