Hyundai Sante Fe is big on value for a full-size 4×4
ROAD TEST REPORT AND REVIEW: Hyundai Santa Fe 2.2 CRDi Style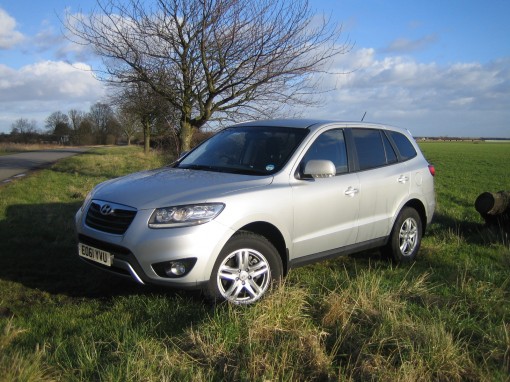 A big 4×4 which won't break the bank, DAVID HOOPER puts the latest version of Hyundai's Santa Fe to the test.
A CONSIDERABLE amount of time has passed since I last drove a Santa Fe and having just spent a week reacquainting myself with Hyundai's big 4×4, I have to confess that I'd forgotten just how good it is.
It's a big, comfortable car, with full-time four-wheel-drive. It comes with either five or seven seats and is available in two trim grades, Style or Premium. The model line-up shares the same 2.2-litre CRDi diesel engine which comes with a six-speed manual or six-speed automatic gearbox and can tow either 2 or 2.5 tonnes, depending on your choice of gearbox, while returning an average mpg figure of 33.5mpg during my test.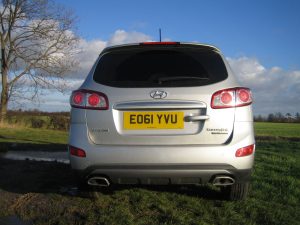 It all sounds pretty standard stuff then, for big 4x4s doesn't it? Until, that is, you look at how much it costs. The mid-priced Style model I've been driving costs £25,795 on the road, or with the metallic paint option which was included with my test car, £26,290. Now when you consider that for a similar sized Land Rover Discovery or BMW X5, you could easily be paying double that amount, the Santa Fe suddenly starts to make an awful lot of sense.
To be completely honest, it doesn't quite have the same feeling of quality you would find in a Discovery or a Beemer, there's no wood trim, leather clad dashboard, or leather seats in the model I tested, but I have to say that I didn't miss them and could certainly live without them. Other than that, the Santa Fe has got just about everything else you could want – except cruise control, which I thought was a bit of an oversight on a vehicle like this, although it is standard on the top-grade Premium model.
For 2012, the Santa Fe has had a few minor tweaks, but they are so small, that you would hardly notice – for example, would you spot that the rear view mirror is now wider, or that the automatic gear selector has been redesigned? No? Me neither!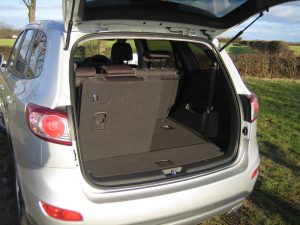 The exterior changes are equally subtle, with front and rear skid plates and roof rails being added to the Premium model only, with new front fog lamp surrounds and tailgate trim across the range. Automatic models get Downhill Brake Control, or DBC which is useful for those who take their off-roading more seriously, but perhaps the most relevant addition to the standard equipment list these days is the addition of Bluetooth telephone connectivity with voice recognition, almost a must in these days of smart phones.
A Media Pack is also available on Premium models, which adds a touchscreen navigation system and rear parking camera with a parking guidance system, for an additional £1,100.
The Style model I've been testing was nicely finished, with carbon black effect trim on the fascia and door trim, air conditioning, privacy glass, self-levelling rear suspension, reverse parking sensors, twin exhaust pipes and so on.
The Santa Fe is good to drive. The 2.2-litre diesel engine will get it from a standstill to 62mph in 10.2 seconds with the automatic gearbox. It changes gear smoothly most of the time, although it can snatch a bit on kickdown in some circumstances, when you are trying to "make progress".
For a big 4×4, it handles well. The ride quality is good, with road and wind noise well suppressed inside the car. There is very little body roll in the corners and car is easy to drive and manoeuvre, thanks to a good turning circle.
The model I tested came with seven seats – the rear two will fold flat into the floor when not in use, providing a good sized boot. When you do need to use them, they fold out of the floor in a one-handed operation. Access to the rear seats is gained by folding down the middle row, which then tumble forward.
I really liked the Santa Fe, and if my road test has proved anything, it is that you don't have to spend a fortune to get a new, well-equipped 4×4 which is good to drive and more than capable of doing most things any owner will ask of it. It also comes with a better warranty than most of its rivals. What more could you ask for?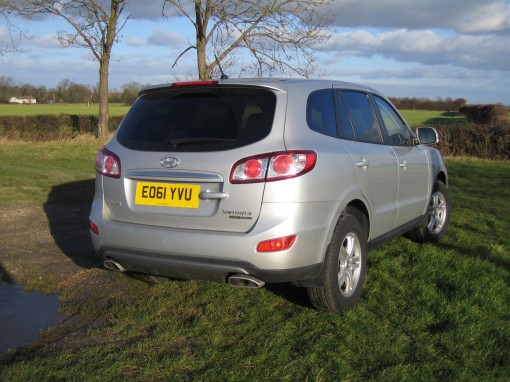 CLICK HERE and "Like" our Facebook page for regular updates and follow us on Twitter
Rating:





THE VITAL STATISTICS
MODEL: HYUNDAI SANTA FE 2.2 CRDi Style.
HUNDAI SANTA FE RANGE: From 2.2 CRDi Style (5 seat) 5dr (£23,195) to 2.2 CRDi Premium (7 seat) Auto 5dr (£27,745).
ENGINE: 2,199cc, 194bhp four-cylinder engine, driving four wheels through 6-speed automatic gearbox.
PERFORMANCE: Top speed 118mph. 0-62mph in 10.2 secs.
ECONOMY: City: 30.4mpg.
Country: 44.8mpg.
Combined: 38.2mpg.
Fuel tank: 70 litres.
CO2 EMISSIONS: 197g/km.
INSURANCE: Group 29.
PRICE: £25,795.
WARRANTY: 5 years/Unlimited mileage.
WEBSITE: www.hyundai.co.uk
• All data correct at time of publication.