Subaru XV Crossover: An interesting alternative!
ROAD TEST REPORT AND REVIEW: Subaru XV 2.0D SE Lux Premium 5dr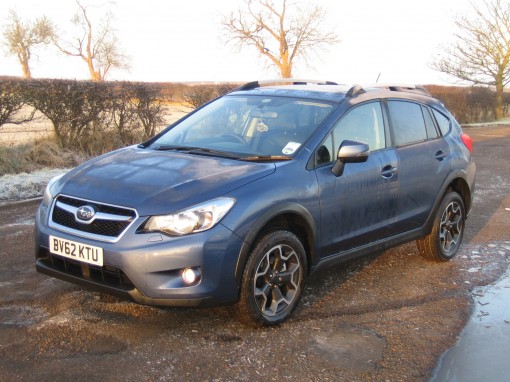 With permanent four-wheel-drive and a Boxer diesel engine, DAVID HOOPER, says Subaru's rugged XV offers an interesting alternative to the mainstream Crossover models.
CROSSOVER cars are the height of fashion at the moment and although most of them look like shrunken 4x4s, under the skin, quite a few of them aren't – they're just family cars that look tough.
Led by the Nissan Qashqai, the British-built version of which was recently named one of the most reliable cars you can buy, the VW Touran, Kia Sportage, Ford Kuga, Skoda Yeti and the recently launched Mazda CX-5 with its clever SkyActiv technology, all compete for sales in this popular market sector.
So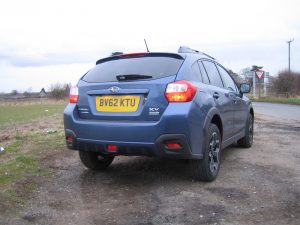 it makes you wonder why Subaru, renowned for its rugged family cars and four-wheel-drive technology took so long to enter the fray.
Enter stage left then, this purposeful looking XV Crossover. Featuring permanent four-wheel-drive and plenty of ground clearance for dealing with snow, green lanes, or muddy camping fields, it has some obvious attractions for those who like a car that can cope with anything modern life can throw at it.
The model I've been testing is the top-of-the-range Lux Premium, which comes with plenty of equipment and gadgetry packed into a typically dark Subaru interior.
Below this, buyers have a choice of S and SE trim specifications, while engine choices go from a 1.6-litre petrol, to a 2.0-litre petrol and the 2.0-litre Diesel I've been testing. These are combined with a six-speed manual or a six-speed Lineartronic CVT auto.
I like the look of the XV, with its chunky styling, substantial bumpers and flared wheel arches, although above that level, it looks like a pretty standard hatch.
Inside, there is a good sized boot, three seats in the back with enough head and legroom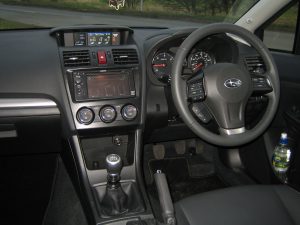 for six-foot plus adults to sit comfortably, and room up front for two, cossetted in the leather interior that featured in my test car.
All the luxuries you would expect in a car with a £30,000 price tag were there and included cruise control, automatic headlights, and when I found the switches behind the handbrake, heated front seats.
There was also a sat-nav system with a colour touch screen, which doubled as a reversing camera when reverse gear was engaged. There is also Bluetooth connectivity, a good sound system and the ability to connect MP3 players to the car's music system.
The car cruised comfortably and quietly at motorway speeds, and the 2.0-litre diesel engine, with just shy of 150bhp would whisk it from rest to 62mph in 9.3 seconds before reaching a relatively low top speed of 120mph, but that's still more than adequate in the UK, obviously.
Subaru have stuck with their famous Boxer engine, its flat-four layout helping to keep the centre of gravity as low as possible. It makes a distinctive noise, best heard in the petrol versions, but even this diesel has retained the highly-distinctive Boxer soundtrack.
It lacks of bit of torque at the bottom end, and can bog down a bit at low speeds, but once on the move, it pulls strongly up to around 4,000rpm at which point it starts to run out of steam.
Th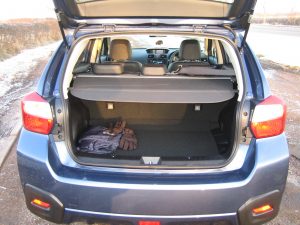 e car handles reasonably well, but with any Crossover, there's always going to be a compromise between off-road ability and handling. The XV, despite its bodyroll when pushed into tight-ish bends, handles well enough, and is an enjoyable car to drive.
I also liked all the eco-graphics on the dash. There were various displays to encourage the driver to be economical, including a graph which almost became a challenge to keep in the economy range. Another display showed what the four-wheel-drive system was doing, and which way the front wheels were pointing, something which can be useful if you go off-roading on rutted tracks.
During my test, the car averaged around 42mpg overall, but driven sympathetically, could get into the 50mpg range.
I like the XV, and with prices for the lower spec models starting from just over £21,000, it offers an interesting – and rarer – alternative to the models offered by the mainstream manufacturers.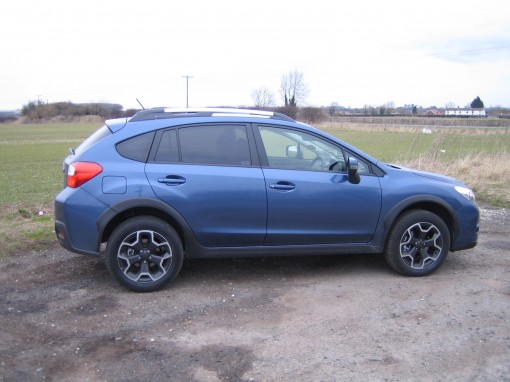 Rating:





THE VITAL STATISTICS
MODEL: 2.0D SE Lux Premium 5dr.
SUBARU XV RANGE: 1.6i S 5dr (£21,295) to 2.0D SE Lux Premium 5dr (£29,995).
ENGINE: 1998cc, 147bhp four-cylinder diesel engine, driving four wheels through 6-speed manual gearbox.
PERFORMANCE: Top speed 120mph. 0-62mph in 9.3 secs.
ECONOMY: City: 41.5mpg.
Country: 56.5mpg.
Combined: 50.4mpg.
Fuel tank: 60 litres.
CO2 EMISSIONS: 146g/km.
INSURANCE: Group 27.
PRICE: £29,995.
WARRANTY: 5 years/100,000 miles.
WEBSITE: www.subaru.co.uk
• All data correct at time of publication.