REVIEW: Mercedes-Benz E300 BlueTEC Hybrid
ROAD TEST REPORT AND REVIEW: Mercedes-Benz E300 BlueTEC Hybrid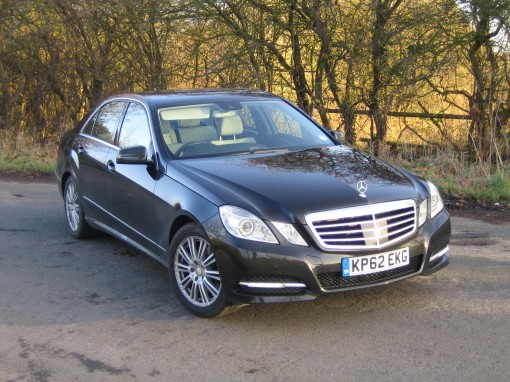 During his Mercedes-Benz E300 BlueTEC Hybrid road test, DAVID HOOPER considers the pros and cons of owning and running a hybrid car.
HYBRID cars are a bit like Marmite – you either love them or hate them.
I'm generally in the latter camp because they are increasingly irrelevant to the average buyer. Manufacturers have to produce them to help reduce their environmental impact, but having lived with this classy Mercedes for a week, I'm almost a convert. Almost!
T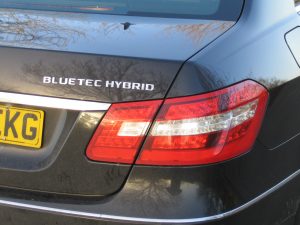 hanks to Government tax changes, the benefits of buying electric and hybrid cars will soon be far less attractive than they are at the moment for company car drivers, although if you drive to London regularly, you won't have to pay the Congestion Charge by virtue of the fact you're driving a hybrid car.
On the plus side of buying a hybrid, is the fact that they are completely self-contained. There's no messing about plugging them in to your house at night, or at work during the day as there is with an all-electric car, and there are no worries about them running out of electric power, as they are driven primarily by their conventional petrol or more recently diesel engines and assisted by the electric motor, which is recharged as the car coasts, or brakes.
There's no question that the technology works brilliantly, and apart from the fascinating graphics on the dash, which show whether the engine is driving the car, the battery, or both are working together, most passengers would never know they were in anything other than a conventional vehicle.
My problem with hybrids starts when you look at the claimed MPG figures, in this case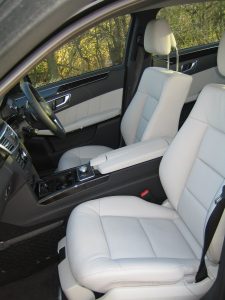 65.7mpg across all three measurement cycles. In the real world, believe me, you won't get anywhere near that figure. Around town the car I've been testing averaged 40-45mpg, while on a run down from Leeds to Derby on the M1, it did achieve 53.5mpg, which is pretty good for a big car, but still some way off Mercedes' claimed figure, while over my full test, in excess of 400 miles, the car returned an average of 46.5mpg. Still not a bad result, but one that can be easily matched these days by any number of perfectly standard models.
The Mercedes E250 CDI BlueEFFICIENCY SE, for example, features the same basic diesel engine and boasts the same 204bhp power output. Its extra urban fuel consumption figure is 67.3mpg, with 56.5mpg on the combined cycle, so I would expect a very similar result in real world conditions.
So without the added weight of batteries, electric motors and electrickery needed for the hybrid drive system, the car's performance and economy will be similar, but buying the standard car will cost you £31,715, which is almost £8,000 less than the hybrid model.
The standard car, however, loses out when you look at the C02 figures, 130g/km as opposed to the hybrid's 109g/km, so your road tax will be dearer, but you will pay more to insure the hybrid which is a few groups higher.
So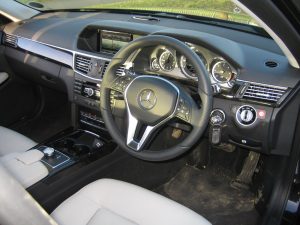 as with most things, you pays your money and you takes your choice!
Suppose though, that you bought this model – would you be pleased with it?
I suspect that you would. It's beautifully put together and I loved the Obsidian Black Metallic paintwork and Alpaca grey leather interior combo. The car is as quiet and refined as they come, and is also impressively quick, with a 0-62mph time of just 7.5 seconds and a top speed of 150mph, although the example I tested was restricted to 130mph because it was fitted with winter tyres, which did make a noticeable difference to the car's handling.
Winter tyres use more polymer in the rubber compound to ensure the larger tread blocks retain their flexibility when the temperatures plummet below freezing, while the larger tread pattern helps to clear ice and snow from between the grooves.
In this car, which remember, is heavier than a standard car because of its electric motors and battery, the handling didn't feel quite as sharp on these tyres as it would have done on summer, or normal tyres. The ride felt, for want of a better expression, squidgier, when the car was pushed into corners or subjected to firm braking!
I was pushing the car quite hard before I could detect the difference, so most owners would probably never notice in "normal" use, but there is a difference which is something buyers should bear in mind when driving on winter tyres.
This E-Class was loaded with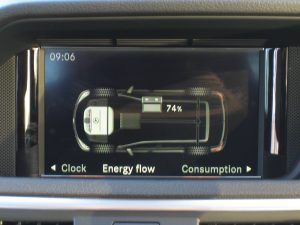 £8,000-worth of extras, my favourite being the Driver Assistance Package, which was also the most expensive at £2,345. It adds clever and safety-conscious tech like Lane-tracking Package, Active Blind Spot Assist which warns with either orange or red triangles in the door mirrors if other vehicles are detected in your blind spots, Active Lane-keeping Assist which makes the steering wheel vibrate to warn the driver if the car begins to stray out of its lane and will even steer the car back into the lane in some circumstances, and Distronic Plus with Pre-Safe Brake, which is a radar-based cruise control which monitors the distance between you and the car in front and will adjust the car's speed to maintain a pre-set gap which the driver can adjust. It's a brilliant system and works well, right down almost to a complete halt, and back up to whatever the pre-set cruising speed is.
An extra £300 could also be money well spent on the Speed Limit Assist system, which recognises speed limit signs and displays them on the instrument cluster. A useful reminder in these days of speed cameras!
The E-Class range, looks good, is a match for anything currently on the market in terms of quality and refinement, and is a pleasure to drive.
If it was my money, I'd buy the E250 without the hybrid technology, but if you're a company car driver, it's worth talking to the accountant to see if they still make financial sense from a tax perspective.
Whatever your decision, I still find the three-pointed star on the bonnet still makes a Mercedes feel just that bit more special than some of its rivals as you get in to start of your day!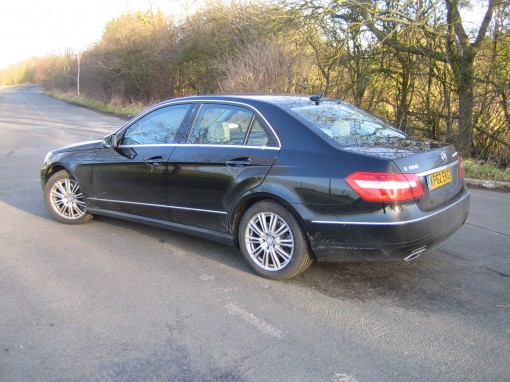 CLICK HERE and "Like" our Facebook page for regular updates and follow us on Twitter

ALSO CONSIDER: The Lexus GS450h Hybrid
Rating:





THE VITAL STATISTICS
MODEL: Mercedes-Benz E300 BlueTEC Hybrid.
E-CLASS RANGE: From 200 CDI BlueEFFICIENCY SE 4dr (£29,150) to 63 AMG 4dr (£74,945).
ENGINE: 2,143cc, 204bhp four-cylinder diesel engine, plus 27hp electric motor, driving rear wheels through 7-G-Tronic Plus 7-speed auto gearbox.
PERFORMANCE: Top speed 150mph. 0-62mph in 7.5 secs.
ECONOMY: City: 65.7mpg.
Country: 65.7mpg.
Combined: 65.7mpg.
Fuel tank: 59 litres.
CO2 EMISSIONS: 109g/km.
INSURANCE: Group 19.
PRICE: £39,645 (£47,665 with options).
WARRANTY: 3 years/Unlimited miles.
WEBSITE: www.mercedes-benz.co.uk
• All data correct at time of publication.