Peugeot 208 Allure 1.6 e-HDi 92 road test
ROAD TEST REPORT, REVIEW: Peugeot 208 5-door Allure 1.6 e-HDi 92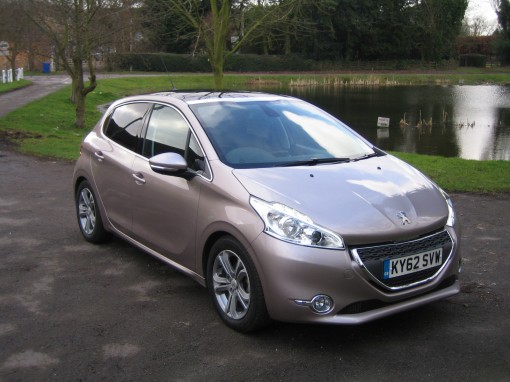 An impressive little performer, DAVID HOOPER is impressed with the real world economy of the Peugeot 208 he's been evaluating.
FOR thousands of British customers, the "Allure" of the new Peugeot 208 was too much to resist, with Peugeot claiming over 3,000 of them placed advanced orders for the car without even having driven it.
The French carmaker is hoping for sales of more than 50,000 cars in 2013, 64 per cent expected to be to private buyers and 69 per cent opting for petrol engines and a similar number going for the five-door model.
While the rest of the range went on sale towards the end of last year, those who like their Pe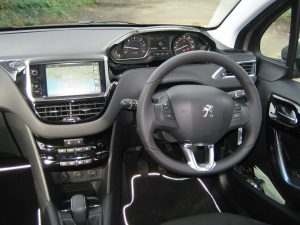 ugeot performance cars have had to wait a little longer, with the company having just announced pricing for the much-anticipated Peugeot 208 GTI, which will start from £18,895.
The 207 was a bit of a disappointment on the sales front, but this model, which is around 173kg lighter than the 207 it replaced is more fuel efficient and bucking the usual trend, is seven centimetres shorter than the old model, yet it has a bigger boot and more rear leg room thanks to some clever design work.
Peugeot's 2 Series was introduced as the 201 in 1929, and was billed as "the most economical car in the world that seats four people". Since then, the 2-series has seen seven generations sold over 17-million examples around the world.
Peugeot says the 208's secondary safety levels are the best in its market segment, which includes the Ford Fiesta, Vauxhall Corsa, and VW Polo, boasting six airbags, ABS, ESP, two rear ISOFIX mountings and cruise control as standard.
Peugeot has dared to do something different with the 208, by lifting the instrument binnacle to the top of the dash, which in turn has allowed for a small, sporty feeling steering wheel.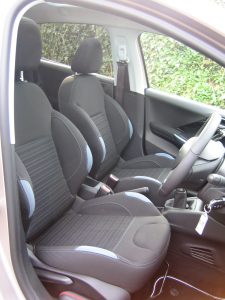 It wasn't universally liked by some of the motoring press, splitting opinion and causing some debate, which is always a good thing, but I actually like it and think it works well – it suits my preferred driving position.
With more than 40 different models, there's a huge choice, but perhaps the first decision will be whether you want two or five doors!
Prices start at £9,995 for the three-door 1.0 VTi in the basic Access trim, powered by Peugeot's new three-cylinder, 68bhp petrol engine which emits just 99 g/km CO2 and returns 65.7mpg on the combined cycle, meaning you don't have to pay for any road tax because it's below the 100g/km mark.
The model I've been driving is the plushly kitted out Allure model, one step down from the range-topping Feline spec, so it comes with plenty of equipment. The excellent multi-function colour touch screen navigation upgrade costs £400, but I would say it's worth the money. I would also recommend splashing out another £400 for the Panoramic Glass Roof, which is superb and floods the car with light.
It makes controlling your music from your MP3 player, which can be connected either by Bluetooth or by a USB lead, easy. The system is quite intuitive to use after a couple of minutes familiarisation with it, and now customers can also have Peugeot Connect Apps which are designed to make the driving experience easier.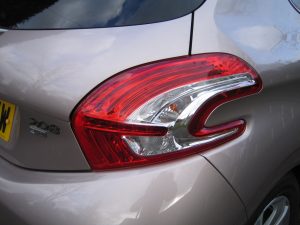 I've been evaluating the 1.6 e-HDI version, which costs £16,045 and looked excellent in its Rose Quartz paintwork – another £495 option for the metallic finish.
Peugeot diesel engines are among the best, and this unit, with its C02 figure of 98g/km is an impressive performer. Without me trying very hard, it returned 57mpg on a long motorway trip, although I did help it a bit by zeroing the trip meters once we were travelling at cruising speeds.
On the return leg, it achieved a respectable 54.3mpg, and averaged 55.3mpg overall during my few days with the car.
It cruises quietly on the motorway, and is nippy around town, with a 0-62mph time of 10.9 seconds.
The car is comfortable, spacious enough for four to five adults and handles competently. The suspension is quite firm, but the only disappointment was the harshness of the suspension, which tends to clatter over bumps, potholes and poor surfaces – something which was commented on by several roadtesters during the 208's UK launch and noticed by two of my passengers.
Other than that, there's little to dislike about the latest model in Peugeot's long-running 2 Series, but careful consideration will have to be given as to which model/engine combination will best suit your needs.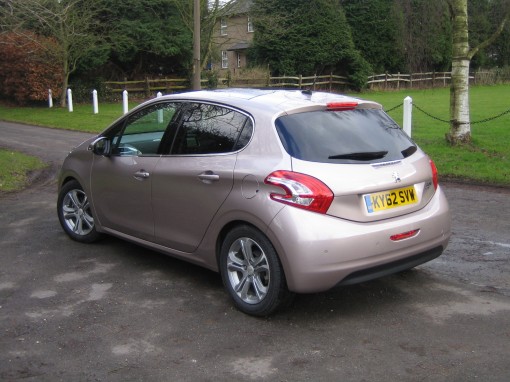 Rating:





THE VITAL STATISTICS
MODEL: Peugeot 208 5-door Allure 1.6 e-HDi 92.
PEUGEOT 208 RANGE: From Access 1.0 VTi 3dr (£9,995) to Feline 1.6 e-HDi Stop and Start 5dr (£18,045).
ENGINE: 1560cc, 92bhp four-cylinder diesel engine, driving front wheels through 5-speed manual gearbox.
PERFORMANCE: Top speed 115mph. 0-62mph in 10.9 secs.
ECONOMY: City: 62.8mpg.
Country: 83.1mpg.
Combined: 74.3mpg.
Fuel tank: 50 litres.
CO2 EMISSIONS: 98g/km.
INSURANCE: Group 17.
PRICE: £16,045.
WARRANTY: 3 years/60,000 miles.
WEBSITE: www.peugeot.co.uk
• All data correct at time of publication.