F1's Vettel becomes first this year to win two GPs
ROUND FOUR: F1 Bahrain Race report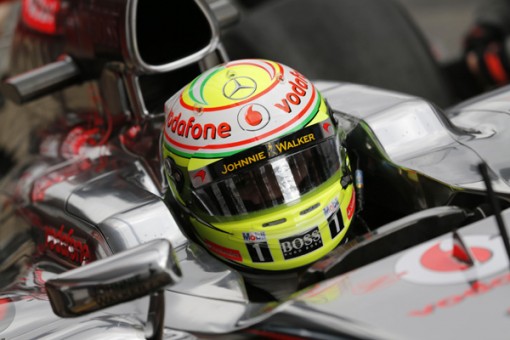 After an action-packed racing, it's Vettel who becomes the first driver this year to win two races. DAVID HOOPER reviews the Bahrain Grand Prix.
SEBASTIAN Vettel dominated the Bahrain Grand Prix to become the only driver this season so far to win two races.
With lots of action up and down the field, and some excellent racing, especially between the new McLaren teammates of Jenson Button and Sergio Perez, there was rarely a dull moment, but at the chequered flag, it was the triple World Champion who was first home, several seconds ahead of second-placed Kimi Raikkonen and third-place Romain Grosjean in the second Lotus.
Scot Paul di Resta just missed out on his first Formula 1 podium, coming home in fourth place after an excellent afternoon's work, with Lewis Hamilton in his promising looking Mercedes finishing in fifth.
Fernando Alonso brought his Ferrari home in eight place after he struggled with a faulty DRS spoiler which kept jamming open and caused two extra pit stops so the mechanics could force it closed.
Vettel's worryingly dominant win puts him 10 points ahead of Raikkonen in the drivers' championship, with Hamilton in third and Alonso fourth, but already 30 points behind at this early stage of the season, but that did include one DNF, remember.
Nico Rosberg's excellent pole position lap may have put him at the front of the grid, but the Mercedes car was no match for the Red Bull once Vettel had finished tussling with the fast-charging Ferrari of Alonso from the start.
We were treated to some exciting wheel-to-wheel racing throughout the race, as the upper end of the mid-field battle between Lewis Hamilton, Nico Rosberg, Mark Webber, Jenson Button, Sergio Perez and Fernando Alonso all found themselves battling amongst each other as various strategies and pit stop calls played themselves out.
It's always good to watch drivers of the this calibre going at it with each other, but it was the youthful exuberance of Perez, who ran into the back of his team-mate Button, before rubbing wheels with his sister car which led to Button calling on the team to tell Perez to calm down a bit.
There are no team orders at this stage of the season, but it still wouldn't do to take out your team-mate's car!
Next stop then, is the Spanish Grand Prix in Barcelona before we savour the glamour of Monte Carlo on May 26. It may be a bit Mickey Mouse as far as the racing goes, but the tiny principality is a spectacular setting, and a tradition the sport just can't do without.
With so many hot-blooded young drivers in the field this year, anything could happen – and as Murray Walker always says – in Formula 1, it usually does!
I'm sure I'm not the only one looking forward to the Monaco Grand Prix!
Click here for next race and the full F1 calendar