Alonso takes away points from Chinese GP thriller
ROUND 4: F1 Chinese GP Race report
Alonso takes a convincing victory for Ferrari getting his title challenge back on track. DAVID HOOPER reports on an exciting Chinese Grand Prix.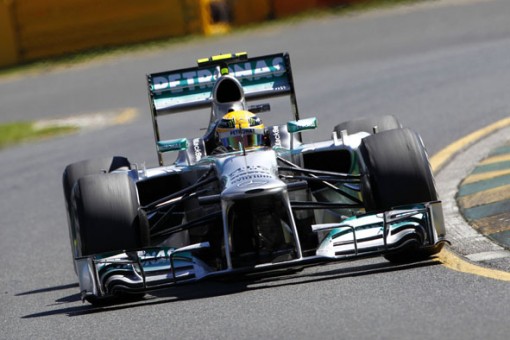 THREE Formula One world champions sprayed the champagne on the podium at the end of the Chinese Grand Prix – but Sebastian Vettel was not one of them.
This time he finished fourth, just behind Lewis Hamilton in his Mercedes who started from pole but could not convert that into a first victory for his new team.
Race winner Fernando Alonso drove a superb race to claim victory and make amends for his disappointing retirement in Malaysia when his front came off and forced him to retire.
Kimi Raikkonen drove superbly for second, despite nearly crashing out when he collided with the McLaren of Sergio Perez, damaging the front of his Lotus to claim second, while Hamilton savoured the champagne for the first time this season with a good third place, but with a few questions still to be answered over the pace of his Mercedes car.
It was a strategic race with the most teams making three tyre stops, and there was plenty of action up and down the field, with Nico Rosberg retiring mid-race, parking his car in his garage.
Poor Mark Webber's luck just doesn't seem to get any better. Not only did he retire from the race when one of his back wheels came off as he was limping back to the pits, and tottered around the course as the leaders dodged it, but after the race he was given a three place grid penalty for the next grand prix in Bahrain next weekend for causing a collision with Toro Rosso's Jean-Eric Vergne.
Sauber's Gutierrez fared even worse, taking a five-place penalty in Bahrain for crashing into the rear end of Adrian Sutil's Force India, leading to Sutil's retirement with a broken rear wing – and leaving Vergne with a severely damaged car.
Jenson Button, caring for his tyres as he does, finished in fifth, but crucially Vettel's lead over Raikkonen in the title race has now be reduced to three points, with Alonso, the only one of the top drivers on the leaderboard to have had a DNF, now in third, just six points behind Vettel.
The rest of the top 10 finishes was made up of Massa in 6th, Ricciardo, Di Resta, Grosjean and Hulkenberg.
It's a quick turnaround for Bahrain this weekend which returns to the F1 calendar after missing out last year because of the political unrest.
Despite getting his first pole position for Mercedes, Hamilton was complaining after China that the Mercedes is still not quick enough – perhaps the desert heat will suit it better, but one thing's for sure, the shifting sands of the title battle are blowing in all directions at the moment.
It's far too early to predict winners, but Alonso looks superb, as does Raikkonen. Vettel's right up there too and I think one of those three will be this year's ultimate victor – but I'm looking forward to finding out which of the three stars it will be.