Subaru WRX STi road test report and review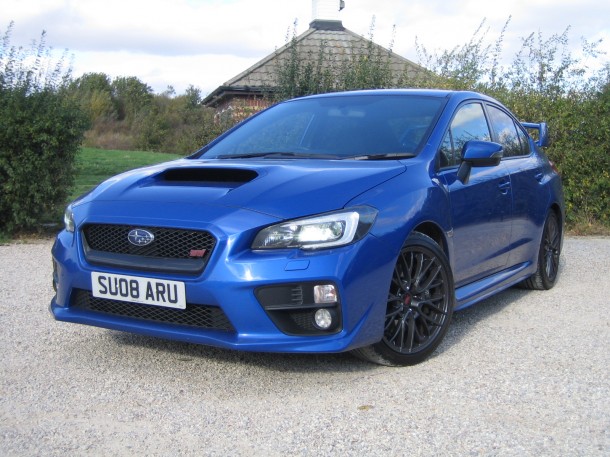 Subaru WRX STi road test report and review: One of the most complete cars ever made – a family saloon with the performance of a supercar – DAVID HOOPER has one last drive of the Subaru WRX STi.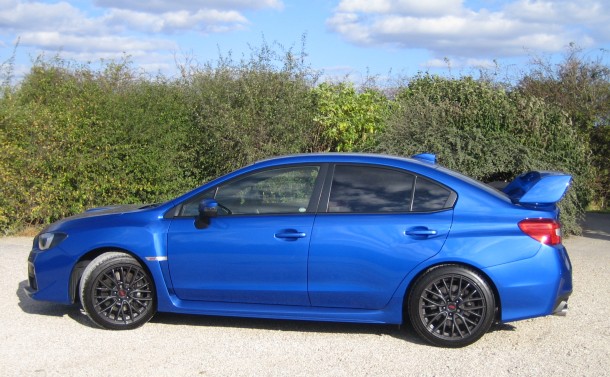 SOME cars I just don't want to give back, and this lovely Subaru WRX STi was one of them.
It's a ostensibly a sensible, four-door family saloon, but a clue to its hooliganistic tendencies is perched on its bootlid – and it's not hard to be led astray by one of the most enjoyable cars I've driven.
Sadly though, like its biggest rival, the Mitsubishi Evo, it has been consigned to history books in the UK by Subaru, but buy a good example, and it's certain to become an appreciating asset in years to come thanks to a strong enthusiast following and several owners clubs.
Both the Evos and Imprezas are modern icons of motoring, born from the heady days when they competed for glory in the World Rally Championship, but now, almost like the dinosaurs, have become petrol-swilling monsters whose days in this politically correct world are numbered. And that's a real shame.
Nothing I have driven this year has put a bigger smile on my face as often as this car did – in a word, it's awesome. It's not the fastest, the most refined, or the best equipped, but it's absolutely stonking good fun to drive and incredibly capable thanks to its permanent four-wheel-drive system which endows it with "on rails" levels of grip regardless of the road conditions. Name another car, if you can, which allows you to manually adjust the differential settings to your own preference?
It's an incredible tool for getting from A to B quickly, and one which is most at home on your favourite B-road. Press the start button and the dials dance with anticipation before their red backlighting comes on to the rumbling applause of the equally iconic flat-four Boxer engine for which the Subaru Impreza became famous. Blip the throttle and it sounds fabulous – it put the biggest grin on my cheekiest nephew's face even before WRX turned a wheel.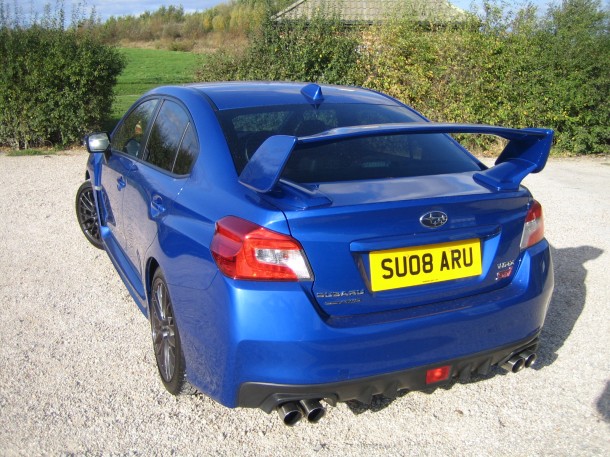 This car feels raw, bred from stage rally competition, which of course, it was. The ride is teeth-rattlingly firm (at low speeds at least) and there is no give in the brake pedal – it too is race-car firm, providing the perfect balance-point for heel-and-toeing gear-changes through its close-ratio six-speed gearbox.
The engine with its big turbo bangs out 300PS which translates into a supercar 0-62mph time of 5.4 seconds and a top speed of 160mph, but in the mid-range it's so much more than the on-paper figures portray. Select fourth gear on an A-road and it will despatch trucks two or three at a time without breaking sweat – the power just keeps on coming.
The sharp steering provides just the right amount of feedback and is perfectly weighted, turning the car in accurately time after time. The grip levels are phenomenal in the wet and especially the dry and the braking performance is just as impressive as its acceleration.
Fantastic though it is, I couldn't afford to live with one for long. Over my treasured few days with this car, it returned an average mpg figure of just 22, and one Sunday morning during a blast on my favourite test route which throws bits of everything at a car, it dropped to a wallet-wrenching 12.6mpg! And then there's the un-PC C02 emissions figure of 242g/km, but if I could afford the fuel, I honestly wouldn't care about the rest.
I spent some of my formative years watching these cars on the world's rally stages, and got splattered by some of them in the hands of messers McCrae and Burns at Chatsworth House more years ago thank I care to remember, but sadly these icons of motorsport have now been consigned to the history books.
However, as long you can buy fuel, they will live on in the hands of enthusiasts and collectors who will enjoy them as much as I have driving and writing about them. These cars are modern classics and their prices will only be heading in one direction, so if you want one, get one now. You have been warned!
THE VITAL STATISTICS
MODEL: Subaru WRX STi 2.5.
ENGINE: 2,457cc, 300PS four-cylinder petrol engine, driving four wheels through 6-speed manual gearbox.
PERFORMANCE: Top speed 158mph. 0-62mph in 5.2 secs.
ECONOMY: City: 20.2mpg.
Country: 33.6mpg.
Combined: 27.2mpg.
CO2 EMISSIONS: 242g/km.
FUEL TANK: 60 litres.
INSURANCE: Group 40
PRICE: £31,995
WARRANTY: 3 years/60,000 miles
WEBSITE: www.subaru.co.uk
• All data correct at time of publication.