Toyota GT86 Orange Edition road test report and review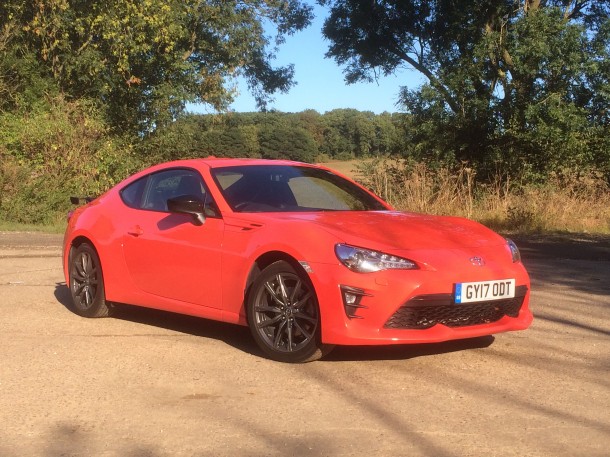 Toyota GT86 Orange Edition road test report and review: Rear-wheel-drive and nearly 200bhp is guaranteed to put a smile on your face. DAVID HOOPER explains why!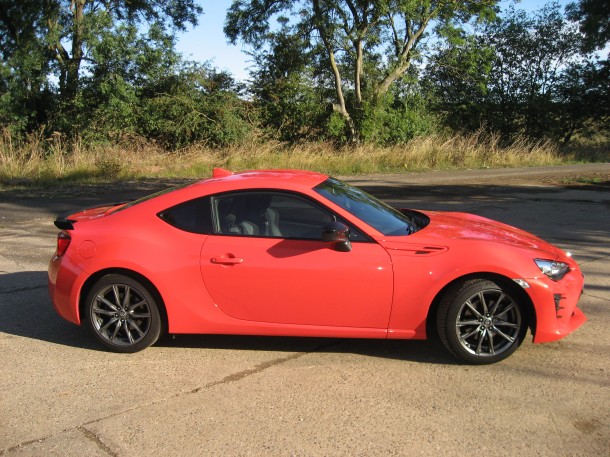 EVER feel like you've been tangoed? Well it did feel a bit like that when I first laid eyes on this lovely Toyota GT86 as it was basking in the early-evening sun.
This sleek, low-slung sports coupe, with its boot-mounted black spoiler and door mirrors, is the result of joint project between Toyota and Subaru, with the Subaru version going under the BRZ banner, but essentially the two cars are the same apart from a few minor tweaks to their respective underpinnings and  trim specifications.
They are "proper cars", powered by a 2.0-litre 197bhp naturally aspirated boxer engine (to keep the centre of gravity low), driving the rear wheels – the preferred lay-out of the true petrol head. The engine sounds fantastic when the exhaust note changes as the loud pedal is depressed into the carpet, spinning the revs towards the limiter in each gear. A red "change up" indicator comes on, accompanied by an audible beep. Ignore it, and you'll quickly hit a fairly abrupt rev limiter which leaves you no option but to change gear.
The brake pedal is firm and as confidence inspiring as the brakes are assured, with no hint of fade, and the firm pedal provides the perfect platform for heel-and-toeing to smooth out the downshifts with a delightful blip of the throttle.
The GT86 is made to be light, and therefore more agile – even the rear view mirror is frameless to save a few grammes of precious weight, and the windows in the doors are frameless.
On the road, the car is a sheer delight to drive, the steering feels properly connected to the front wheels which react immediately to the slightest of inputs. The performance envelope isn't going to set the world on fire, but with a 0-62mph time of 7.7 seconds and potential top speed of 140mph, it's not slow, but it does make you work to extract that performance, which is more than half of the fun. Sixth gear is high, for cruising, which helps to achieve an average MPG figure during my test of 36.7mpg overall, but for overtaking or getting a spurt on, you have to drop to third and get the revs up, which in turn makes quite a racket, but it's a rewarding racket, and the response from the car is, well, let's just say "enjoyable". It even comes with cruise control for those moments when you have to behave yourself, or you're looking for better fuel economy. Mid 40s is entirely possible if you drive it gently.
Drive the GT86 with any kind of intent and it responds enthusiastically, with its minimalistic interior allowing plenty of noise into the cabin. The result is a driving experience which is the nearest thing to a racing car I've come across for a while, and I loved it.
There are rear seats, but there is little leg room, even with an average sized driver at the wheel, but they are better than nothing for occasional use. The boot is a decent enough size, and the rear seat backrests can be folded down to increase the luggage space if needed and provide a flat load-through area, but the boot lip is quite high.
The GT86 is one for the enthusiast, it's fast, fun, rear-wheel-drive, and a bit raw around the edges, but I loved it and wouldn't hesitate to recommend it.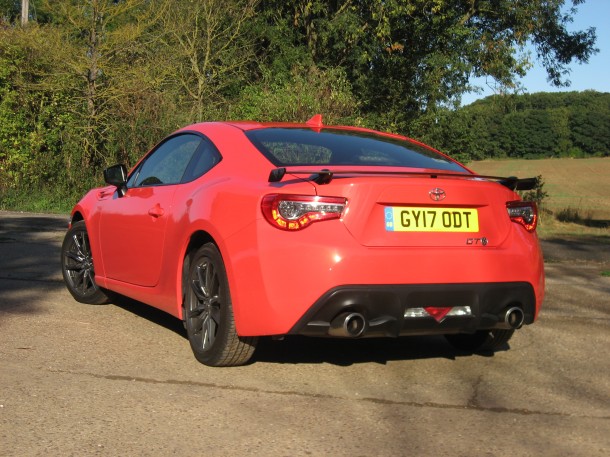 THE VITAL STATISTICS
MODEL: Toyota GT86 Orange Edition.
ENGINE: 1,998cc, 197bhp T4-cylinder boxer petrol engine, driving rear wheels through 6-speed manual gearbox.
PERFORMANCE: Top speed 140mph. 0-62mph in 7.7 secs.
ECONOMY: City: 36.2mpg.
Country: 27.2mpg.
Combined: 44.1mpg.
Wheel World test average: 36.7mpg
CO2 EMISSIONS: 180g/km.
INSURANCE: Group 33
PRICE: £30,380.
WARRANTY: 5 years/100,000 miles
WEBSITE: www.toyota.co.uk
• All data correct at time of publication.