Subaru Levorg 1.6 GT Lineartronic road test report and review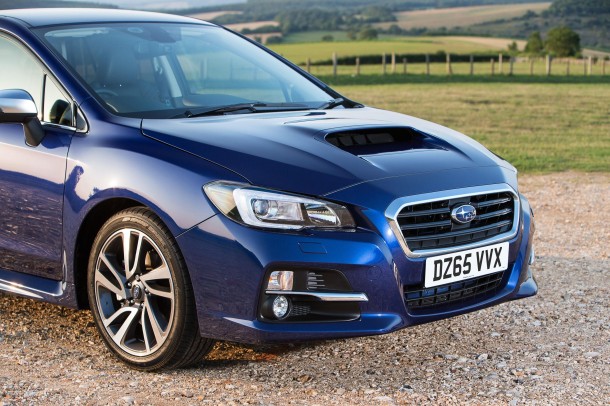 Subaru Levorg 1.6 GT Lineartronic road test report and review: A great looking car, and one of the most competent all-rounders we've driven for some time. DAVID HOOPER enjoys a few days with the Subaru Levorg 1.6 GT Lineartronic
IT may not be one of the biggest sellers in the UK, but Subaru has been quietly refreshing its product range, and this Levorg GT sports tourer is quite an impressive piece of kit.
For a start it looks superb, with a front end which could have been borrowed from the Impreza WRX, complete with large air intake in the centre of the bonnet, and numerous lighting units on each corner which combine to make it look impressively sporty.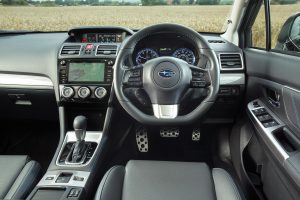 As your eye follows the sleek, estate car lines rearwards, the overall shape is very pleasing, and conceals a surprisingly spacious load area which can be increased at the touch of a button which sees the rear seat backs flop forwards to create an even larger flat loading area, all of which is protected from peering eyes by dark tinted privacy glass.
The exterior colour is superb, Subaru Blue as my son and I call it, which could have been lifted from the iconic Colin McRae rally cars of the 80s and 90s. Combined with the attractively-designed 18in alloy wheels, the Subaru Levorg GT certainly looks the part.
Our test car was equipped with a 1.6-litre turbocharged engine mated to a Continuously Variable Transmission gearbox, or CVT, which works on a belt system. Early gearboxes of this type in other manufacturers' products were pretty appalling to drive and I certainly wouldn't have chosen to live with one, but they have improved now almost beyond recognition and are difficult to tell apart from conventional autos. Gone is the screaming engine as the expanding belts try to catch up with the revs, to be replaced with a smooth operating transmission which is impressively refined. As always, the car has electronically created "gears" which can be controlled manually via flappy paddles on the back of the steering wheel when the driver wants to feel more involved.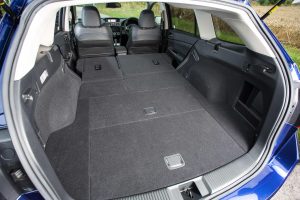 The Subaru Levorg is powered by a 1.6-litre turbocharged engine, which doesn't sound very large for such a big car, yet despite its modest capacity, pumps out 170PS and 184lb ft torque to provide the car with credible performance. The 0-62mph sprint is despatched in 8.9 seconds and it has a top speed of 130 mph. With gentle driving, the car returned around 37mpg, but over my few days' test over the full mix of road conditions, it only managed 29.8mpg, which is slightly disappointing, especially when there is no diesel option available.
The trademark Subaru Symmetrical All-Wheel-Drive system never feels anything less than secure on the road, even when you take liberties through damp bends provoking mild understeer, but the firm suspension and large tyres create more road noise in the cabin than I would have liked on some road surfaces. Interestingly, the Subaru Forester I reviewed recently was much quieter at speed than the Levorg is, and with the Levorg being a £30,000 luxury estate, I would have expected it to be the other way around.
Inside, the Levorg looks and feels well built. The leather interior of our test car was trimmed with blue stitching to match the car's exterior paintwork and looked very smart indeed, as did the shiny aluminium effect pedals.
Equipment levels are good with climate control, sat nav, cruise control, Bluetooth telephone, MP3 options and so on, all controlled by a 7in central screen. There are also various Apps which you can download to enhance your travelling experience still further. I liked the convenience of the keyless entry system too.
All-in-all, the Subaru Levorg GT offers something a bit different to the norm, an estate car for the boy racer who's matured and given up his backwards-facing peaked cap perhaps. All I'm saying is, I loved it. Draw your own conclusions!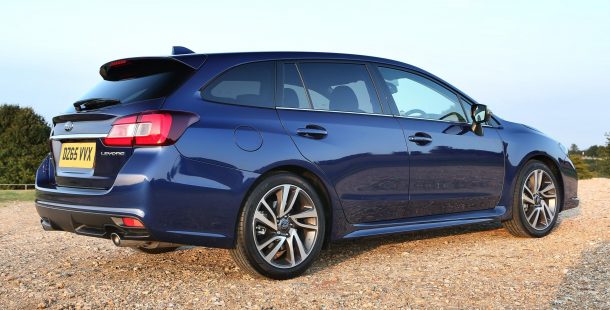 Rating:





THE VITAL STATISTICS
MODEL: Subaru Levorg 1.6 GT Lineartronic
ENGINE: 1600cc, 170PS flat four Boxer direct injection petrol engine, driving four wheels through CVT gearbox.
PERFORMANCE: Top speed 130mph. 0-62mph in 8.9 secs.
ECONOMY: City: 33.2mpg.
Country: 44.8mpg.
Combined: 39.8mpg.
Wheel World test average: 29.8mpg
CO2 EMISSIONS: 164g/km.
FUEL TANK: 60 litres.
PRICE: £29,680
WEBSITE: www.subaru.co.uk
• All data correct at time of publication.