Renault Megane GT Nav 205 road test report and review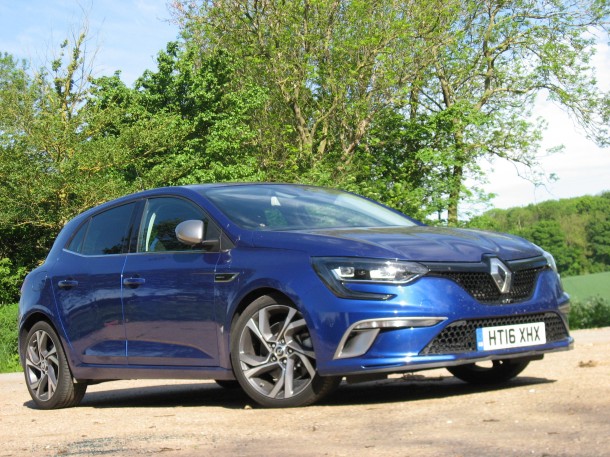 Renault Megane GT Nav 205 road test report and review: A great looking car with four-wheel-steering, but does Renault's new 205hp Megane cut it as a performance car. DAVID HOOPER has been finding out.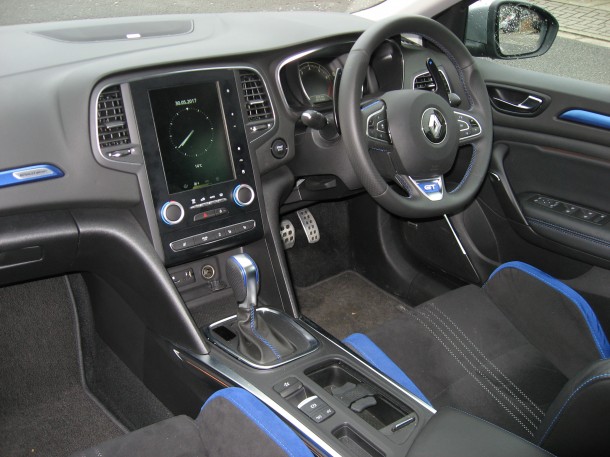 FOR me, French carmaker Renault designs some of the best looking cars you can buy, at any price, and this latest Megane model is another fine example of the company's styling prowess.
They may not always get it right, but at least they dare to be different and try something other manufacturers wouldn't be prepared to take a chance on. Who remembers the Avantime, or the earlier Megane with the sticky-out boot and the clever TV ad campaign?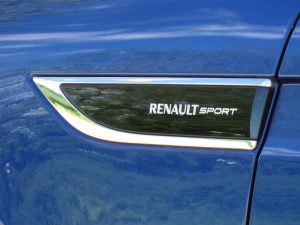 The big Renault trademark badge dominates the front of the car, with a discreet GT badge sitting below it, while at the back, the rear light clusters permeate into the boot, but the LED lighting signatures are hard to miss, front or rear, and look superb. Some gorgeous 18in diamond cut Daytona alloy wheels and an F1-style fuel filler cap complete the sporting look.
Our test car this week is the 205bhp GT model, boasting a 0-62mph time of 7.1 seconds and a top speed of 143mph, all from a 1.6-litre turbocharged petrol engine, aided and abetted by a seven-speed EDC auto gearbox which can be controlled by flappy paddles behind the steering wheel, but more of that in a bit.
Inside, the sports seats clad in two-tone blue and grey Alcantara are a £1,200 option, but worth every penny in my book, as not only are they superbly comfortable, but they also look great, with the blue and black materials complementing the rest of the interior.
Other options include Renault i.d metallic paint in Iron Blue at £645, a hands-free parking system at £350, the Safety Pack Premium at £400 which includes adaptive Cruise Control, Safe Distance Warning and AEBS and the Bose pack which adds seven speakers and a subwoofer and digital amplifier for £600, altogether taking the price of our test car up to almost £30,000!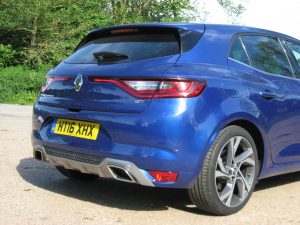 Standard kit, which would have been on the options list of executive cars not so long ago, include things like lane departure warning, traffic sign recognition and automoatic high/low beam headlights.
The electronic displays can be configured in various ways, to suit either your mood, or driving style, and I loved the fact that you could change of the colour of the mood lighting strips on the doors and centre console. Select the Sport setting, for example, and all the mood lighting turns red, but there is a whole palette of colours to choose from for the other settings. The instrument display can also be changed to suit your mood or driving style of the day.
On the road, the sports suspension set-up gives a relatively firm ride, but with 205bhp on tap, it needs it. The chassis dynamics feel spot on, and Renault's 4Control system, which brings four-wheel-steering to the party, really makes a notable difference. Turn into a corner, and the car feels more direct than one with the conventional set-up we are all used to, it feels more pointy and reactive to inputs at the wheel. It takes a little getting used to, but I like the sharp responses. I also liked the manual control of the gear changes when I took control of the gear selector. This system actually works the correct way round, unlike the majority of similar offerings elsewhere, which means that when you're braking for a corner, you push the gear lever away from you to change down, and pull it towards you to change up when accelerating hard – just as it should be! Of course, should you prefer, you could use the flappy paddles, or just leave the car to sort it out itself.
The performance feels brisk without being aggressively fast, but it is almost too refined, you can hardly hear the engine inside the car in most situations, so for me, something slightly more "vocal" would be appreciated.
The brakes feel reassuringly powerful, and I never detected any hint of fade during my time with the car, which returned an average of 28.6mpg overall, which is hardly surprising when I "enjoyed" my motoring.
The Renault Megane GT not only looks great, it is also an enjoyable hot hatch to drive, particularly with the 4Control steering system which sharpens up its responses very nicely.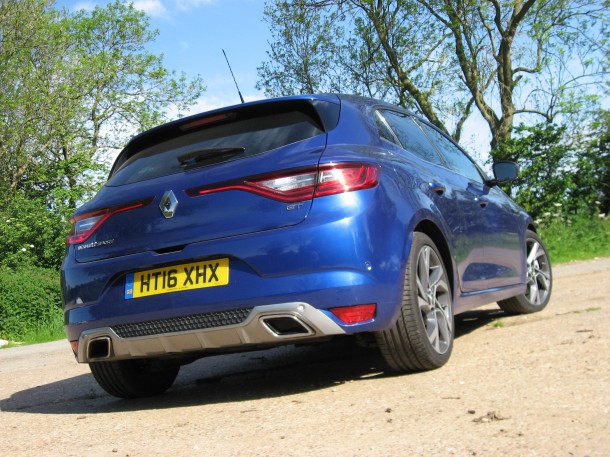 Rating:





THE VITAL STATISTICS
MODEL: Renault Megane GT Nav 205
ENGINE: 1618cc, 205bhp four-cylinder petrol engine, driving front wheels through 7-speed EDC auto gearbox.
PERFORMANCE: Top speed 143mph. 0-62mph in 7.1 secs.
ECONOMY: Combined: 47.1mpg.
Wheel World test average: 28.6mpg
CO2 EMISSIONS: 134g/km.
INSURANCE: Group 27
PRICE: £26,440 (£29,635 as tested)
WARRANTY: Four year/100,000 miles
WEBSITE: www.renault.co.uk
• All data correct at time of publication.