Ford Mustang 2.3 EcoBoost Auto road test report review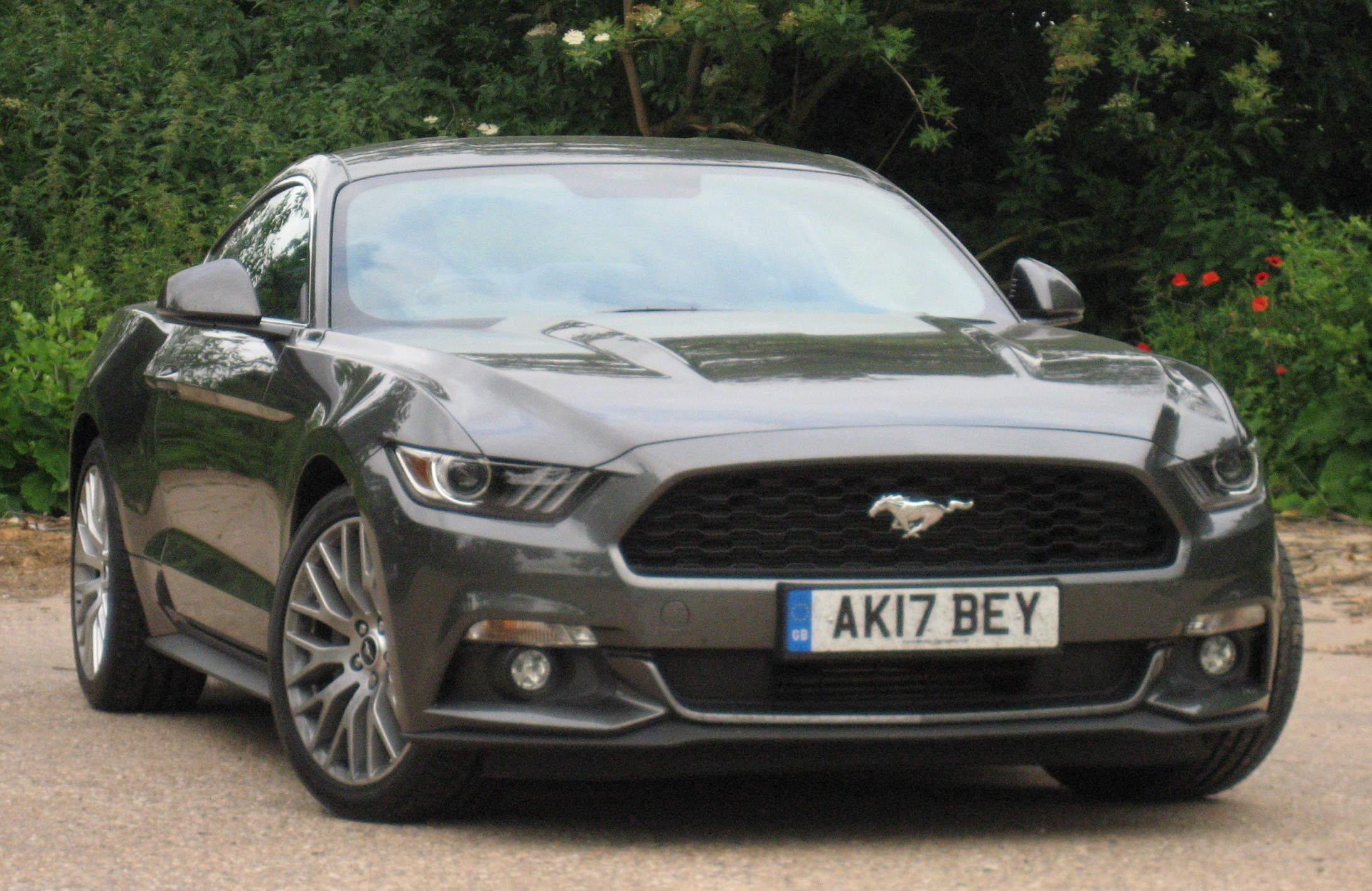 Ford Mustang 2.3 EcoBoost Auto road test report and review: David Hooper bites the Bullitt and finally gets to drive Ford's new take on one of its movie-star all-time classics – saddle up for the new Ford Mustang.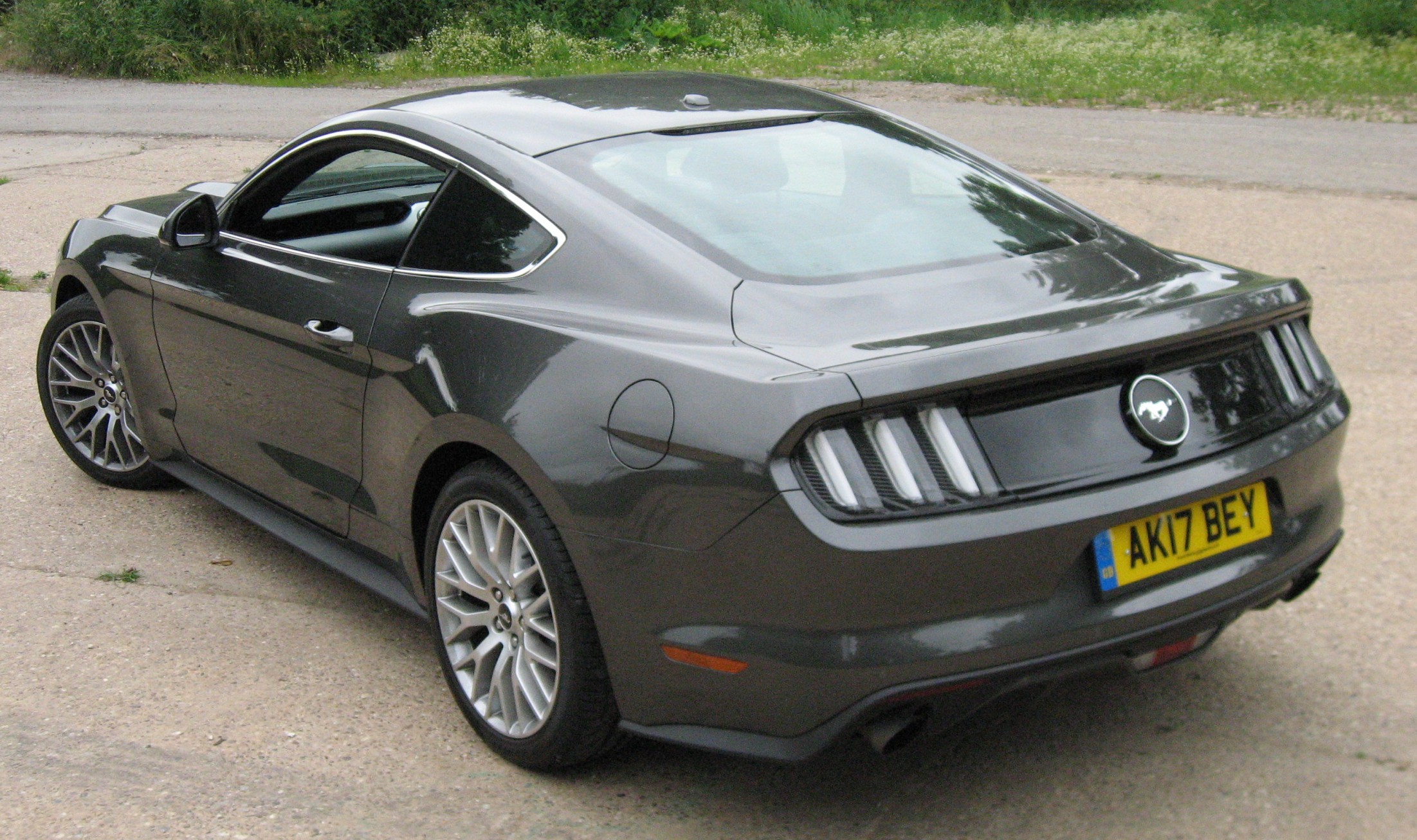 BMW did it first with the Mini, then Fiat had a go with the ubiquitous 500, and now Ford, being American, has done it bigger than anyone else, but have they done it better?
Meet the muscular Mustang, Ford's modern take on one of its most iconic cars, built, as the little plaque on the dashboard reminds you every time you get in the car, Since 1964. The original car galloped to box office fame in 1968 as the star of the Bullitt film, in which, driven by Steve McQueen, it led the pursuing cops on a merry chase in what some regard as one of the best car chase sequences ever filmed with loads of tail-out over-steering action. The highly-acclaimed film also featured Robert Vaughn, and Jacqueline Bisset.
The modern incarnation of this 60's classic, is a real head turner – rarely have I seen so many lads turning their cameras on a car I've been reviewing as this one attracted when I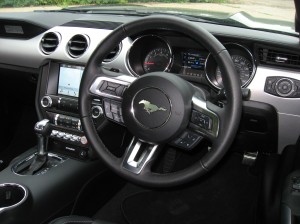 stopped to let a passenger out in a small Lincolnshire market town. The car looks fantastic, and is perfectly proportioned. I loved everything about its looks, from the headlights to the design of the rear lights, and the two drain pipes, sorry exhausts, protruding from under the rear bumper.
Where the Mini and the Fiat were both tiny, the Ford Mustang is a giant among cars. Its long, sculpted bonnet stretches out before you as you sit in the driver's seat, and it feels as wide as a house from behind the steering wheel.
Finished in Magnetic paintwork, better Mustang colours are available, the interior, featuring Ebony leather trim, is also fabulously retro with chromed switches and big, 60s style dials – and I loved the wording on the dials – Groundspeed on the speedometer, and Revolutions Per Minute on the rev counter, none of this modern RPM stuff!
Perhaps though, its best party trick is the puddle lights, which light up a sharp image of the galloping Mustang on the floor as you unlock the car – I got several "Oh wows" with that one, as you slide into the large, armchair-like seats.
Our test car was powered by the 2.7-litre four-cylinder turbo-charged engine which is somewhat more economical than the larger 5.0-litre, but it has to be said, doesn't sound as good, and the difference in fuel consumption is apparently not as great as you might imagine, with our test car returning 27.2mpg during my few days with the car.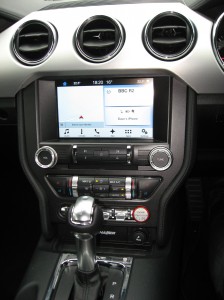 The noise it makes is generated from within the car, as are the "engine noises" of many performance cars these days to meet emissions and noise rules, which is a bit of a cheat, but still gives the impression of a large burbly engine lurking under the enormous bonnet.
The noise may be a bit of a con, but the performance is convincing enough, with a 0-62mph time of 5.8 seconds, and top speed of up to 145mph, it's quick enough, but the Mustang is a big car and you can feel its weight on a twisting British B-road, and I found it to be a bit of a lumbering oaf, although if you push it into a fast corner on dry tarmac it sticks well enough. On wet roads however, more care needs to be taken as there are 317 braked horses trying to break loose from the corral via the rear wheels which are quite happy to help you hang the rear end out if you're brave enough.
Enjoy the Mustang on a sweeping, flowing A-road or motorway, and the car then comes into its own, eating up the miles with ease, so in performance terms, think of the Ford Mustang as a Grand Tourer rather than an out-and-out sports car.
There is room in the back for excited nephews, and one of mine who is 6ft 4in squeezed himself into the back seats after he was demoted from the front seat by his younger brother who had been "nagging" me to get a Mustang to review for many months! While his taller brother did manage to get in the back, he wouldn't have wanted to travel too far in it, Mustang or not, the sloping roof would have cricked his neck before long.
The boot is a reasonable size, and certainly big enough for a road trip when the fancy takes you.
So while the Ford Mustang isn't the driver's car I had expected it would be, it's a fabulous looking grand tourer, a beautiful modern classic which turns heads wherever it goes and can certainly put a smile on any owner's face.
It has also been an instant hit with Ford's UK customers – the company is selling every car it can build as fast as it can build them – the Mustang is quite literally galloping out of the showrooms!
Rating: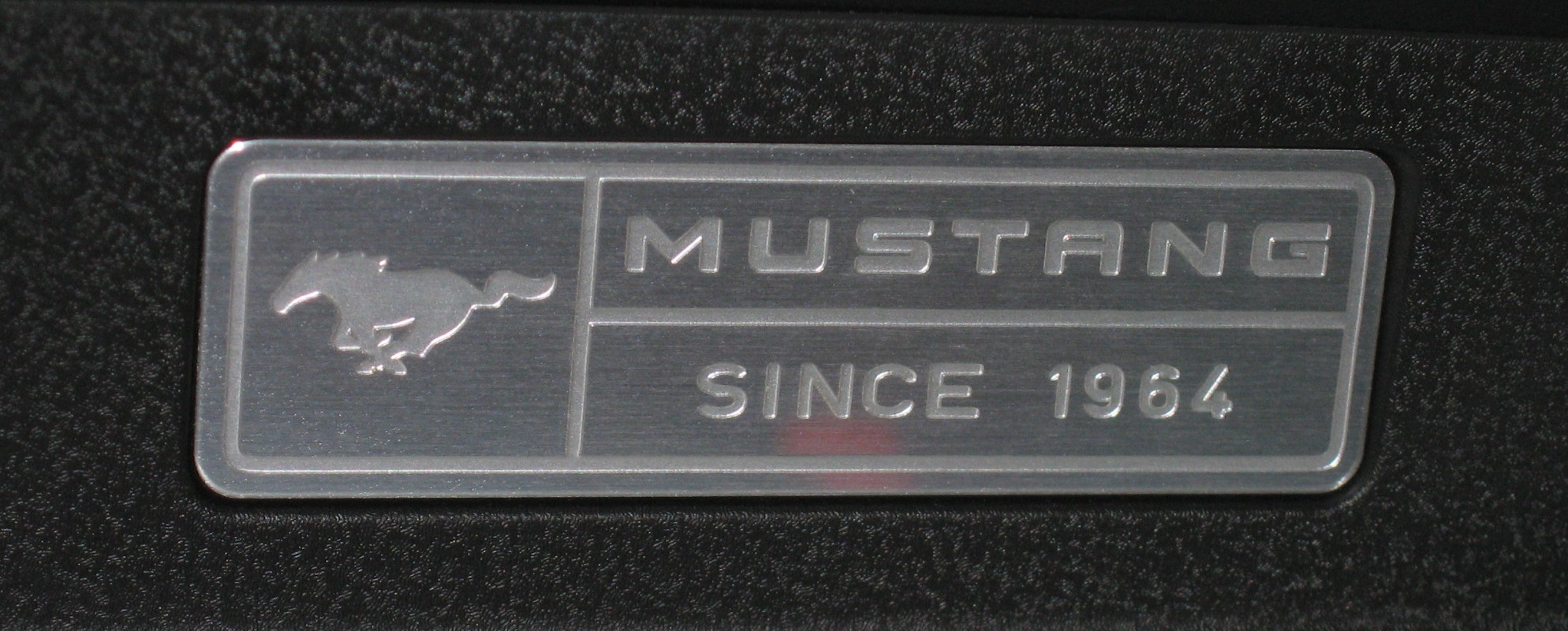 Don't miss our review on the Ford Mustang Convertible
THE VITAL STATISTICS
MODEL: Ford Mustang 2.3 EcoBoost Auto
ENGINE: 2,261cc, 317bhp four-cylinder petrol engine, driving rear wheels through 6-speed automatic gearbox with manual mode.
PERFORMANCE: Top speed 145mph. 0-62mph in 5.8 secs.
ECONOMY: City: 14.3mpg.
Country: 39.2mpg.
Combined: 28.8mpg.
Wheel World test average: 27.2mpg
CO2 EMISSIONS: 225g/km.
FUEL TANK: 59 litres.
INSURANCE: Group 41
PRICE: £35,245
WARRANTY: 3 years/60,000 miles
WEBSITE: www.ford.co.uk
• All data correct at time of publication.