Stunning Hyundai Veloster hits the road in style
ROAD TEST REPORT AND REVIEW: Hyundai Veloster
As Hyundai unleashes its new Veloster, wheelworldreviews.co.uk editor DAVID HOOPER is one of the first British journalists to drive this exciting new sports coupe.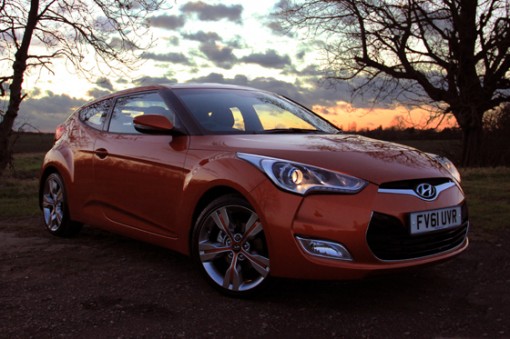 THERE'S nothing like an exciting new coupe to get 2012 off to a flying start, and this sporty little number from Hyundai hits that particular nail squarely on the head.
You won't find anything square on the stunning new Veloster though. Its sleek profile looks superb from every angle and as the eagle-eyed among you will soon notice, it has been cleverly designed, bringing a first for Hyundai to the compact coupe sector in the shape of its 1+2 door configuration.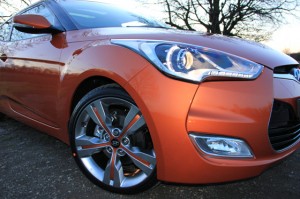 On the driver's side of the car there is the traditional long, single door, but on the passenger, or pavement side of the vehicle, there are two doors, making access to its two rear seats easier. The third, or rear passenger door, has been cleverly sculpted into the car with its door handle disguised as part of the rear window arrangement, a feature we're familiar with from such style icons as Alfa Romeo's 156 and Guilietta models.
Mini, another modern style icon, has recently used the 2+1 door arrangement on its Clubman, or estate models, controversially putting its third carriage-style door on the driver's side of the car. Full marks then to Hyundai for engineering its new coupe with the third door on the pavement side. It's obviously safer for parents trying to load children into the two, nicely-sculpted rear seats, which will also accommodate adults – so long as they're not too tall. The rear seat back is split 60/40 and will fold down flat to increase boot space when needed.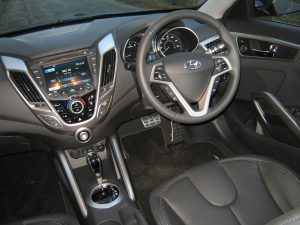 Going head-to-head with VW's Scirocco, the new Mini Coupe and Volvo's C30, you're unlikely to miss a Veloster should you see one on the road, thanks to Hyundai's choice of eight bold colours, which includes the bright metallic orange Vitamin C of this demonstrator I borrowed from Read Hyundai, which has dealerships in Grimsby and Lincoln. The metallic paint finish costs £445 more than the standard solid colours of White Crystal and Sunflower. If you're not a shrinking violet, you could opt for one of the other metallics, Green Apple or Blue Ocean, or choose the more traditional Veloster Red, pearlescent Phantom Black or Sleek Silver.
With such bright colours on offer, it will be no surprise that Hyundai has aimed its Veloster squarely at young, fashion-conscious buyers who will appreciate its combination of coupe styling, hatchback practicality and generous, gadget-packed specifications. It's sensibly priced too, with the five-model range starting from a fiver under £18,000.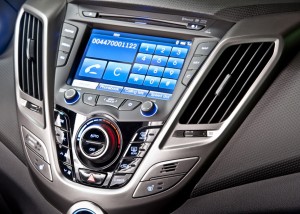 Daytime running lights, climate control air conditioning, reversing sensors, projection headlamps and smart 17in alloys all come as standard. Bluetooth connectivity, electric windows, steering wheel mounted controls and a 7in touch-screen all complement the stylish interior, an area in which Hyundai has made great strides in recent years, moving away from the somewhat dull offerings of earlier models.
The Veloster Sport, the only other derivative, adds 18in alloys with lovely colour-coded inserts to match the paint finish, keyless entry, an excellent panoramic glass sunroof which floods the interior with light, black leather upholstery, heated front seats, cruise control, and sporty alloy pedals. In addition to the metallic paint, other factory fitted options include a Media Pack on the Sport model, which costs £1,100 and adds touch-screen sat nav, a rear view parking camera, an excellent eight-speaker sound system complete with subwoofer and an uprated amplifier.  The system supports radio, CD, MP3 and iPod connectivity – it even has voice recognition. Red leather upholstery and front door panels can also be yours for £300.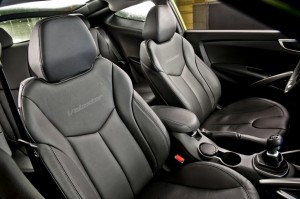 Initially, the entire range is powered by a 1.6-litre four-cylinder GDi petrol engine, developing 140PS. A six-speed manual gearbox is standard, but Hyundai is offering its new dual-clutch transmission (DCT) as an option, which works either as a normal automatic, or can be controlled by the driver nudging the gearstick up and down to change gear, or flicking paddles mounted behind the steering wheel. It's a shame the company didn't invest in some nice chrome-finished paddles instead of using disappointingly cheap feeling plastic ones. That is my only criticism of what is otherwise a very smart and well equipped interior.
With short front and rear overhangs, and twin exhausts positioned under the number plate in the centre of the car, the Veloster really looks the part. I briefly tested the top-of-the-range model and was impressed by its build quality and the way the car felt on the road. The ride is firm, but comfortable and the steering response accurate, combined with an impressively tight turning circle, handy for manoeuvring in tight spots.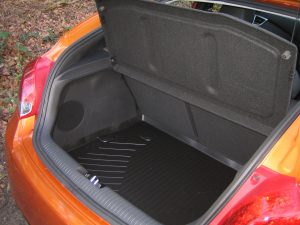 On the road, the Veloster carries its speed deceptively well. With a 0-62mph time of 10.3 seconds in the model I tested, acceleration is progressive rather than rapid, but the car soon picks up speed and cruises quietly, coping well with Lincolnshire's less than perfect road surfaces.
Damp, greasy roads and the fact that it was a brand new car, meant I didn't explore the limits of its handling abilities, but as drier sections of road started to appear as the sun dried them out, the car turned into corners accurately and retained its composure when asked to make swift changes of direction. The brakes felt powerful and confidence inspiring.
The gearchange was smooth, even in the manual mode, the beauty of a twin-clutch gearbox being that it eliminates the delay between gearchanges you get with a traditional automatic. The DCT gearbox fitted to the Veloster I tested, has a 1mph slower top speed than its manual counterpart, but is slightly more economical, 43.5mpg for the manual, and 44.1 for the DCT on the combined cycle, so there's very little in it.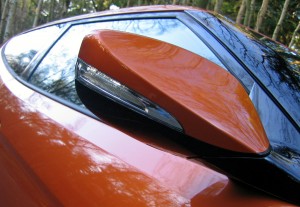 If economy is a priority for you, Hyundai is offering a Veloster equipped with its Blue Drive eco-technology which includes Intelligent Stop & Go (ISG) which switches the engine off when the car is stationary, and low rolling-resistance tyres. It is capable of returning 47.9mpg on the combined cycle and the lowest CO2 emissions in the range of just 137g/km.
A faster, more powerful turbo-charged version of the 1.6-litre engine will join the range in July this year, which I suspect will be the preferred choice of more sporting drivers.
A coupe model has been missing from Hyundai's range for a while now, but previous coupes developed a loyal band of customers, something the manufacturer is expecting to replicate with its stunning new Veloster, with up to 5,000 UK sales a year and around 20,000 in Europe.
Hyundai's 5 Year Triple Care warranty package and a class-leading residual value prediction from price monitor CAP of 35 per cent, will surely only help it achieve those goals.
CLICK HERE and "Like" our Facebook page for regular updates and follow us on Twitter
The third door is cleverly designed to blend into the side of the car, making it almost invisible.

Rating:

THE VITAL STATISTICS
MODEL: Hyundai Veloster 1.6 Sport DCT with Media Pack.
VELOSTER RANGE: From 1.6 GDi (£17,995) to 1.6 GDi Sport DCT (£21,745).
ENGINE: 1591cc, 138bhp four-cylinder engine, driving front wheels through 6-speed automatic gearbox.
PERFORMANCE: Top speed 124mph. 0-62mph in 10.3 secs.
ECONOMY: City: 35.3mpg.
Country: 53.3mpg.
Combined: 44.1mpg.
Fuel tank: 50 litres.
CO2 EMISSIONS: 145g/km.
INSURANCE: Group 16.
PRICE: £21,745.
WARRANTY: 5 years/Unlimited miles.
WEBSITE: www.read-hyundai.co.uk

• All data correct at time of publication.