Spartan cabs 'a thing of past' for White Van Man'
ROAD TEST REPORT AND REVIEW: Renault Trafic van
A cross-Channel trip to France helps KEITH WARD realise that White Van Man has come in from the cold and instead of putting up with spartan cabs, he now travels in the lap of luxury.
VANS these days are sporting many of the comforts we have come to expect in cars. This means White Van Man has come in from the cold spartan cabs of yesteryear to be, if not exactly cosseted, certainly cared for.
Take the popular and stylish Renault Trafic, a former European Van of the Year from Europe's leading light commercial vehicle manufacturer for the past decade. In the UK, sales January-November 2011 were just shy of 7,700 – among the best-sellers in the medium van category and 13% up on 2010.
Now into Mk 3 form and available in more than 100 variants in style, engines and body strength, it is jointly developed with Nissan, Vauxhall and Opel, who all market their own badged versions. Most of the ostensibly French Trafics you see are British-built in Luton. Almost a case for anglicising the badge to Traffic?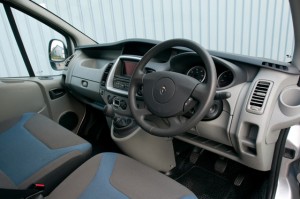 The Trafic in Panel Van form was recently in our hands to shift a load of household furniture and follow the well-pounded commercial vehicle run from England to France via the Dover-Calais crossing.
If you are starting out from the North of England with the prospect of a 1,500-mile round trip, you note from the outset with some approval a well-padded, height adjustable driver's seat with armrests and such car-worthy features as air-con, cruise control and satellite navigation.
There was a CD MP3 radio RDS, on which we whiled away long stretches on jam-free but toll-charging motorways earwigging France's wide selection of broadcast music and our own collection of short stories recorded on CD by the superb Martin Jarvis.
A habitual car driver may at first feel daunted by the bulk of even a "mid-sized" van such as the Trafic. No need. Even our long-wheelbase version, equivalent to around one and a half Twingos, soon felt as manageable, say, as any MPV. And its size was anyway to be placed in context once alongside huge juggernaut trucks inside the vast hold of P&O's new 49,000-ton superferry Spirit of Britain.
Back on land, the rear parking sensors, an option, are essential, I would say, for backing a van safely into city spaces increasingly inadequate even for today's bulked-out car dimensions.
On the road, the Trafic's car-like suspension and steering made for relaxed motoring.
You miss a central rear-view mirror, but large, split-angle door mirrors compensate.
Acceleration even from Renault's most powerful 150 bhp, 2.5-litre diesel is not startling. Once rolling, however, you can sense the potential for zipping up the outside lane in classic van mode.
You learn to "feather" the dual-mode gearbox, experienced in Renault's passenger cars, through its automatic changes. Or switch to clutchless, push-and-pull manual for more robust progress.
Fully loaded, the Trafic returned around 32 mpg, improving to 38-plus having dropped its cargo.
Even at cheaper fuel prices in France, you fork out the equivalent of around £100 for a tankful. No comfort there for White Van Man.
THE VITAL STATISTICS
Model: Trafic 2.5D LL29 long wheelbase dCi 150 QS Sport
Body: Panel Van; enclosed cab; 2 side-hinged rear doors; 2 sliding side doors
External: Length (LWB) 5,182 mm; height (low) 1,969 mm; width 1,904 mm
Loadspace: Length 2,810 mm; height 1,397 mm; volume 5.94 cubic metres
Weight: Gross train 4,770 kg; payload 1,220 kg
Engine: Diesel; 2,464 cc; 150 hp @ 3,500 rpm; max torque 320 Nm @ 1,600
Gearbox: 6-speed Quickshift dual mode; semi or fully automatic operation
Pace: 106 mph; 0-62 in 13.5 secs
MPG: On test 32.2 (fully loaded) to 38.9 mpg; official combined 33.2;
CO2: 225 g/km
Service: 18,000 miles/12 mths
Warranty: 36 mths/100,000 miles; 36 mths AA roadside assistance
PRICE Basic £22,050; with extras as tested £24,135 incl climate, cruise control, upgraded CD/radio with Bluetooth; rear parking sensors, extra side door, driver's one-touch elec window.
More: www.renault.co.uk