SsangYong Korando EX road test – big on value
ROAD TEST REPORT AND REVIEW: SsangYong Korando EX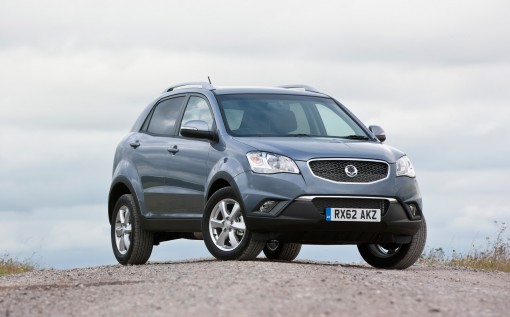 Impressed by its high spec and low price, SYD TAYLOR says his SsangYong Korando EX road test showed the car is capable, well equipped and attractively priced.
I was greeted by the schoolboy from across the road – a car person of considerable knowledge – with an interested: 'What's that?' A simple enough question from one too young to drive. I suggested he take a closer look.
'It's a Sarong?' He sounded doubtful. I corrected him and mused upon the challenge faced by SsangYong with their new Korando in the UK's saturated 4×4 market. Manufacturers fairly new to a market face a difficult challenge. Firstly, their vehicles need to be recognisably different – and hopefully better – than the models against which they compete. Secondly they need to be attractive enough to entice potential buyers who are reluctant to try things new. SsangYong must be commended for their efforts.
Previously known in the UK in 1993 for the first Korando and Musso, the current Korando from this Korean manufacturer is a completely new Giugiaro design that takes the SsangYong name to new heights – and it hits the market running at what can only be termed 'a bargain price' when you consider the quality and high specification. It's much cheaper than the equivalent Mitsubishi ASX and very much cheaper than a Nissan Qashqai.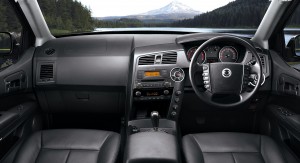 The Korando is a thoroughly good middle class 4×4 that offers engineering competence, good comfort, lots of kit and styling that is attractive and 'non aggressive'. This last point seems to be very important these days and is the reason for the spheroidal rather than steroidal school of design that it shares with rivals. And thankfully the exterior detailing is refreshingly lacking of the tasteless embellishment which infests some 4x4s.
In all of these areas SsangYong have done well. The Korando's standard of build is high with nary a rattle or sqeak to disturb you when subjected to a suspension stretching dirt track or two and at high speeds on tarmac there's no significant intrusive noise.
Inside it's sober, mature and apparently durable, (backed, as it is, by a five year unlimited mileage warranty), and it looks modern enough. Airy in the way tall vehicles manage so well, there's lots of cabin space and in the back, legroom is class-leading. The range topping £21,445 EX version is packed, as standard, with equipment like cruise control, a posh Kenwood sound/navigation system with all the connectivity to wire you to the moon, automatic air conditioning, heated leather seats and much more plus a most impressive safety package – both active and passive. It matches – and in many cases beats – rivals on kit, quality and space.
Early SsangYongs had separate chassis that would not have disgraced an articulated lorry, but the new model is a much lighter – and equally strong – monocoque design, so when it comes to performance and handling the Korando is lively and agile enough on-road to let you reach 110mph if needs be and cruise easily at speed in sixth gear despite the overall gearing seeming rather low. All this, and the claimed fuel consumption is just over 44 mpg combined – and 'surprise': where other manufacturers 'speak with forked tongue' SsangYong don't exaggerate. I actually got about 46mpg overall!
The new 2.0 litre diesel is clean and efficient but also very powerful with 175bhp and 360Nm of torque to enable two tonnes to be towed. This towing ability is in no small way due to the 'Torque On Demand' 4×4 with lock mode: you won't get stuck in one of these. The engine is not, however, one of those that will have your passenger exclaiming 'I can't believe it's not butter' – for you do know it's a diesel when it's under load – and all the better for it I venture to suggest. It's a lovely, reassuring, working diesel that pulls like a train.
SsangYong have a big challenge in assaulting this competitive market, but they have produced a vehicle that is highly competent and remarkably impressive and which offers lots of equipment as standard in a range starting at just £16,995. That it offers stiff competition to the established sellers is beyond doubt and my guess is that it will sell well at their expense.
Rating: