Honda Crosstourer road test is a hit with ladies!
Lifelong biker SYD TAYLOR falls in love with what he says is one of the best bikes you can buy today – the Honda Crosstourer.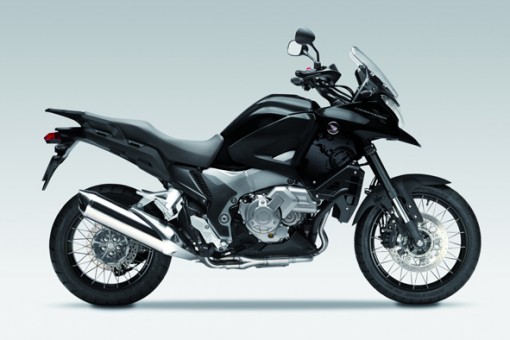 "Goodness! That's a whopper isn't it?" said the barmaid, glancing at the Crosstourer that I'd parked by the door – and half a dozen drinkers sniggered into their beer at her unintended double-entendre.
"It most certainly is" I replied – feeling for her embarrassment as the penny slowly dropped and her cheeks flushed red.
"Is it heavy?" she continued.
"Only if it tumbles over" I replied.
"Is it fast?"
"Unquestionably. There's speed enough to live with most bikes on most roads. You can get 'blown-into-the-weeds' of course, by the latest atomic powered fireworks down the straight bits, but so what! They're probably ridden by rotters anyway."
"Is it fun?"
"Oh. Golly! Yes. It's wizard fun alright. Very few bikes are so confidence inspiring. The capabilities are really quite outstanding. It's one of the most complete packages I've come across on the big bike scene… I droned on and on.
Politely she stifled a yawn, wishing she'd never mentioned it – and I realised I was in danger of winning the 'bore-of-the-week' award: such is the enthusiasm the Crosstourer generates.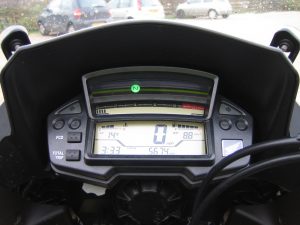 Here is a beautifully built, top quality machine that offers a balance of performance and ride properties based on the almost perfect blend of 'excellent' rather than 'average' capability in every department.
Whereas a poor machine leaves much room for discussion, a good one like this leaves room for little but praise. And so – what else can I say other than how smooth it is, how comfortable it is, how well it handles and how rapid it is. Thankfully I'm not alone in my views for it has received rapturously uncritical praise from the specialist press too.
Climbing onto the shaft-drive Crosstourer you sit tall and relaxed, settling down on the comfy seat and reaching out to bars that are just where you want them: I soon appreciated this. And so, under a sunny July sky, I prepared myself for a trip, knowing that here is a bike that puts little physical or mental stress on its rider.
Closely based on the VFR 1200Fs engine, the totally relaxed, turbine smooth 1237cc Vee Four, now produces 127bhp and has been re-tuned to give more low down torque (126Nm) – at the expense of a reduction in top speed. Supposedly limited to 130mph in the interests of safety, the bike I used happily and effortlessly reached much more than that with consummate ease, holding me in a cradle of profound stability. (Off the public highway, of course.) Reassuringly with a bike of this potential, 'stoppers' (with ABS), haul you down from speed as if you have just dived into a vat of treacle.
And talking of  'off the highway' the one thing the Crosstourer doesn't have, is much off-road capability. It's ok for a jaunt across the common rather than anything more adventurous, so it's inevitable that direct comparisons are going to be made. If you are one of those very few riders who really DO want to go mud plugging, then buy the BMW 1250 GS – which is an alternative that prospective buyers will naturally consider. But I can tell you, you're comparing chalk and cheese. There are those farmer-bikers out there who might like heavyweight clunky gearboxes to remind them of harvest time in their combine and those who have so much money for throwing at parts and frequent repair costs that it doesn't matter anyway. But if you want the nicest bike to ride, made by the manufacturer that offers the best engineered machines – then there's no contest.
Its smoothness, its silence, its amazing flexibility and its comfort combine to envelop you in sweetness. The faster you go the better this bike gets and the better you get – or so the Crosstourer makes you think. High speed along winding roads is as nothing; bumps are absorbed whole thanks to the compliant suspension and it tracks through bends, stable and accurate.
Nothing is perfect, of course, and the only negative comment I can make concerns the aerodynamics. The manually adjustable screen generated rather more turbulence than you would expect. Obviously every rider sits differently, wears a different helmet and presents a different shape to the wind, but I'm sure a session at Farnborough with Barnes Wallis could bring about a vast improvement.
And so, as I wound the bike on and sliced through Shropshire's finest biking country using the 'ocean-wide' power band to haul me up long climbing bends, dappled shadows of trees and strobing sunlight were the only indicators of how fast I was travelling. All objectivity and criticism was cast to the wind and I realised that this is one of the finest motorcycles available.
Able to storm away from most other traffic with just a roll-on of power you tend to overlook the easy-changing six speed gearbox. However, it was whilst pedalling very quickly to escape from a demented bimbo in an out of control Audi TT that had missile lock on me, that I wished for the £950 optional and pioneering, clutchless semi-automatic geared version. Truly a quantum leap forward in biking I'm told by colleagues who've used it.
I'm convinced many sports bike riders would have a better time on a Crosstourer – I know I did. On this big, powerful and reliable partner, your choice of adventure is limitless – enough to give a new impetus to your enthusiasm for motorcycling. Impressive in its sheer versatility and all-round talent, Honda's £11,475 Crosstourer really is a bike for all seasons – and all reasons too.
The proof of all this lies not only in how good it feels, but how, after a week's familiarity on a beautifully prepared demonstrator, almost everything else feels compromised.
Don't just believe me. Try the bike yourself!
Read our other Honda Crosstourer review and see what it's like to live with in the winter.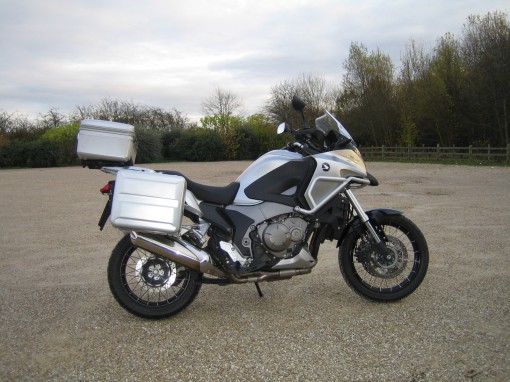 Rating:






THE VITAL STATISTICS
Model: Honda Crosstourer.
Engine: 1237cc liquid-cooled 4-stroke V4.
Max power: 95kW
Max torque: 126Nm at 6,500rpm
Transmission: 6 speed manual.
Weight: 275kg.
Seat height: 850mm.
Fuel tank: 21.5 litres.
Price: £11,475.
Contact: GP Honda, 13 Brighowgate, Grimsby, DN32 0QL
Tel. 01472 354402.
Websites: www.gphonda.co.uk or www.honda.co.uk/motorcycles
CLICK HERE and "Like" our Facebook page for regular updates and follow us on Twitter