SEAT Leon ST Xcellence Technology road test report and review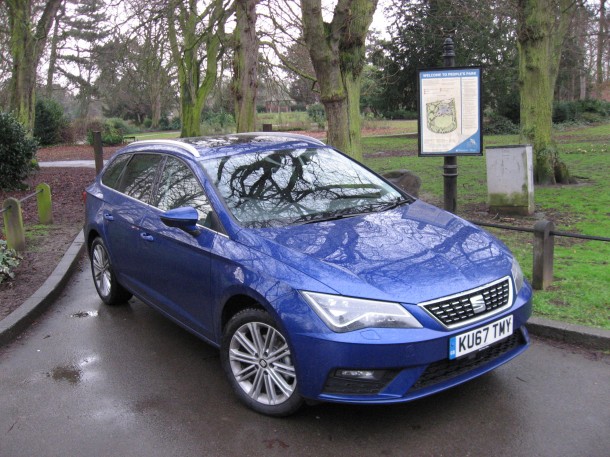 SEAT Leon ST Xcellence Technology  road test report and review: With a winning combination of space, performance and economy, DAVID HOOPER says the SEAT Leon ST ticks all the boxes.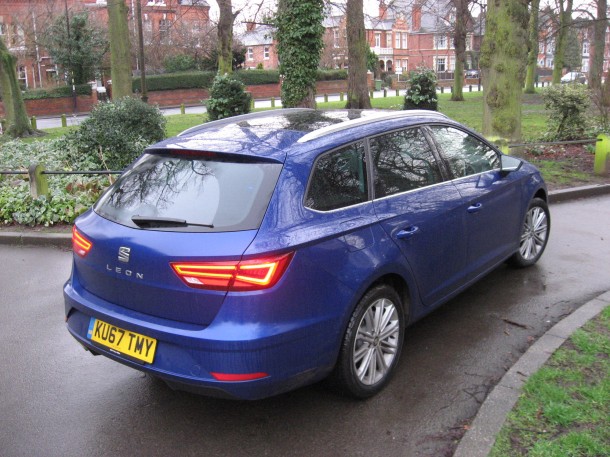 THE latest SEAT Leon has won the brand more new friends, and this smart Sports Tourer builds on that success by adding yet more versatility.
The Sports Tourer ticks most of the boxes a mid-sized estate car buyer would be looking for, and the large flat load area is ideal for taking the kids for some fun in the park. It will also swallow mountain bikes whole, and all you have to do is flick a lever in the boot to fold down the rear seats if you want to leave the kids at home to transport something bulkier than a bat and ball.
The SEAT "S" on the lid of the tailgate doubles as the catch, and with the keyless entry system on our test car it can be opened without taking the key out of your pocket, although there is no automated opening here, you have to do it the old-fashioned way and actually lift the boot lid yourself!  Once inside, the retractable load cover slots into place, or can be retracted in a one-handed operation if necessary, while the privacy glass keeps prying eyes at bay.
Up front you are met by a smart, modern look to the dashboard, with an impressive selection of "apps" on the touchscreen interface which allows you to control the radio, media player, sat-nav, heater, phone and so on. There is also the option to connect your phone to Apple Car Pay, Android Auto and the like.
The black leather sports interior with contrasting white stitching looks smart, and the large comfortable and thankfully heated seats were a delight as my few days with this Leon ST coincided with temperatures which barely rose above freezing, while the large glass panel sunroof provided a bright window on the chilly wintery world outside, and worth the optional cost of £720.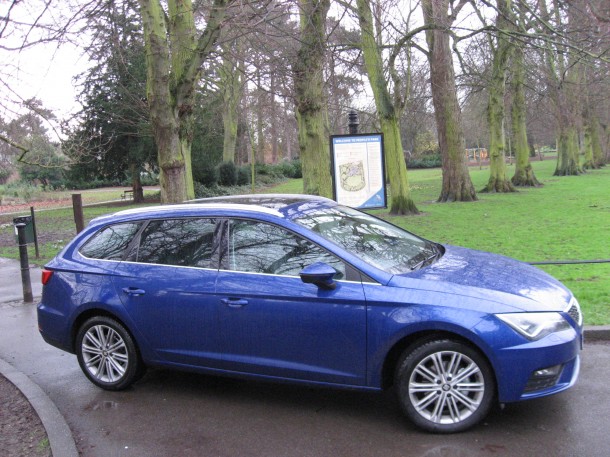 The superb SEAT Sound System included a 135W six-channel amplifier, and 10 speakers, including a boot mounted subwoofer which was so bassy it made me want to wind down the windows and put my peaked cap on backwards, but it was too cold to put the windows down for long. The subwoofer was so powerful I had to work out how to turn it down as it was making the windows vibrate, but the overall sound was excellent, and you certainly wouldn't need an aftermarket upgrade if you stumped up the £385 for this option!
Under the bonnet is one of the VW Group's trusty diesel engines, in our Leon's case offering 150bhp, which I have to say, strikes an excellent balance between performance and economy. The car pulls nicely through the gears, and cruises quietly at motorway speeds, and offers good A-road overtaking possibilities in third and fourth gears, with a 0-62mph time of 8.4 seconds and a possible top speed of 134mph
The official fuel consumption suggests a combined mpg figure of 67.3mpg. During my test, we didn't quite get to those heady heights, but over a distance of nearly 600 miles, which included a lot of motorway work, the car averaged 49.6mpg, while on some trips, it achieved up to 57mpg in gentle, mixed road driving, which is impressive for a car of this size and type, while a 60-mile motorway trip which took an hour saw the car record 54.3mpg according to its trip computer which usefully showed results "Since Start" of a journey, as well as the longer term averages.
The Seat Leon Sports Tourer drives very well and features a firm but comfortable suspension set-up, providing just the right amount of feel through the power steering and although it doesn't possess reversing cameras, it does have all-round parking sensors to help avoid scuffing the corners.
As you might have gathered, I liked the SEAT Leon Sports Tourer very much. It's quick enough to be entertaining, good looking, well built, reasonably priced, even in this top spec trim, and economical. What more could you want?
Rating:





THE VITAL STATISTICS
MODEL: SEAT Leon ST Xcellence Technology 2.0 TDI 150PS
ENGINE: 1968cc, 150PS four-cylinder diesel engine, driving front wheels through 6-speed manual gearbox.
PERFORMANCE: Top speed 134mph. 0-62mph in 8.6 secs.
ECONOMY: City: 53.3mpg.
Country: 72.4mpg.
Combined: 67.3mpg.
Wheel World test average: 49.6mpg
CO2 EMISSIONS: 112g/km.
FUEL TANK: 50 litres.
INSURANCE: Group 21
PRICE: £26,130 (£28,405 as tested)
WARRANTY: 3 years/60,000 miles
WEBSITE: www.seat.co.uk
• All data correct at time of publication.