Leon adds touch of Spanish flair to estate market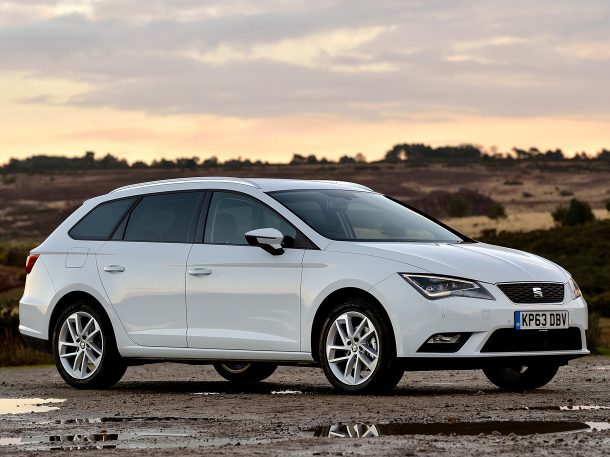 SEAT claims its new Leon is cheaper and meaner than its rivals. But is it built down to a price? Motoring writer 
Keith Ward finds out.

SEAT have sold a total 600,000 vehicles in the UK after a hesitant start nearly 30 years ago, in a build-up peaking here last year at more than 45,000, all built in Barcelona — something to sing about.
SEAT UK boss Neil Williamson boasts his sales here were up by 17 per cent, concealing a 30 per cent rise in private paying customers, far exceeding the 10 per cent boom in the overall car market.
This stylish ST with touches of Spanish flair owing something to its heritage is a five-door estate version of the mid-sized Leon, to join the five-door hatch and three-door coupe. SEAT say it exceeds in cabin and boot space the Exeo ST estate discontinued last year.
The Leon ST is set to take on workhorse versions of such as the Ford Focus, Vauxhall Astra, Renault Megane, Kia cee'd and Hyundai i30, as well as sibling members of the VW Group with which it shares platform and components — the Golf, Skoda Octavia and — aspiringly — Audi's A3.
The Leon ST purports to be cheaper and lighter, as well as cleaner in exhaust and meaner in fuel usage than most rivals — or at any rate those outside the VW family.
Its unextended boot at 587 litres beats all of its named outside rivals for space, but once the rear seats are folded, at the pull of a pair of handy levers, it loses out all round in overall capacity and disappointingly fails in the acid test to provide a flat through-floor for easy sliding of bulky goods.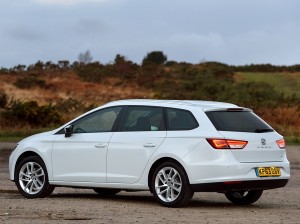 So partly up a slight slope, the deck according to our tape breasted 1,630 mm, or about 64 inches, however with the bonus underfloor of a vacant wheel-sized well.
Roof rails, a storable roll-out luggage cover, the double boot floor handily level with the rear sill and a through hatch into the cabin are standard; a folding front passenger seat a £75 option.  There are 13 cubby holes around the cabin, but bottles in the holders between the front seats can foul the driver's elbow.
Prices from £16,675 to £24,630 rise through three trim levels. The base S includes air con, six-speaker audio with a five-inch colour touch-screen, seven airbags among its good safety credentials and 15-inch steel wheels.  Next up SE adds such as cruise, front fogs, 16-inch alloys on lower profile rubber, plus bits of leather and chrome.  Top FR trim runs to dual zone climate, sports seats, self-select stiffer suspension and sharper steering, eight speakers and 17-inch alloys on even lower profile 225/45 tyres. The most powerful FR's employ a sound actuator for a "more aggressive" engine note thrugh its twin exhausts.
Even so, the "top" FR we drove (1.8 TSI 180PS), priced at £22,485, needed to raid the options bin for such non-exotica as heated seats, headlamp washers and a cargo net, these and other goodies boosting the price to nearly £26,000. Navigation, also quoted as part of an optional £1,000-plus technology pack, is "currently free of charge".
Engine choice, familiar from the VW family, is from three petrol (1.2 giving 105 PS, 1.4 with 140 and a 1.8 with 180 PS) and diesels of 1.6 giving 105 PS and a 2.0 producing 150 or 184 PS. A green-biased Ecomotive 1.6 diesel with remarkable CO2 of 87g/km and an official combined mpg of 85.6 was not available for preview. All units feature stop-start and energy recovery system.
Otherwise CO2 values range from 99 to 122 and official combined mpg from 47.9 to 74.3.  The best in both cases are found in the 105 PS diesel 1.6 TDI (details below) expected to be easily the best seller, with special appeal to the fleet customers expected to account for eight out of 10 sales.

We tried it on an extended route in a cold and bright Cotswolds, with enough early morning ice patches to summon the ABS to duty. Unconnected but unpleasant 'tramlining" on dry surfaces was felt from the sporty, low profile (225/45) Pirelli P7 Cinturatos curiously fitted as a £375 extra to this workaday estate. 

Otherwise the ST drives and rides well enough on one of the best chassis in the business. This engine needs stirring of the five-speed box, but pulls a fairly relaxed 2,100 rpm at 70 and was showing 61.3 mpg overall average on its trip.
If its driving joy you are after, away from the bosses' eyes, persuade them to go for the frisky 180PS 1.8 TSI petrol we tried with the ultra-smooth DSG seven-speed auto: 0-62 in a lively 7.7 secs.  Or even the 140PS 1.4 TSI manual six-speed (8.4 secs). Great fun, but showing only  24 and 37 mpg.  Not good on expenses.
THE VITAL STATISTICS
MODEL; SEAT Leon ST SE 1.6 TDI.
BODY STYLE: Medium 5-dr, 5-seat Estate.
ENGINE: Diesel; 1,598cc; five-speed, 105PS @ 3-4,000 rpm; max torque  184 lb ft @ 1,500-2,750 rpm.
PERFORMANCE: 119 mph; 0-62 in 10.6 seconds.
MPG:  On test 61.3; official combined 74.3; tank 50 litres.
CO2 EMISSIONS: 99 g/km; band A; VED disc Nil; BIK 14%.
PRICE    £19,495; as tested with options £22,825.
http://www.seat.co.uk/content/uk/brand/en/models/special-offers/new-cars/New_Leon_st_finance_example1.html