Renault set out to Captur hearts and minds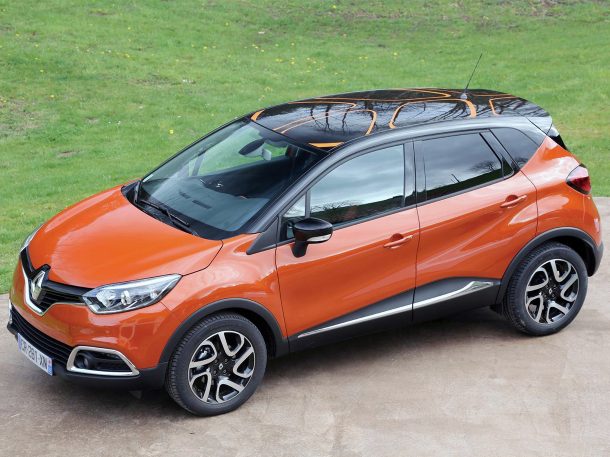 One thing you can't accuse Renault's Captur of being is a shrinking violet. Motoring writer Keith Ward finds out if it's more than an exercise in design.
IF the Renault Captur is out to capture attention it succeeds.  Three optional eye-catching colour themes are alluringly dubbed Arizona Orange, Miami Blue and Manhattan Ivory. This car, modest in size and price, can be dressed to kill as it leaves the showroom.  It's an urban cross-over out for a night on the town.
Chunky in appearance with a high stance, the Captur obviously aims to be a mix of fun and funky.  Our car was in snazzy Arizona orange and black, complete with £250 fancy roof decals fit to grace the face of a Maori warrior, extra tinted rear windows and tailgate (£250), metallic paint at £495 and £275 special alloys.  It won admiring comments from all ages — and was so easy to spot in the supermarket car park.
Built on the same underpinnings as the Clio and Nissan Juke but longer, giving more space in cabin and boot, the Captur features wider tracks and a higher 200mm ground clearance.  You sit four inches higher than in a Clio.  Rear passengers enjoy three inches more kneeroom. The black and orange colour theme is continued inside.
The rear bench seat can be slid fore and aft, and the divided seatbacks folded forward to increase cargo volume from a claimed 455 to 1,235 litres, including hidden spaces below the two-tier boot floor. There are kid-friendly washable and removable seat covers.
A price range of  £12,495 to £18,895 takes in two turbocharged petrol engines of 90 and 120bhp, a 90bhp diesel,  and four levels of trim.
Despite the flashy flashy garb and a turbo below the bonnet,  our 1.5 diesel was no racer, taking a tad over 13 seconds for the dash to 62 mph. While adequate around town, it needed coaxing through the easy five-speed gearbox to keep up progress on rural runs. But its eco-cred showed in a tax-shy CO2 figure of just 95g/km and a pleasing 50 mpg-plus in an unsparing week's motoring. Pushing an eco-button on the dash might improve on that.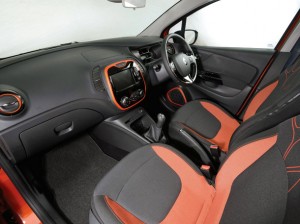 Handling was fine, with direct steering and little evidence of tall-car sway, but the ride could feel knobbly on its 17-inch wheels.  It was generally quiet and pleasurable to drive
Ours was the best-selling MediaNav version, with navigation and audio worked through an easy-to-use, seven-inch touch screen, enhanced by an optional £450 R-Link package, with voice recognition and e-mail access and a rear parking camera. A hands-free keycard slots into the dash before you press a button to start the engine, which had a stop-start facility at halts.
Cruise control with speed limiter, automatic headlights and wipers, climate control and a two-tier boot floor with reversible cover are all in the package.
Renault have upped their warranty to a four-year deal to take in breakdown cover, also routine servicing, free if you take their finance package, or £299 if you don't. There is Renault's high reputation for safety and crash protection.
After a period in the doldrums and a culling of their fleet in the UK Renault, with a sizeable boost from Dacia and with the new Clio and Captur on board, jumped combined sales here by a company record 55 per cent in 2013.
THE VITAL STATISTICS
MODEL: Renault Captur Dynamique MediaNav dCi 90 Stop & Start.
BODY STYLE: Five-door; five-seat supermini SUV Crossover.
ENGINE:  Diesel; 1,461cc;  turbo; 5-speed manual; stop-start,  9hp DIN @ 4,000 rpm; max torque 220m @ 1,750 rpm .
PERFORMANCE: 106 mph; 0-62 in 13.1 seconds.
MPG : On test 53.7 mpg; official combined 76.4; tank 45 litres.
CO2  EMISSIONS: 95 /km; VED band A; Nil tax; BIK 14%.
INSURANCE:  Group 12E.
WARRANTY: Four-year package incl service  and breakdown cover.
PRICE:  £16,395; with options as tested £19,095.