Renault Captur MediaNav dCi 90 Auto EDC eco2 review road test report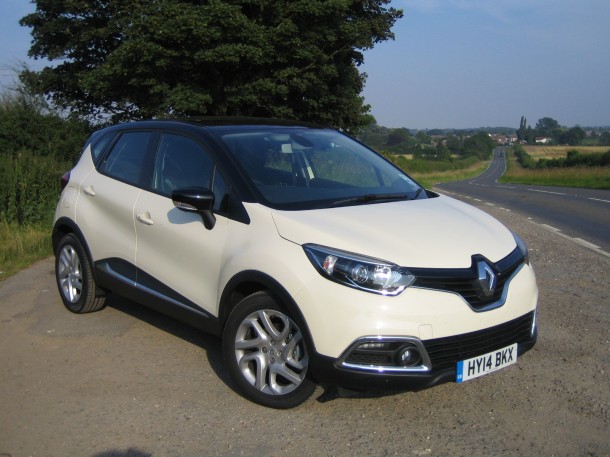 Renault Captur MediaNav dCi 90 Auto EDC eco2 review & road test report: Easy to live with, good to drive and attractively priced, DAVID HOOPER says it's tempting to Captur a bargain!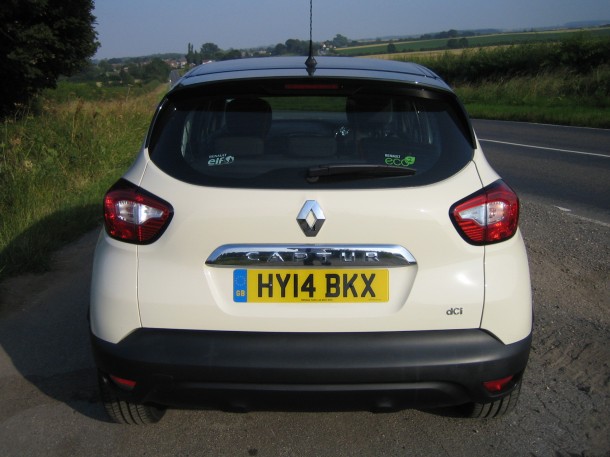 ONE of Renault's dynamic new models will certainly Captur your imagination, but if you watch the TV advertising campaign, you might think it's a bit "fishy".
Quite what relevance a blue fish leaping out of its bowl and chasing the car to the seaside has escapes me, but regardless of that, the car itself is actually quite good – and despite a large glass area, you don't feel as though you're sitting in a gold fish bowl!
Getting in the swim with the Renault Captur is simple enough, the car is easy to drive and to live with, although I did miss having parking sensors.
The ivory colour of my test car looked good and contrasted nicely with the black trim and roof panel, but I think some of the brighter colours, like the lovely Arizona orange and electric Tahoe blue suit the car better.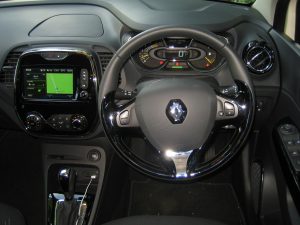 I think the Captur looks great, very modern, with a high seating position and ride height which seems to have cross-the-board appeal with young and old buyers alike. The big Renault badge dominates the front face of the latest generation of cars, and the Captur looks tough enough for the cut and thrust of our busy streets, with plenty of plastic trim around the bottom of the car, broken up with some silverwork, to protect against car park dings which are sadly all-too common.
The interior upholstery features a modern design, and the seat covers can be easily be unzipped, removed, and put in the washing machine – great for those transporting messy little people on a regular basis!
Inside, the practical theme continues, with lots of storage solutions which include sensible sized door pockets, centre console storage, and a lidded compartment on top of the dash, which was ideal for keeping my sunglasses in.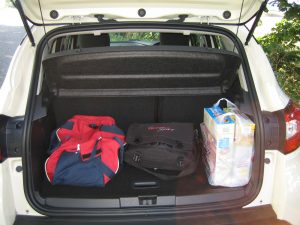 In the centre of the dash is Renault's latest MediaNav system, which allows control of the radio, media player, Bluetooth telephone and the like. The touch-screen is fairly intuitive to operate and doubles as the satellite navigation system. There is also quite an elaborate Eco driving display, which gives you minute-by-minute updates on how green, or polluting, your driving is. A coloured bar in the centre console also helps you to drive economically, if you wish to do so.
During my week with the car, I covered around 380 miles, and it returned an average miles per gallon figure of 52.4mpg, which I didn't think was particularly good by today's standards, but the automatic gearbox would have reduced the figure – you would expect a better figure from a car equipped with a manual gearbox.
The six-speed auto gearbox was smooth most of the time, but it did snatch every now and again, especially at low speeds when moving off from roundabouts or junctions, but this isn't a major issue.
At the back, there is a sensible sized split-level boot, with a large compartment under the boot floor for hiding valuables. The rear seats will also fold down to increase the boot space for the more awkward items.
The Renault Captur is a practical and comfortable car for a family to live with, and as prices for the range currently start from just £14,195, it's not too hard to Captur a bargain!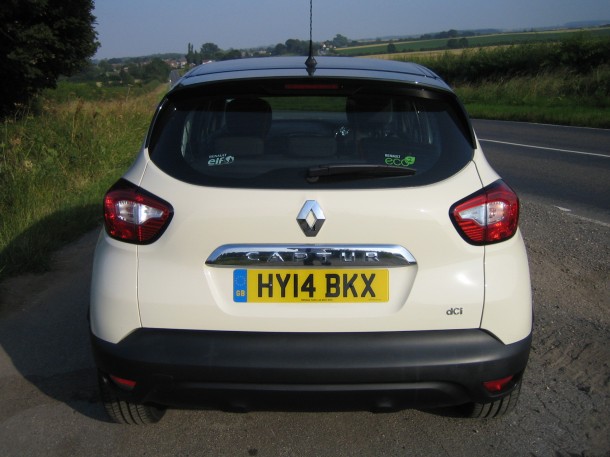 Rating:





THE VITAL STATISTICS
MODEL: Dynamique S MediaNav dCi 90Auto EDC eco2.
RENAULT CAPTUR RANGE: From Expression+ ENERGY TCe 90 S/S eco2 (£14,195) to Signature TCe 120 Auto EDC (£19,695).
ENGINE: 1461cc, 90bhp four-cylinder diesel engine, driving front wheels through 6-speed auto gearbox.
PERFORMANCE: Top speed 106mph. 0-62mph in 13.5 secs.
ECONOMY: City: 61.4mpg.
Country: 78.5mpg.
Combined: 72.5mpg.
Wheel World test average: 52.4mpg
CO2 EMISSIONS: 103g/km.
FUEL TANK: 45 litres.
INSURANCE: Group 12.
PRICE: £19,095
WARRANTY: 4 years/100,000 miles.
WEBSITE: www.renault.co.uk
• All data correct at time of publication.