Plug in to new thinking with Vauxhall's Ampera
ROAD TEST REPORT AND REVIEW: Vauxhall Ampera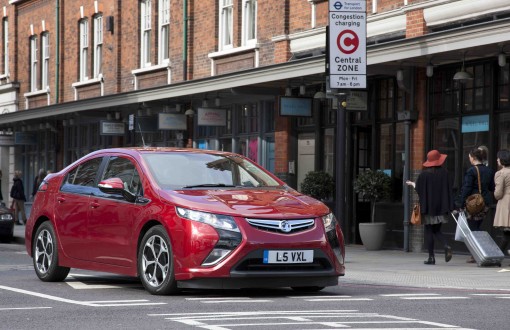 Plugged in and powered up, KEITH WARD is one of the first to drive Vauxhall's all-electric Ampera.
IN the motel apartment in the fictional town of "Amperaville" that is our base for testing Vauxhall's ambitious new electric car, they have plastered notes on the kitchen appliances.
Thus on the oven: "The electricity to cook the Sunday roast could take your Ampera about six miles".
On the microwave: "Heating a frozen meal could take Ampera about four miles".
On the TV: "A daily average of six hours' viewing could take your Ampera about four miles".
Assailed by all this earnest sermonising, you begin to feel guilty about turning on the bathroom light, or shaving both sides of your face…"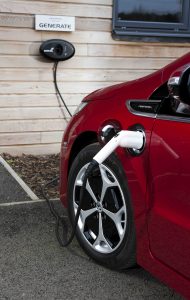 Of course, it's Vauxhall's subtle way of converting you, for the purpose of this exercise, to worship electricity alone as the new salvation for automotive propulsion in our daily lives. Preferably from the driving seat of your new Ampera, like the sample parked outside.
First job this evening is to plug our car into the specially installed charging unit outside the apartment. It will do its work overnight (in four hours, actually, using off-peak household electricity). Next morning, the Ampera is ready to be unplugged to drive off.
It is in many ways an impressive vehicle, already dubbed European Car of the Year 2012, to crown a handful of other media awards.
From the outside it's a well-equipped five-door hatchback, about the size of an Astra, with comfortable seating and a reasonably sized boot. Hidden at the heart of it is a powerful 288-cell, T-shaped lithium-ion battery, weighing 198 kg and running below the length of the passenger cabin and across under the rear seats.
Also under the skin are three motors: A 150 PS electric traction motor or "master engine", which powers the wheels at all times; a generator that doubles as a 73 PS electric motor and, as back-up, a 1.4-litre 86 PS Ecotec petrol "slave" engine, to drive the generator. This is labelled a "range extender". Power to the front wheels is via a diff and a planetary automatic gearbox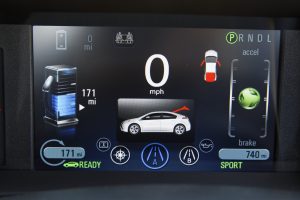 They work together or separately to generate power, with no action required from the driver. Unlike a hybrid, the main power comes not from the petrol engine, even when it is turning the generator, but from the electric traction motor.
A drive mode button defaults to Normal for maximum efficiency. Sport gives noticeably livelier response. Mountain mode ekes out energy on steep climbs. Hold-charge mode preserves full battery power on a long journey on open roads until you perhaps need it for emission-less city driving at the end.
Switch on the Ampera and you are faced with a Las Vegas strip of a dazzling display of colours, graphics and numbers across two seven-inch dashboard screens. The danger is you are going to be staring at these rather than the road.
In the silence, only they confirm you are ready to go. Press the accelerator and there is a low whine as you set off. Response is lively, with 370 Nm of torque instantly on call from the electric drive unit and a capability of 0-60 in under nine seconds. All is smooth, with steering, ride and handling as you might expect from petrol or diesel.
Fully charged, the battery is claimed to give a range of 25 to 50 miles (in our test 41.7), so enough for a typical commuter journey. At work, it can plug into an approved three-pin socket to restore charge in time for the homeward trek. A national network of plug-in points is talked about.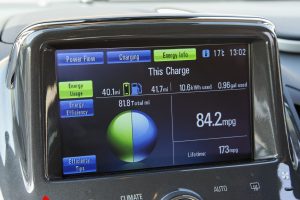 Extended range mode in the Ampera gives a claimed total journey range of 300-plus miles. At the end of our 82-mile drive the dash display showed we had drawn upon back-up petrol at a rate of 84.2 mpg. In the lifetime of the car that rate was showing 122 mpg.
All this is fascinating and impressive. Two big questions remain: Purchase price and running costs.
Vauxhall figures quote a full charge of the battery costs about £1, depending on your electricity tariff, with 90 per cent of charging at either home or work. A six-metre mains lead comes with the car.
Officially appointed British Gas will assess your existing home electrical circuit for suitability, otherwise a special installation at £800 could be recommended. There's a 50 per cent reduction on company car tax.
Vauxhall Company Car Manager Ian Allen reckons that all-round savings on running an Ampera as compared to an Insignia 2.0 CDTi Ecoflex would amount to £8,824 over three years.
Of the 24 appointed Ampera dealers, only two are in the North, at Sheffield, Manchester and Newcastle-upon-Tyne. They undertake to collect and deliver for service, and provide a courtesy car.
There remains that mind-blowing purchase price of an Ampera: Just under £34,000 for the top Electron version we drove, even after deducting the £5,000 Government grant for electric vehicles. A slightly less lavish Positive version is £32,250. In September will arrive an entry model at £29,995.
Look at what you could buy for that money as a conventional car, constantly improving in efficiency. Even with the advent of the £100 fill-up, you have to be dedicated to switch on to an Ampera.
THE VITAL STATISTICS
Model: Vauxhall Ampera Electron
Power: 16 KWh lithium-ion battery; electric drive unit; 1.4-litre petrol engine; permanent electric drive; automatic gearbox
Output: 150 PS; torque 370 Nm
Performance: 100 mph; 0-60 in 8.7 secs
CO2: 27 g/km; VED Nil; BIK 5% rising to 13% in 2015
Service: 12 mths/20,000 miles; Dealer collects/delivers plus courtesy car
Safety: Maximum 5-star Euro NCAP rating
Warranty: Lifetime/100,000 miles; 8 years transferable on battery
PRICE: £33,995 (after £5,000 Government grant)
On sale: May 1