Peugeot Traveller Allure STD BlueHDi 180 road test report and review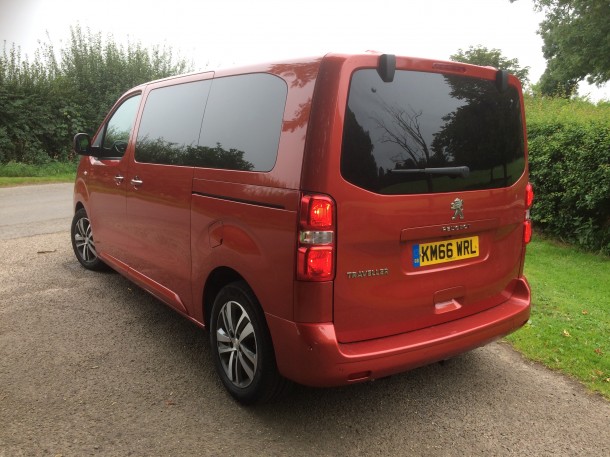 Luxurious transport for busy executives – DAVID HOOPER puts Peugeot's new Traveller range to the test.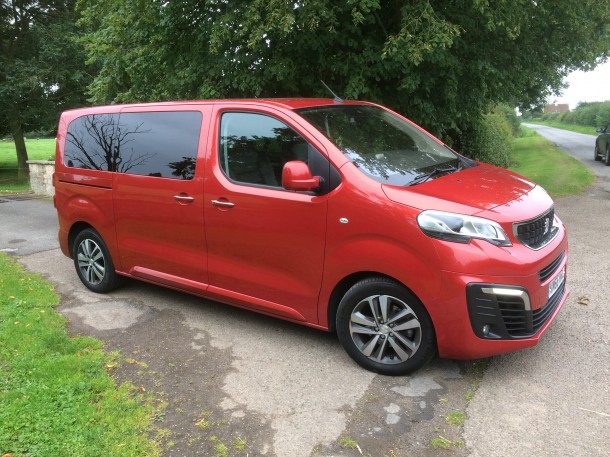 WHEN it comes to transporting executives from A to B, few vehicles can match the comfort and versatility of Peugeot's aptly named Traveller.
There's no getting away from the fact that this new utility vehicle is clearly based on a van, but with this attractively bright Amber Red exterior colour and darkened windows for privacy, the Peugeot Traveller is perfectly presentable in any company and doesn't look out of place at any venue, be it a swanky hotel, or the company car park.
Where the traveller scores over the more traditional MPVs though, is in its seating capacity – our test example could accommodate eight business people in proper, full size seats, while other variants can seat up to nine executives, including the chauffeur, by adding two seats up front, instead of the one in this particular example.
Clad in leather, each row can be adjusted for leg room, but a balance has to be struck if boot space is also required. The middle row is split, with one single seat and a double. These can be folded, tumbled forward or removed altogether, depending on space versus passenger requirements. The seat backs can be adjusted for comfort and each has its own seatbelt.

Access to the rear seating area is gained via two large sliding doors which automatically lock once the vehicle is moving, but can be opened either by a button on the dash by driver, the key fob, or catches near the doors themselves.
They slide effortlessly, and quite impressively, all the way back to let your passengers in and out, and well-judged step is a bonus.
Once seated inside, your rear passengers area treated to a pleasantly light cabin thanks to two large longitudinal glass roof panels, between which sits an almost aircraft-style ventilation panel with several air vents, although the whole unit can be adjusted for fan speed and temperature, independently of the driver's area.
Up front, the driver and passenger are well catered for with all the mod cons you would expect to find in any luxury saloon, with electric windows, climate control air conditioning and radar cruise control and a reversing camera to name but a few.
The large dashboard is home to a variety of storage areas, a lidded one on top of the dash, a closed glove box in front of the passenger, as well as an open storage compartment below it. Both front doors also house enormous door pockets which will swallow all manner of picnic boxes, flasks and the like.
The gear selector is a rotary dial mounted on the dashboard, which leaves a good space between the two front seats on this example for a cool box, or a walk-through space.
The Peugeot Traveller is powered by a 180bhp diesel engine via a six-speed automatic gearbox, which comes complete with a Stop/Start system to reduce emissions in traffic jams, or while you're waiting for your passengers.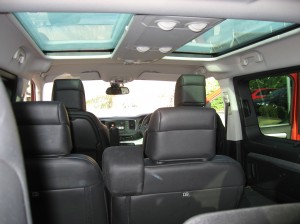 It's a smooth combination which works very well, and even has a manual mode complete with flappy paddles to control the car's gears which can be a useful addition in certain situations.
Left to its own devices it's a slick-shifting combo, the engine is surprisingly nimble and perfectly capable of overtaking slower A-road traffic, even with a full load of passengers.
For such a big vehicle, economy is quite respectable too, and a real world test with a mix of passengers and the full remit of driving conditions, the Traveller returned an average of 39.7mpg over a distance of more than 500 miles.
It's easy to park, thanks to an array of parking sensors and a reversing camera, combined with an impressively tight turning circle, which isn't quite as tight as that of a London taxi, but excellent nonetheless.
My only slight criticism of it would be the low-geared steering response, which took a bit of getting used to, leading some extra corrective inputs at the tiller.
While describing any van-based vehicle as attractive may be stretching a point, it's certainly not bad looking and can blend into any setting with ease.
Whether the Peugeot Traveller is used for executive transport, tax or large family duties, it's a capable all-rounder which is surprisingly easy to live with.
Prices for the Peugeot Traveller range start from £31,740.
Some of the options on our test car included Metallic Paint (£520) a three-seated leather bench in rows two and three which was a no cost option, Connect Nav (£240) and Driver Assist Pack (£250).
Rating: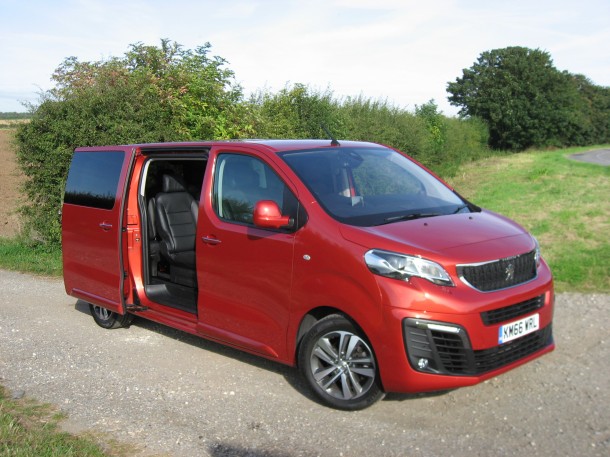 THE VITAL STATISTICS
MODEL: Peugeot Traveller Allure STD BlueHDi 180
ENGINE: 1997cc, 180bhp four-cylinder diesel engine, driving front wheels through 6-speed auto gearbox.
PERFORMANCE: Top speed 106mph. 0-62mph in 11.0 secs.
ECONOMY: City: 46.3mpg.
Country: 52.3mpg.
Combined: 49.6mpg.
Wheel World test average: 39.7mpg
CO2 EMISSIONS: 151g/km.
FUEL TANK: 70 litres.
INSURANCE: Group 22.
PRICE: £42,455 on the road.
WEBSITE: www.peugeot.co.uk
• All data correct at time of publication.