Audi A3 Cabriolet TDi Quattro road test report and review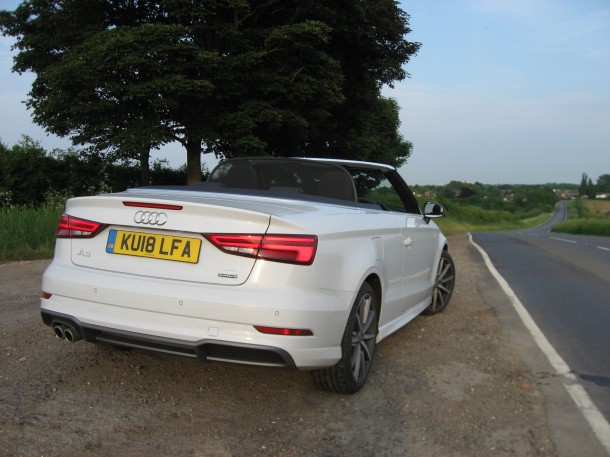 Audi A3 Cabriolet TDi Quattro road test report and review: DAVID HOOPER drives a quality convertible with a quattro all-wheel-drive system… and loves it!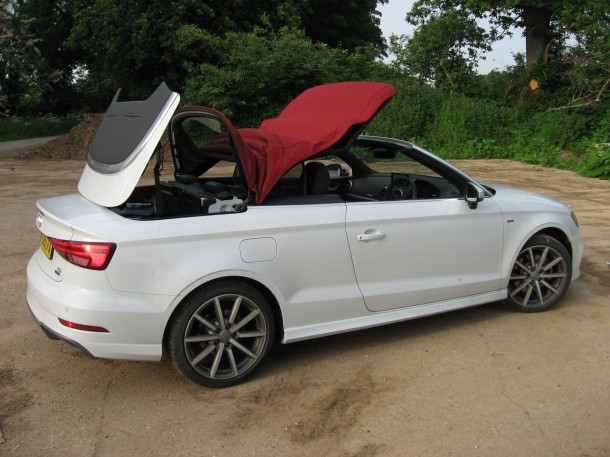 PRESSING down one button is all it takes to convert this gorgeous car into from a refined coupe into an open-topped convertible – and even better than that, it can be done on the move at speeds of up to 30 mph.
The Audi A3 Convertible is a lovely car – and even if it does weigh in with a £46,000 price tag – but when the sun shines like it has these last few weeks topless motoring Is always a delight for me.
With the optional wind deflector in place and the side windows up, the occupants in the front seats are pretty well protected from any buffeting from the wind – even at motorway speeds – and there is something special about driving at night with the roof down. Some people look at you as though you are are a bit mad, but quite honestly, they just don't understand.
The team at Grimsby Audi will be more than happy to explain the finer points of the A3, but I can tell you that this A3 Convertible was designed as such from the outset and therefore benefits from a stiff bodyshell with very little flexing of the car's structure which ruins many of its rivals.
It's just as well the A3 has a stiff platform as it boasts Audi's quattro four-wheel-drive system and comes with a 2.0-litre TDI diesel engine which pumps out 180bhp through a 7-speed S Tronic automatic gearbox, so progress can be fairly rapid when the fancy takes you and thanks to the quattro system the car feels as though it will never run out of grip, no matter how hard you push through the corners, especially on dry roads.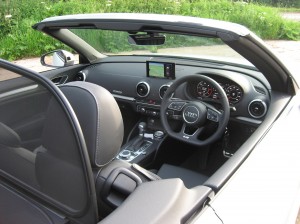 The driver can control the gear changes via flappy paddles, and a sport setting sharpens up the suspension and throttle responses. Our test car was fitted with Audi's Magnetic Ride, a £1,000 optional extra, but activate the system and you can feel the difference as the ride becomes stiffer.
Inside, the Nappa Leather seats with Rock Grey stitching are a pricey option at £1,220 but are delightful and are also heated, but with the car being a convertible they are fitted with the air scarf system which blows warm air on your neck from a vent on the top of the seat – just to make sure the occupants of the Audi aren't affected by too much of a breeze. It's a brilliant idea and it works really well and has three pre-set speeds.
The instrumentation in the car is up to Audi's usual high standards, and I was impressed with the radar cruise control which will follow cars in front at a preset distance and slowdown or accelerate as required – right down to a complete stop in traffic and back up to the preset motorway cruising speed of 70mph if required. While I never fully trust these systems, because ultimately as the driver you are still responsible for the safety of the car, it does work very well and the only time I had to actually intervene was when a car changed lanes and squeezed into a gap in front of me which it shouldn't have, and made the manoeuvre so quickly, the Audi technology did not recognise the developing situation quickly enough for my liking.
The engine is well matched to the car and provides an enjoyable level of performance with its flexible diesel engine, and thanks to 300Nm torque, provides plenty of mid-range punch for overtaking on A roads. This is all balanced against impressive economy. During my test the A3 Convertible returned an overall average of 43.8 mpg over a distance of 600+ miles in a week.
Our test car was fitted with a selection of options which added up to a substantial invoice price, and included 18in 10-spoke design alloy wheels, the Driver Assistance Pack at £1,250, the Technology Pack at £1,395 and crucially the all-important wind deflector at £300! The superb Bang and Olufsen hi-fi system was worth every penny too.
I love open-air motoring and I loved the A3 Cabrio. Finances permitting I would love to add one to my collection which is surely a high enough recommendation.
Now all I need is that elusive lottery win!
Rating: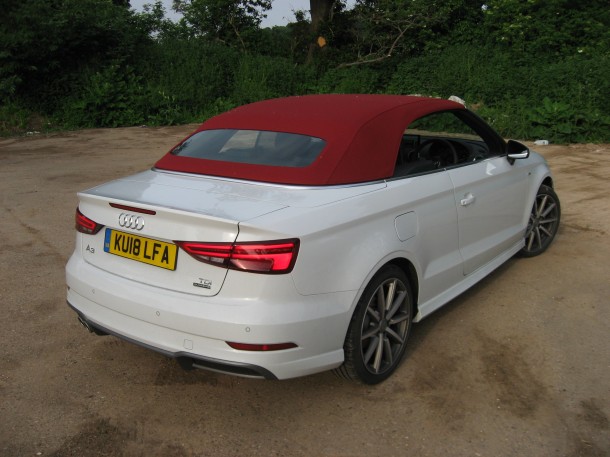 THE VITAL STATISTICS
MODEL: Audi A3 Cabriolet 2.0 TDi Quattro 184PS S line S Tronic
ENGINE: 1968cc, 184PS four-cylinder diesel engine, driving four wheels through 7-speed manual dual clutch gearbox.
PERFORMANCE: Top speed 147mph. 0-62mph in 7.4 secs.
ECONOMY: City: 47.9mpg.
Country: 58.9mpg.
Combined: 54.3mpg.
Wheel World test average: 43.8mpg
CO2 EMISSIONS: 135g/km.
FUEL TANK: 55 litres.
PRICE: £36,685 (£46,535 as tested).
WARRANTY: 3 years/60,000 miles
WEBSITE: www.audi.co.uk
• All data correct at time of publication.