Audi Q5 2.0 TDI quattro S line road test report and review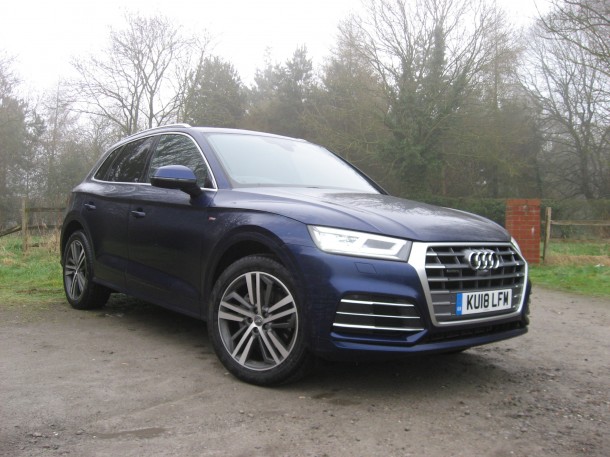 Audi Q5 2.0 TDI quattro S line road test report and review: DAVID HOOPER drives Audi's latest Q5 and is impressed with its updated styling and high-end quality.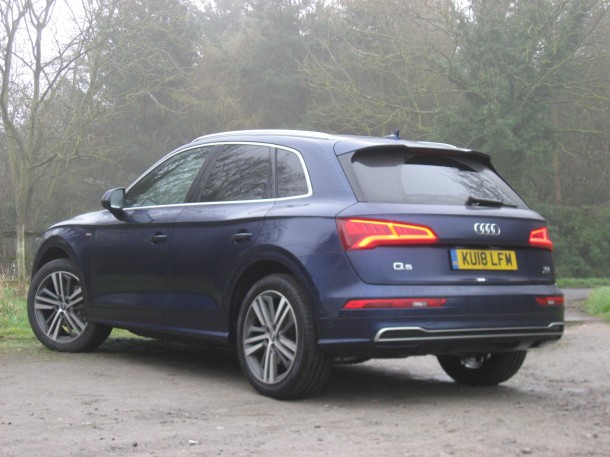 THE Audi Q5 has been around for a while in various guises and has won many fans – it is Audi's best-selling SUV worldwide and I think this latest model is the nicest so far. It's not difficult to see why it is widely regarded as the class leader ahead of rivals from Mercedes-Benz and BMW.
I think the new grille is a big improvement on the previous model, it looks much smarter. This Q5 weighs in up to 90kg lighter than its predecessor and comes with up to 10 litres more luggage space and importantly, more room for the passengers in the cabin. Customers have the choice of TFSI petrol or two TDI diesel engines and an updated suspension system, with the option of adaptive air suspension.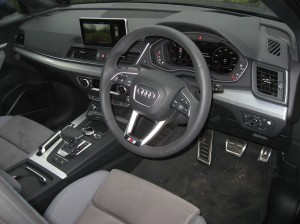 The Q5 is as luxurious as they come inside with only the highest quality materials being employed. An example is the silver/chrome trim which runs across the dashboard of our test car which not only looks superb but boasts an LED coloured highlighter which can be changed by the driver to various colours.
All the switchgear feels substantially made and few would doubt its longevity. Those who love their gadgets will delight in the Multimedia Interface controls which now include a touchpad on which you can write messages or phone numbers directly into the car which is all great fun.
The Q5 is packed with technology, much of which is optional extras, but our test car included a system which will park the car for you with precision, avoiding scrapes to the smart 20in alloy wheels.
Another highlight for me was the astonishingly good Bang and Olufsen hi-fi system which sounded absolutely superb and almost tempted me away from my favourite radio station during my daily commute.
As it stands our Audi Q5 test car tots up an invoice total of £53,000 which is a lot of money, but on the plus side it's residual values are also comparatively strong, so when it comes time to change you will probably get more of your money back than you would with other SUVs. There is a good choice of engines available from the VW group stable, but the 2.0-litre TDI is probably the most sensible choice, especially if you cover a lot of miles, and during my test it returned an average of 42.4 mpg over 500 miles of mixed driving and road conditions.
While not the fastest model in the Q5 stable – you would need the SQ5 for the more performance minded drivers – our example can be hussled along quite enjoyably with its 7-speed gearbox combined with its paddle shift controls, making it entertaining enough to drive, and with the quattro four-wheel-drive system there is ample grip through the corners in any conditions you are likely to encounter.
Audi offer a huge choice of options so customers can personalise their vehicles, but these can bump up the price substantially. The Head-up display was a useful addition which I liked, but costs £900, and if you want the Parking Assistance Pack that's another £1,350. Adaptive Air Suspension adds £2,000, a panoramic glass sunroof £1,400, the Technology Pack £1,395… the list goes on.
Cheap it's not, but classy it is – and arguably the pick of the premium SUV bunch at the moment. It's easy to see why it is Audi's best selling SUV, and I loved it.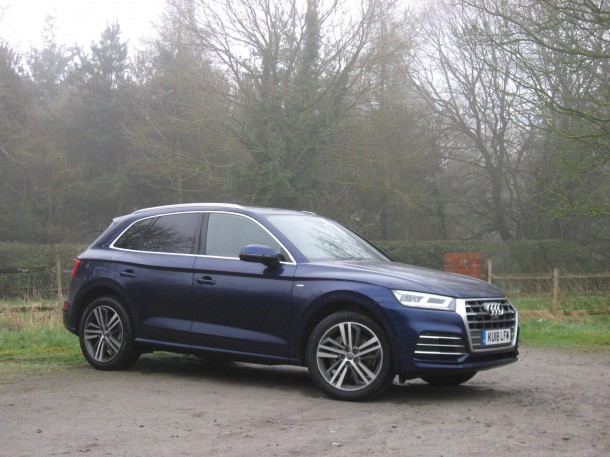 Rating:






THE VITAL STATISTICS
MODEL: Audi Q5 2.0 TDI quattro S line
ENGINE: 1968cc, 190PS four-cylinder diesel engine, driving four wheels through 7-speed dual clutch gearbox.
PERFORMANCE: Top speed 135mph. 0-62mph in 7.9 secs.
ECONOMY: City: 51.4mpg.
Country: 56.5mpg.
Combined: 54.3mpg.
Wheel World test average: 42.4mpg
CO2 EMISSIONS: 136g/km.
FUEL TANK: 65 litres.
PRICE: £40,200 (£53,245 as tested)
WARRANTY: 3 years/60,000 miles
WEBSITE: www.audi.co.uk
• All data correct at time of publication.