Ford Mustang Convertible road test report review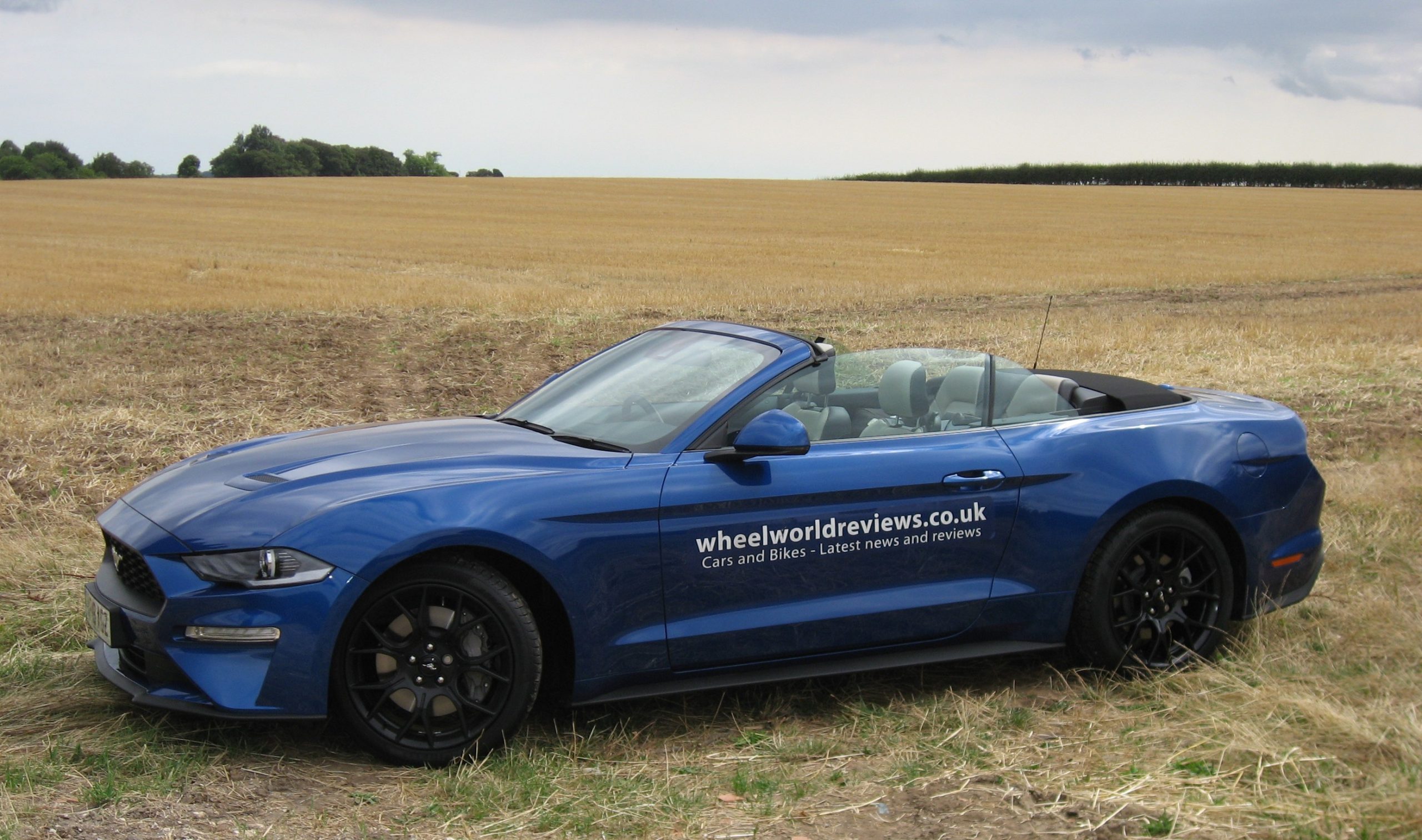 Ford Mustang Convertible road test report and review: David Hooper saddles up with a Mustang Convertible to visit Ford Fair at Silverstone, the go-to venue for Ford owners everywhere.
FORD'S modern interpretation of the classic 60's Mustang has caused a bit of a storm, and this stunning convertible version certainly grabbed plenty of attention during my visit to Ford Fair at Silverstone.
Surprisingly, it was one of only three Mustangs on the camp site the night before the show, the others being a red Coupe which had come over from Ireland, and the third an older example.
Ford Fair is rapidly becoming a "must visit" for Ford fans and owners' clubs all over the country – and beyond, with Dutch, Germans, Belgians and even the odd Italian being spotted, with many taking advantage of the opportunity to take their cars around Silverstone's International Circuit, as we did with my son's Fiesta ST, which was great fun, if slightly nerve-wracking in case anything goes wrong! Thankfully, the car was fine and we had a great time.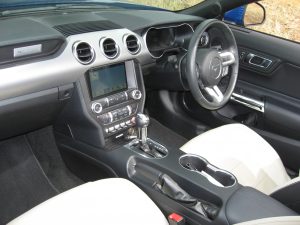 Getting there and back was pretty cool too – quite literally, thanks to the open-topped Mustang I was driving. The warm summer breeze at 70mph was a welcome relief from the searing heat we've had this summer – and I actually found a use for the cooling seats which blow air conditioned cold air through perforations in the seats onto your legs and back – which was surprisingly pleasant!
The Mustang, Convertible or Coupe, has an abundance of road presence, and according to my son looks quite aggressive when it's following you. Many necks could be observed craning to see it on the motorway. The roof of the Mustang folds down in seconds once you release the handle at the top of the windscreen. The folding mechanism isn't as advanced as it is on some models, in that it will put the side windows down before the roof is folded or raised, but it doesn't put them up again, leaving the driver to do so. Some systems have numerous flaps to cover all the gaps and streamline the look, but the Mustang has a couple of plastic inserts in the boot which you have to put in place yourself – and remember to remove also. I didn't bother, and I doubt many owners would.
Our test car was powered by the 2.3-litre turbo-charged engine, which offers a nice balance of performance and economy. Drive it like a saint and you can get around 38mpg, but "enjoy" the car and that figure will drop to the low twenties. Over 500-plus miles and a mix of roads and driving styles, overall the car averaged 27.6mpg, which isn't bad for a 145mph car that will 62 from a standing start in under six seconds!
The Mustang is a big car and thanks to a stiff chassis is a delightful grand tourer, with its 10-speed gearbox making for smooth progress. Various driving modes can be deployed: Sport, Sport+, Racetrack and even Drag Strip would you believe? The weight of the steering can also be adjusted, as can the dashboard displays, to suite the driver's mood of the day.
The Mustang comes with plenty of toys like radar cruise control, keyless entry, reversing cameras and so on, and thanks to a banging Shaker hi-fi system can hold its own with the baseball cap brigade.
And then there are the galloping Mustang puddle lights which are a lovely touch and make this beast of a car feel even more special. It's a real head-turner and I loved it.
Rating:





If you like this, read our review on the Mustang Coupe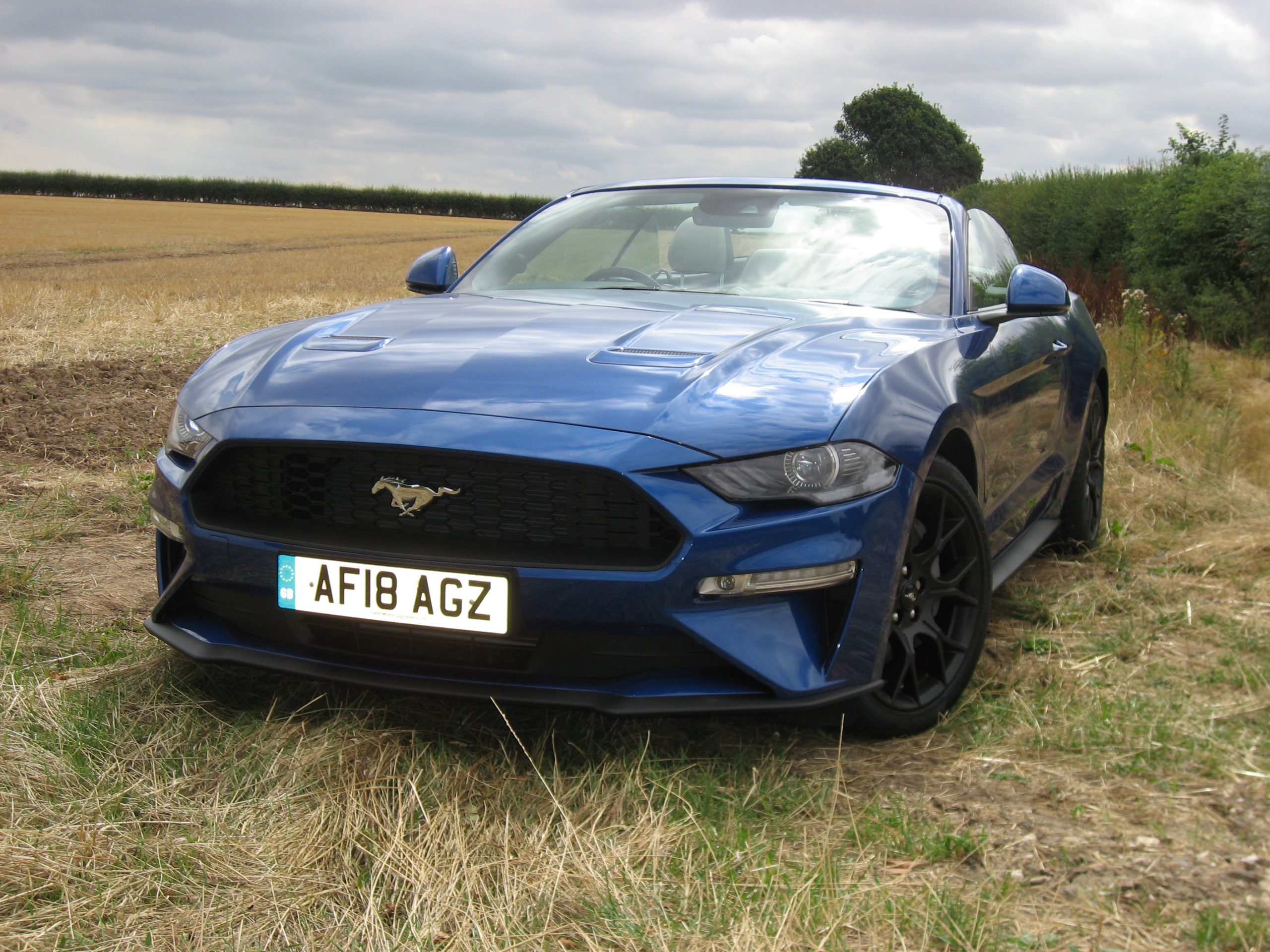 THE VITAL STATISTICS
MODEL: Ford Mustang Convertible 2.3 EcoBoost 10-speed auto
ENGINE: 2261cc, 290bhp four-cylinder petrol engine, driving rear wheels through 10-speed automatic gearbox.
PERFORMANCE: Top speed 146mph. 0-62mph in 5.7 secs.
ECONOMY: City: 20.6mpg.
Country: 40.4mpg.
Combined: 29.7mpg.
Wheel World test average: 27.6mpg
CO2 EMISSIONS: 211g/km.
FUEL TANK: 59 litres.
PRICE: £41,745
WARRANTY: 3 years/60,000 miles
WEBSITE: www.ford.co.uk
• All data correct at time of publication.