Peugeot 3008 HYbrid4 Allure review and road test report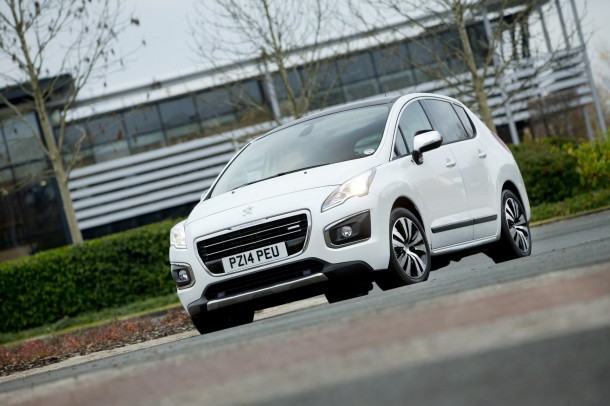 Peugeot 3008 HYbrid4 Allure review and road test report. KEITH WARD reports on an automotive ground-breaker.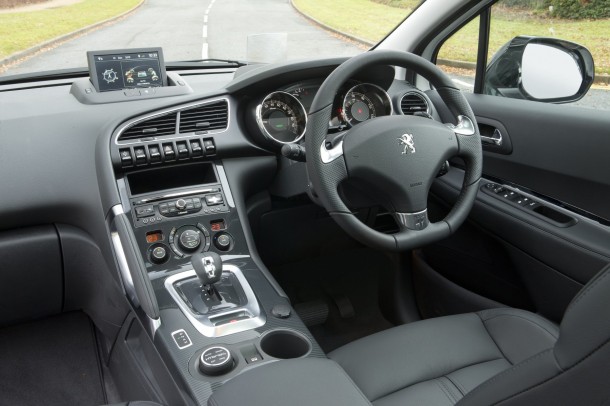 THIS particular version of the Peugeot 3008 Crossover was billed on its introduction nearly three years ago as the world's first diesel electric hybrid car.  It impressed then, with its punchy performance, a 70-plus official mpg rating, free annual tax disc and selectable four-wheel-drive. Those virtues remain.
There are still anti-factors – mainly a hefty purchase price more easily borne by the perk-rich business user, accounting for two-thirds of sales,  than the private buyer – but this automotive ground-breaker still commands consideration, and has gone on to account for 10 per cent of global sales of the 3008.
For 2014 all versions of the 3008 are restyled, with a new nose, grille and light clusters front and rear, and enhanced trim at each of the two levels offered.
Allure for £1,000 extra over Active brings colour screen navigation, colour head-up display, better interior trim (but leather, heated seats and driver's electric seat still a £1,050 option), flat-folding front passenger seat with picnic table, front parking aid, bigger 17-inch alloys and a ticket to further options at extra cost, including Peugeot's impressive panoramic glass sunroof (£400) The Hybrid4 Allure at a lofty £28,245 tops a 17-strong range.  It combines a reputable 2.0-litre, 163 bhp  diesel engine driving the front wheels and a 37 bhp electric motor with its own battery pack acting on the rear.
You start on electric power. At ignition switch-on there's a barely audible hum, akin to that from a household fridge, accompanied by the swing of a needle on the circular power gauge on the dash before you and the glow of a message: zero emissions.
That will remain until the diesel kicks in. But even that is rated at a tax-friendly 99 g/km (the Active trim version at only 88 g/km).
Alongside the central gearstick for the six-speed robotised box is a circular selector, Range Rover style. It offers four settings: automatic and impressively smooth linking of the front-mounted diesel engine and rear electric motor; sport mode favouring quicker gear changes at higher engine speeds; ZEV or all-electric mode for low-speed city driving, with the engine cutting in only when called upon to recharge the battery – usually after about two miles, so your electric-only motoring is limited.  Fourthly, 4WD with the rear wheels driven by the electric motor and the front by the diesel engine.  All this works smoothly.
The hybrid's electrics help to add 182 kg weight, without incidentally detracting from the car's handling, and they take up some boot space, which remains generous but you lose the triple-level floor of the non-hybrid 3008.
Given the performance figures, our overall average of 48.6 mpg might be pleasing from standard diesel power, but way below the official combined rating of 74.3 mpg for this hybrid electric. Your consolation is you are doing your bit for the environment.
Rating:





THE VITAL STATISTICS
Model: Peugeot 3008 HYbrid4 Allure
Body: 5-door Crossover; 5-seat; length 4,365 mm; width 1,837; ht 1,639; 1,808 kg
Boot: Length 810 to 1,450 mm; width 1,010 mm; volume 354 to 1,435 itres
Engine: 2.0-litre front turbo diesel plus rear electric motor; 6-speed manual electronic box; stop-start; selectable 4WD
Power: 120 bhp @ 3,750 rpm (diesel); 37 bhp/27 kW @ 2,500 rpm (elec motor)
Torque: 300 Nm @ 2,000 rpm (diesel); 200 Nm @ 1,290 rpm (elec motor)
Pace: 118 mph; 0-62 in 8.5 secs
MPG: On test 48.6; official combined 74.3 mpg; tank 60 litres
CO2: 99 g/km;  tax band A;  BIK 11%
Warranty: 36 mths;
PRICE: £28,245