New Mazda3 range is contender for "best in class"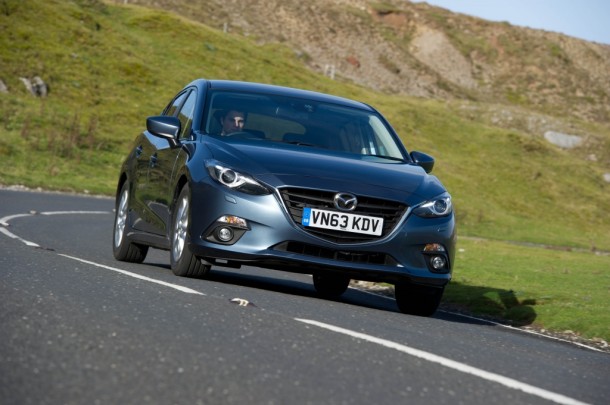 ROAD TEST REPORT AND REVIEW: Important new Mazda3 with its clever Skyactiv technology ticks all the right boxes and DAVID HOOPER  says new model is a contender for best in class.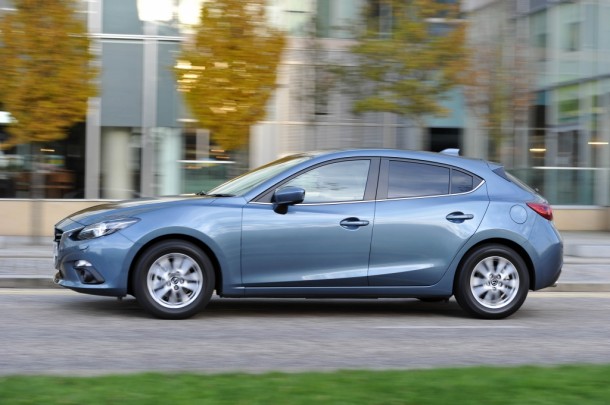 NEW cars don't get much more important than this new model is to Mazda. The Japanese manufacturer had to get it right, and having just driven the new range ahead of its January on sale date in a wintry Scotland, I can tell you, that with their new Mazda3, they have.
Competitively priced, from £16,695 to £23,345 on the road, high standard equipment levels and clever Internet integration solutions all add to the appeal of the new 36-model range made up of 21 hatchbacks and 15 Fastbacks, or four-door saloons.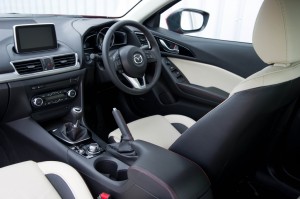 The range is driven by Mazda's Skyactiv technology, an all-encompassing name which covers the design of the chassis right through to the engines, but it's the engines where your attention should really be focused.
With old product lines, Mazda's sales fell away quite seriously a few years ago, but with the arrival of new models like the Mazda6 and CX-5, both of which employ the Skyactiv technology, all the indicators are that the company is back on an upward path, and the the manufacturer is expecting the new Mazda3 to accelerate them along that path, with sales being split 75% retail and 25% fleet customers.
New-look dealerships are being rolled out across the country, but the company still has some work to do to increase the awareness and understanding of the Skyactiv concept among potential customers.
Mazda, who brought us an updated version of the Wankel rotary engine in its RX-8 a few years ago, is no stranger to defying convention, and with Skyactiv the company's engineers have done it again. They have basically reengineered the internal combustion engine, reducing friction, redesigning the heads of each piston, increasing combustion pressures, reducing emissions and boosting economy in both petrol and diesel powerplants. There's much more to it than that, but what Mazda has achieved is quite remarkable in that they have avoided the need to go for smaller capacity engines in the search for better economy and lower emissions as most manufacturers have done. Instead, they have retained "proper" capacity engines, 1.5 and 2.0-litre petrols, and a 2.2-litre diesel with all the power and torque benefits they bring, yet can still achieve mpg figures in excess of 72.4mpg and C02 figures as low as 104g/km. An automatic gearbox is available with each engine.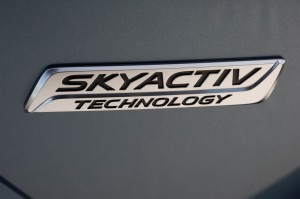 The 1.5-litre engine develops 100PS and 150Nm torque, while the 2.0-litre petrol offers two power outputs, 120PS and 210Nm torque, or 165PS and 210Nm torque, while the 2.2-litre diesel offers 150PS and 380Nm torque.
Mazda's growing customer base can choose from five equipment levels, SE, SE Nav, SE-L, SE-L Nav and Sport, but there is a good base level of equipment across the range which includes Smart City Brake Support, Secondary Collision Reduction, alloy wheels, air conditioning, USB/iPod connectivity and Bluetooth hands-free system as standard. Also included is a seven-inch colour touch screen in the middle of the dash which replaces the much-criticised small offering from previous models.
The Kodo design of the Mazda3, which means Soul of Motion, follows the lead set by the Mazda6 and CX-5, which is proving very popular with customers. The concept works well in the new Mazda3 too, giving the car considerable road presence and stand-out appeal. It looks good from all angles.
Open the door, and the interior will also impress with its clean lines and classy ambience. Soft touch plastics are employed on the dash facings and where leather is used, there is contrasting stitching.
There is also an Active Driving Display, or a small heads-up screen to you and me, which conveys key information and sat-nav graphics at eye level.
During the launch, I drove the two-litre petrol and the 2.2-litre diesel. Both models impressed greatly with accurate steering that gave near-perfect feedback, a well-damped comfortable suspension set up and precise handling, even in some quite challenging road conditions which included slushy snow on some stretches.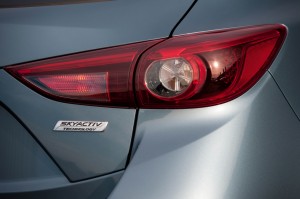 The cars cruise fairly quietly at speed, provide good visibility and enough room in the back to accommodate six-footers all round. Boot space is also competitive for this class.
The Mazda3 has certainly retained the brand's fun-to-drive character, and the manual gearbox is precise and a pleasure to operate. We also tried the automatic gearbox, which has paddles on the steering wheel which had a particularly good quality feel to them and made the auto version more involving to drive quickly.
The 2.0-litre Skyactiv-G petrol engine with the six-speed manual gearbox we tested, has a C02 emissions figure of 119g/km, a 0-62mph time of 8.9 seconds and a top speed of 122mph, with a combined mpg figure of 55.4.
The 2.2-litre Skyactiv-D diesel engine, again with the six-speed manual gearbox, has a C02 emissions figure of 107g/km, a 0-62mph time of 8.1 seconds and a top speed of 130mph, with a combined mpg figure of 68.9.
Benefit in Kind figures range from 15-20% depending on model.
There are more exciting technologies to come from Mazda in the future, which will include brake energy regeneration, and Electric Drive which will add a hybrid model to the range.
The new model's four-star Ncap crash test rating is disappointing however.
That aside, the new Mazda3 is a huge step forward on the previous model in my opinion and is a contender for best in class – but don't take my word for it – go and drive one yourself!
CLICK HERE and "Like" our Facebook page for regular updates and follow us on Twitter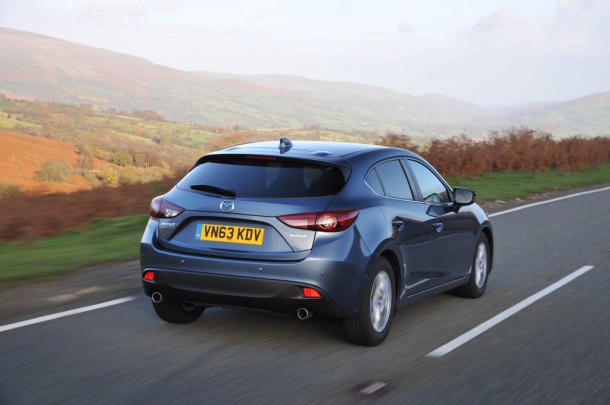 Rating:






THE VITAL STATISTICS
MODEL: Mazda3
BODY STYLES: 5-door Hatchback and four-door Fastback.
ENGINES: 1.5, 2.0 petrol, 2.2 diesel.
TRIM GRADES: SE, SE Nav, SE-L, SE-L Nav and Sport,
PRICES: From £16,695 to £23,345
IN THE SHOWROOM: Now
WEBSITE: www.mazda.co.uk
• All data correct at time of publishing.