MX-5 is a sporting cracker – whatever the weather!
ROAD TEST AND REVIEW: MAZDA MX-5
As Mazda's MX-5 comes of age this year, wheelworldreviews editor DAVID HOOPER explains why this little two-seater has become the world's favourite sports car.
I KNOW it's hard to believe, but Mazda's MX-5 is celebrating its 21st birthday this year. It makes you feel old, doesn't it? But what a great 21 years it has been!
Since it first went on sale in 1989, over 900,000 cars have been produced, making it officially the world's best-selling sports car, as recorded by a Guinness world record, but that is just one of the many prestigious accolades the ever-popular little sports car has earned from its legions of fans all over the planet.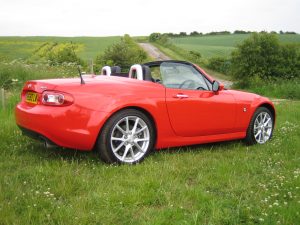 Today, its recipe for success is undiminished and it remains a big seller for Mazda, especially in the UK which, thanks to its temperate climate, is the biggest market in Europe for convertible cars, so there's little doubt in my mind that Mazda will soon be celebrating the 1-million milestone.
A modern classic, the MX-5 has a huge enthusiast following, with numerous owners clubs, and several race series around the world devoted to the little two-seater, including the UK, where there is a strong and closely contested MX-5 championship.
Mazda UK is currently running a two-car team in the Britcar championship, and getting some impressive results against much more powerful competition in long-distance endurance racing, thanks to the MX-5's almost bullet-proof build quality. I have been lucky enough to compete in some of those events myself, in cars which, apart from the racing necessities of safety equipment, brakes and tyres, feature standard engines and gearboxes, so am well placed to vouch for the car's driveability and excellent handling characteristics.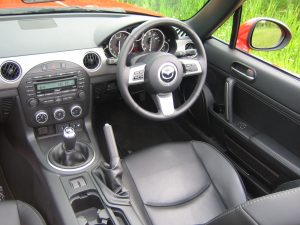 Earlier this year Mazda took it to the extremes when they took 20 cars and 126 drivers ice racing in Sweden on a frozen lake in -30 degree temperatures. The cars took the near-Arctic conditions in their stride in a four-hour race, with very few mechanical problems. I was part of the UK team, so visit wheelworldreviews.co.uk to catch up with the full story.
As much fun to drive today as it has always been, the MX-5 is a great little car and I thoroughly enjoyed my few days at the wheel of one of the latest models, the roadster, with its cleverly-designed folding hard top. Dropping the roof is a quick and easy process – all you have to do is release a catch on the header rail at the top of the windscreen and press a button. The two-piece roof almost throws itself into a space behind the seats, and away you go. Of course, there is still a soft-top if you prefer, but the hard top roadster models are becoming increasingly popular due to their year-round comfort and security advantages. They are also a bit quieter when the roof is up.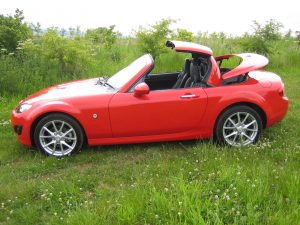 There is nothing fancy about the MX-5, it's a proper sports car, but the instrumentation is clear, and everything you need is there, such as electric windows and mirrors, air conditioning, a good stereo which now has Bluetooth and MP3 connectivity, cruise control, perfectly weighted power steering, and in the car I tested, electrically heated leather seats.
The driving position is superb and long journeys are no problem thanks to comfortable seats. The boot is big enough for a bit of shopping, or weekend luggage. Fire up the engine and it makes a lovely noise, which gets better to the point of becoming addictive as you open the throttle on your favourite bit of country road.
Buyers have a choice of 1.8 or 2.0-litre engines and a Powershift automatic gearbox on some models. I've been testing the 2.0-litre engine, which gives a 0-62mph time of 7.9 seconds, so it's quick enough to be fun in just about every situation.
The car handles beautifully, and I know from my circuit racing exploits that it is quite forgiving when you reach the limits of adhesion – 90mph sideways with my wheels hanging off the edge of Snetterton in an almost under control drift proved that!
At somewhat more sensible speeds and lower heart rates, there is plenty of grip, well controlled body roll into corners and reliable braking on offer in what is truly a brilliant little car – and with prices starting at less than £18,000 for the soft top and £20,000 for the Roadster Coupe, it is affordably priced, too.
The MX-5 is as popular as ever, and deservedly so. It's one of those cars that puts a smile on your face every time you drive it and makes motoring a pleasure again.
Rating:






THE VITAL STATISTICS
MODEL: MAZDA MX-5 ROADSTER COUPE 2.0i Sport Tech.
MX-5 RANGE: From 1.8i SE 2dr soft top (£17,990) 2.0i Sport Tech PowerShift 2dr (£23,225).
ENGINE: 1999cc, 160bhp four-cylinder engine, driving front wheels through 6-speed manual gearbox.
PERFORMANCE: Top speed 136mph. 0-62mph in 7.9 secs.
ECONOMY: City: 25.4mpg.
Country: 45.6mpg.
Combined: 35.3mpg.
Fuel tank: 45 litres.
CO2 EMISSIONS: 181g/km.
INSURANCE: Group 26.
PRICE: £23,055.
WARRANTY: 3 years/60,000 miles.
WEBSITE: www.mazda.co.uk
• All data correct at time of publication.
CLICK HERE and "Like" our Facebook page:
http://www.facebook.com/pages/wheelworldreviewscouk-All-the-latest-motoring-news-and-reviews/124218357637579