Fat Boy – a big bike for big blokes who love Harleys
While its name may be a bit too close to home for comfort,  wheelworldreviews editor DAVID HOOPER says Harley-Davidson's Fat Boy Special is an endearingly comfortable cruiser.
THERE'S something about the name "Fat Boy" that I find slightly uncomfortable – perhaps it's because it conjures up images of rather large Americans – or perhaps it's because it reminds me of my own ongoing battle with the dreaded middle-aged spread!
Unlike pedal cycling, sitting on a motorcycle does little to help fight the flab, but manoeuvring this rather Special bike, will certainly help your muscle tone. It's just so heavy! Tipping the scales 313kg dry, this machine certainly qualifies for the heavyweight class. In the end I gave up trying to push it onto my drive, which has a very slight, almost imperceptible incline, instead preferring to ride the bike on, and roll it off backwards.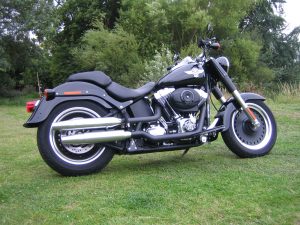 Once the bike is moving though, its weight just vanishes and it is very comfortable and easy to ride, and certainly commands a considerable amount of respect from other motorists who can hardly fail to notice your presence, with its signature Harley V-twin soundtrack booming from its car-sized 1.6-litre engine and twin exhausts. Its engine isn't the only thing that is car sized – at £15,795, so is its price! It is certainly a lot of money for bike.
The Fat Boy Special is part of Harley's Softail range which gets its name from the fact that the rear suspension is hidden from view.
Designed and built in Milwaukee, Wisconsin, in the US of A, Harley describe it as having a timeless, classic look, and I have to agree. It's a lovely looking machine, and I liked the old-fashioned Harley-Davidson badge on the side of the tank.
Built on a Denim Black frame and trimmed with attractive satin chrome accents, there is a lot less shiny chrome than you will find on some Harleys, even after I'd got caught in a shower or two and got some unintentional wet riding in, the bike still looked reasonably presentable – something that you probably wouldn't be able to say about some of its gleaming, highly-polished sisters.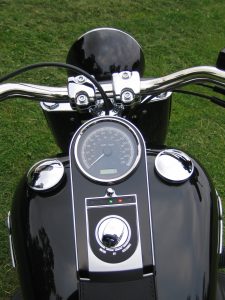 I liked its 17in Bullet Hole Disc Cast Aluminium wheels, too – although they did cause a bit of headscratching when I tried to put a heavyweight bike chain through the wheel – it wouldn't fit! Fortunately, Harley-Davidson fit a proximity alarm to the bike as standard, which activates as you walk away and lets you know it is armed by flashing its indicators. There are is also a steering lock on the front forks, and an ignition lock, so there's ample built-in security.
There is a choice of colours too, as well as the Vivid Black model I've been riding, you can also have the bike in Brilliant Silver Pearl, Black Denim and Big Blue Pearl.
I found the Fat Boy Special very comfortable to ride. With a low seat height of just 680mm, smaller riders would have no trouble touching down either side of the bike – if they could cope with its weight, but after spending some time with it, it does get easier to manoeuvre. Your feet sit on half-moon black rider footboards slightly in front of you, your left foot poised over a gear selector which makes a satisfyingly mechanical clunk every time you select first gear from neutral, while your right foot has the rear brake pedal to look after, which is bigger than the brake pedal in most cars I test!

A reassuring safety feature, especially on wet roads, is the standard ABS system, which prevents the wheels from locking under firm braking. I know some bikers don't like ABS, but in my book, anything that helps to keep you upright and out of trouble is worth having. Fortunately, I didn't need to use it in anger during my 550 miles in the saddle of this bike, but I did detect the system preventing the back wheel from locking once as I braked firmly for a tight corner.
The speedometer is mounted on the large fuel tank, below which is a light panel which shows the indicator repeaters and the green neutral light, but when I was riding I couldn't see it without consciously looking down. I relied instead on the reflection of the indicators on the shiny black headlight casing.
The indicators featured Harley-Davidson's self-cancelling system, which is another good safety measure I think more manufacturers should adopt. It's a regular occurrence to see bikers travelling along a straight piece of road having forgotten to switch off their indicators, and an obvious danger to themselves and other motorists who could, quite reasonably, assume they were about to make a turn and pull out in front of them. On the subject of mishaps, this Harley even has its own hazard warning lights which can be activated by a switch.
The digital display on the speedometer shows the bike's total mileage, as well as two trip meters, and a useful fuel range indicator which supplements the traditional fuel gauge opposite the fuel filler on the tank itself. It counts down in miles how far you can go before you have to fill up. I tested it more than I intended to when I dropped down to 10 miles to empty, at which point it displayed a Low Range message, reminding me to refuel – not that I needed it!
While this big Harley, with its 1584cc air-cooled Twin Cam 96B engine is unlikely to trouble many superbikes in a sprint from the lights, it is actually no slouch. Twist the throttle wi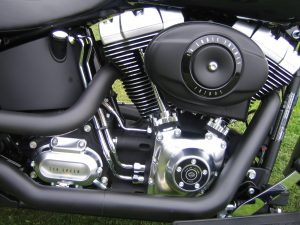 de open to the stop in third and fourth, and it pulls strongly, which makes overtaking slower traffic quick and safe, but at speeds much above 60mph, the wind blast becomes more noticeable, and at motorway speeds, I began to feel like a sail and found myself hanging on ever more tightly as the effects of not having any kind of fairing become more obvious.
With a large 19.7-litre fuel tank, the bike has a good range, which means a day's riding can be enjoyed without having to make regular trips to a garage to top up with fuel. A useful top gear indicator, a green number 6 on the speedo which illuminates when sixth gear is selected, is a helpful reminder to maximise your economy. You get used to looking for it when you're cruising along.
The Fat Boy Special is long and low, and the turning circle isn't brilliant, but after a bit of practise, I did find myself managing feet-up U-turns in a reasonably tight space, which I was quite pleased with myself for. It's just nice to know you still can!
If you want a bike that makes sure you are heard, as well as seen, Harley-Davidson's Fat Boy Special could be the bike for you, and with less time needed to keep it looking smart, there's more time to enjoy doing what it was created to do – go cruising.
Rating:





THE VITAL STATISTICS
Model: Harley Davidson Fat Boy Special.
Engine: 1584cc air-cooled Twin Cam 96B.
Engine Torque: 125 Nm/92 lbs ft @ 3500 rpm
Transmission: 6-speed.
Dry Weight: 313kg.
Seat height: 680mm.
Fuel tank: 19.7 litres.
Price: From £15,795.
Website: www.harley-davidson.com
CLICK HERE and "Like" our Facebook page:
http://www.facebook.com/pages/wheelworldreviewscouk-All-the-latest-motoring-news-and-reviews/124218357637579