Vauxhall's Insignia VXR makes all the right noises
VAUXHALL INSIGNIA VXR ROAD TEST
With space for five and performance to spare, editor DAVID HOOPER, says the Insignia VXR is fast, capable and very involving.
EVERYTHING about Vauxhall's mighty VXR is big, from the enormous 20in alloys, to the huge body of the Insignia, to its hot-hatch worrying performance figures – this is one car which can't fail to make an impression.
Turn the key and its powerful 2.8-litre V6 engine bursts into life, making a lovely burbly noise from the twin exhausts at the back, which rattled my garage door on more than one morning recently.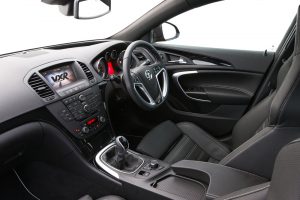 With 325PS and 435Nm of torque on tap, performance is never going to be an issue. It will blast from rest to 62mph in 5.9 seconds – that's more than quick enough to worry some supercars costing multiples of Vauxhall's asking price for this car, which after all, is a sensible family hatchback which will seat five on leather perches, and carry their luggage in the car's enormous boot.
The top speed is limited to 155mph, great for blasting down the Autobahns in Germany, but with all that torque available, it's the VXR's mid-range punch which impresses when unleash just some of it to overtake slow-moving A-road traffic. It's effortlessly simple – and very enjoyable too, especially when the twin exhausts make themselves heard.
Drive it gently however, as I did on a couple of motorway trips and you will be surprised at just how economical this beast of a car can be. I achieved an average fuel consumption of 39mpg on a steady run at 60mph, using the car's cruise control as much as possible.
On the flip side, unlock the VXR's performance potential and the instantaneous read-out can make disturbing reading, dropping well into single figures.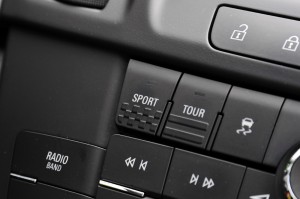 I wondered what the ride quality would be like with such large wheels and ribbons of rubber which qualify as tyres, but was pleasantly surprised. Vauxhall's engineers have got the balance just about right. It is a refined car to travel in, yet thanks to Sport, or VXR buttons on the dash, it can be stiffened up at the push of a button when a sporting mood takes you.
To be honest, I prefer the standard setting which is by far the most compliant. The other two tend to make the car feel a bit harsh and jittery, but they do sharpen up the throttle reponses and change the way the auto gearbox works. Engage the VXR button for warp drive and the dashboard lighting changes to a racing red glow, instead of the standard white illumination.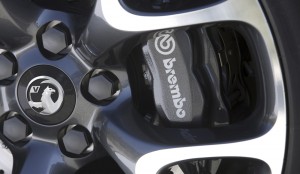 Gear changes can be left to the car, or controlled by the driver via paddles on the back of the steering wheel, but that could mean you have plenty to think about if you to take your VXR on a track for the day, where you would then be able to monitor your progress with the inbuilt lap timer which is a fun touch for the enthusiast.
The sporty Recaro seats are superbly supportive and comfortable, and the car's interior is well put together, and loaded with all the luxuries you would expect in a top of the range model.
This is a a big car and while its handling may not be in Porsche territory, but it is highly competent as a performance car. It's impressively frugal if driven gently and ticks most of the boxes, but paying £425 a year for a tax disc, and the prospect of making regular visits to the petrol station, could understandably put some people off. And that would be a shame, because those people would be missing a real treat!
Rating:






THE VITAL STATISTICS
MODEL: Vauxhall Insignia VXR Auto.
VAUXHALL INSIGNIA RANGE: From Exclusiv 1.8i 4dr (£19,815) to VXR 2.8 V6 Turbo Auto 5dr (£35,090).
ENGINE: 2,792cc, 325PS V6 engine, driving front wheels through 6-speed automatic gearbox.
PERFORMANCE: Top speed 150mph. 0-62mph in 5.9 secs.
ECONOMY: City: 17.5mpg.
Country: 37.7mpg.
Combined: 26.4mpg.
Fuel tank: 70 litres.
CO2 EMISSIONS: 251g/km.
INSURANCE: Group 36.
PRICE: £35,090.
WARRANTY: Vauxhall's Lifetime 100,000 mile warranty (subject to conditions).
WEBSITE: www.vauxhall.co.uk
• All data correct at time of publication.