Ford Focus EcoBoost has the power to impress
ROAD TEST AND REVIEW: FORD FOCUS ECOBOOST
Driving a Ford Focus packed with the latest technology, wheelworldreviews editor DAVID HOOPER marvels at an engine which punches above its weight, and some rather clever gadgets!
FORD'S new Focus has been on sale since March this year, and when I first drove the car in Spain on its international launch, I was immediately impressed.
I was not alone – the car was very well received by most of the motoring media, but the only way to really get to know a car is to live with it for a while.
Due to a series of changing circumstances I won't bore you with, I ended up living with this week's test car for longer than expected and covered a lot of miles in it, criss-crossing the country. Spending this time with the car has only served  to reinforce my highly favourable first impressions of the Focus, which has recently seen the new estate model join the range.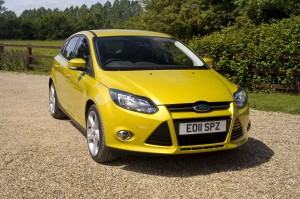 There more good news too – despite Ford's initial non-commitment, hot hatch enthusiasts will be pleased to know that a new ST version is now confirmed and is currently under development, as is the obligatory frugal EcoNetic model.
The Focus I have been driving is powered by the new 1.6 EcoBoost engine – which wasn't available at launch in the UK, but has impressed me greatly.
The 1.6-litre petrol and diesel engines, according to Ford's product marketing manager Steve Humbles, have proved the most popular with buyers so far. I wasn't surprised to hear that having briefly sampled them both during the Spanish launch, but having spent a considerable time piloting this EcoBoost powered Focus in all types of road conditions, it really is an obvious choice.
Its performance belies its relatively small capacity. The 0-62mph spring is despatched in just 8.6 seconds, while the potential top speed is a respectable 130mph. As always, those figures are only part of the story. The mid-range punch, especially if you stir its precise six-speed manual gearbox, could easily convince you that you are actually driving a 2.0-litre engined car.

It responds eagerly to the throttle and with safe, predictable handling it is a good car to drive. Its handling is good enough to keep an enthusiastic driver happy, yet it is comfortable for pottering around town and doing the school run, cushioning even the worst of the potholes.
The Candy Yellow colour scheme may not be everyone's first choice, but it's a new tri-coat paint colour, along with Candy Red, which are available as a £745 option.
My test car was "fully loaded", as our American cousins would say. It was fitted with the Driver Assistance Pack which costs £750, but gives you all sorts of clever toys. It senses if you wander out of your lane and actually applies torque to the steering wheel to keep you on track, which is really strange to see happen – who says cars can't drive themselves? It will brake for you if you are about to crash into the vehicle in front, recognises traffic signs and displays them on your dashboard warns  you if you start to get drowsy, has a system to monitor your blind spots in your mirrors and will even switch your main beam headlights on and off as traffic approaches.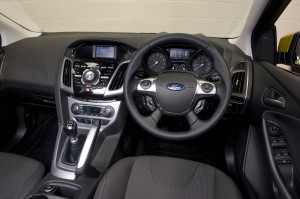 For £525 you get the Convenience Pack, which gives you parking sensors and powerfolding mirrors, but best of all, Active Park Assist, which will actually measure a parking space, and steer the car into it for you. Every time I test/demonstrated it to my amazed passengers, it worked perfectly. It's a brilliant gadget for the spatially challenged.
Although I've seen it working on several different cars now, I still haven't got over seeing the steering wheel twirling away all by itself as the driver sits with their arms folded, just working the pedals. The Ford system seemed to be able to with some fairly tight spaces too.
The new Ford Focus is an excellent car, and having lived with one for longer than usual I realised one thing – I could quite happily live with one, although for practicality, I would probably go for the estate version, which is on sale now.
Rating:





THE VITAL STATISTICS
MODEL: Ford Focus Titanium 1.6 EcoBoost 150PS.
FORD FOCUS RANGE: From Edge 1.6 TI-VC 5dr (£16,000) to Titanium X 2.0 TDCi Powershift 5dr (£24,000).
ENGINE: 1.6-litre, 150PS four-cylinder engine, driving front wheels through 6-speed manual gearbox.
PERFORMANCE: Top speed 130mph. 0-62mph in 8.6 secs.
ECONOMY: City: 36.7mpg.
Country: 56.5mpg.
Combined: 47.1mpg.
Fuel tank: 55 litres.
CO2 EMISSIONS: 139g/km.
INSURANCE: Group 19.
PRICE: £19,745.
WARRANTY: 3 years/60,000 miles.
WEBSITE: www.ford.co.uk
• All data correct at time of publication.
CLICK HERE and "Like" our Facebook page:
http://www.facebook.com/pages/wheelworldreviewscouk-All-the-latest-motoring-news-and-reviews/124218357637579