Mazda6 Estate is a practical all-rounder with bags of space
ROAD TEST AND REVIEW: MAZDA6 ESTATE
With an appealing mix of performance, styling and economy, editor DAVID HOOPER says the Mazda6 estate is a better car than the sum of its parts.
OVER the last few years, the Mazda6 has evolved into the very attractive car we see today. With a beautifully sculpted front end, the big Six is certainly something of an eye-catcher.
I hadn't driven the estate version until this week's test car arrived, and I have to say I was pleasantly surprised.
I knew it would be good to drive, that's a virtual certainty from the Zoom-Zoom manufacturer, but it was the almost perfect mix of performance and economy which impressed the most, and the "way" the car drives.
It cruises very quietly on the motorway with far less road noise penetrating the cabin than you get in some other models, and there is almost no wind noise to be heard around the mirrors.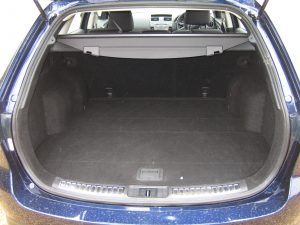 The car feels very surefooted, even when you start to make the chassis earn its keep on your favourite cross-country sprint. The response from the steering is accurate, and there is just the right amount of feedback to the driver to let you know what is happening at the sharp end, the power assistance is almost perfect – far too many of its rivals are a bit on the woolly side, but not the Mazda6 Estate.
The 2.2-litre engine is an impressive piece of kit too. It's a smooth engine, and most of the time, you are unaware that you are driving a diesel once the car is on the move.
With 163PS on tap, it also pulls strongly, making A-road overtakes a piece of cake, especially if you drop a gear or two, which isn't always necessary, depending on how much room you have. From a standing start, the benchmark 62mph is passed in just 9.2 seconds – not very far from hot-hatch territory, and there's a top speed of 131mph available.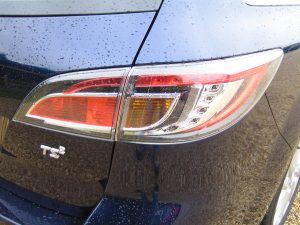 Yet despite this feisty performance, Mazda has still managed to eek out some impressive economy figures, with around 40mpg achievable on the urban cycle, which according to my time with the car seems to be about right, and a combined fuel consumption figure of 52.3mpg, which again, with careful economy-minded driving should be achievable in real-world conditions. During my test, the car actually achieved just over 43mpg on a trip which involved some fairly quick motorway and A-road driving, but I'm sure someone with a lighter right foot could have easily improved that figure.
Inside, the car is very comfortable to travel in, and in the mid-range TS2 model I tested, the equipment levels are good. It featured a voice activated phone system which can easily connect to a Bluetooth phone, a trip computer, climate control air conditioning, automatic headlights and wipers, and an auto-dimming rear view mirror, as well as the usual electric windows, mirrors, cruise control and so on.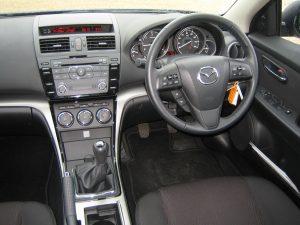 Parking sensors fore and aft were also a useful addition when I had to squeeze the car into a tight parking space on one occasion, enabling me to fit the car into a spot I might not have attempted without otherwise sending one of my passengers out to help. A tight manoeuvre did reveal one snag which I didn't like – the position of the handbrake, which in the right hand drive car was located on the left side of the centre console, next to the passenger, which gives the driver a couple of cup holders for company. Clearly perfectly placed for left-hand drive models, it would be better if this was swopped round for the UK market. While I was squeezing into my tight parking space, on a slight incline, I "missed" the handbrake a couple of times, and had to search for it.
At the back of the car you get a substantial load area which will swallow all manner of kit. I liked the way the load cover lifts up as the tailgate opens for ease of access, saving the hassle of fiddling with a load cover which can be often be difficult to locate.
If you need more space, the rear seats, which split in a 60/40 configuration, can be folded down at the pull of a handle, thanks to Mazda's clever Karikuri seat folding system, to create a massive space on those occasions when it's needed.
Having spent a few days with the Mazda6, it's one of those cars I was sorry to hand back. It's better than the sum of its parts – its nicely proportioned, it drives superbly and it just feels right.
It is also very competitively priced and in my opinion, well worth a look if an estate car is on your shopping list.
Rating:





THE VITAL STATISTICS
MODEL: Mazda6 2.2D Estate TS2.
MAZDA 6 ESTATE RANGE: From 2.0 TS 5dr (£20,105) to 2.2 Sport Diesel 5dr (£24,330).
ENGINE: 2184cc, 163PS four-cylinder engine, driving front wheels through 6-speed manual gearbox.
PERFORMANCE: Top speed 131mph. 0-62mph in 9.2 secs.
ECONOMY: City: 40.9mpg.
Country: 62.8mpg.
Combined: 52.3mpg.
Fuel tank: 64 litres.
CO2 EMISSIONS: 143g/km.
INSURANCE: Group 24.
PRICE: £21,280.
WARRANTY: 3 years/60,000 miles.
WEBSITE: www.mazda.co.uk
• All data correct at time of publication.
CLICK HERE and "Like" our Facebook page:
http://www.facebook.com/pages/wheelworldreviewscouk-All-the-latest-motoring-news-and-reviews/124218357637579