Loaded with extras, smart Merc is two cars in one
ROAD TEST REPORT AND REVIEW: MERCEDES C250 CDI SPORT
With sporting good looks and loaded with extras, Motoring Journalist DAVID HOOPER, editor of wheelworldreviews.co.uk,  tries to unravel two cars rolled into one.
SOMETIMES, a car is just, well – right. From the moment you first sit behind the wheel, it wraps itself around you and everything looks and feels precisely as it should.
These were my first impressions when I took delivery of this rather smart C-Class, the latest example of the ever-popular model from Mercedes-Benz.
There are really two cars in one here – the standard car, and the one I've been testing. Let me explain. The standard car costs £32,020 on the road, but my test car, with all the optional extras, which is actually the car I would want and the subject of this review, costs £43,700. That's a colossal £11,680 more than the standard car. Indeed, for that money, you could buy the standard vehicle plus a nice second car, or enjoy an extended luxury holiday. It just goes to prove that when you are ordering a new car, you have to be mindful of just how many boxes on the optional extras list you actually tick.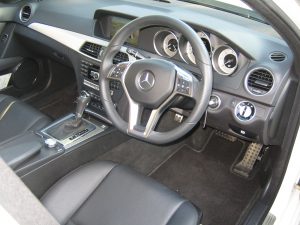 It's not just Mercedes which will try to tempt you with lots of goodies, most Audis and BMWs I test are loaded with cost options to similar values and it's fair to say that to a greater or lesser extent, all manufacturers want their customers to order as many upgrades as they can persuade them to have, and who can blame them. Just make sure you can afford the final bill before you sign on the dotted line.
What, then, do you actually get for your money? The standard car is hardly basic. These very smart 18in AMG alloy wheels are standard on the Sport model, as is the AMG bodystyling, floor mats, gear shift lever and sports steering wheel. Sports suspension which is lowered by 15mm from standard, and an agility suspension system provides a very comfortable ride and impressively agile handling. You also get climate control, Bluetooth connectivity and plenty of airbags.
The optional extras however, get you all sorts of exciting extras. My favourite was the Harman Kardon hi-fi system, which was superb. My 17-year-old son was also impressed, and there was more than one argument about who was picking the music! The clarity is excellent, and if you weren't hard of hearing at the start of your journey, you may well be by the end of it! It's a £650 upgrade, but worth it in my book. I was less sure about paying £335 for a DAB radio tuner though.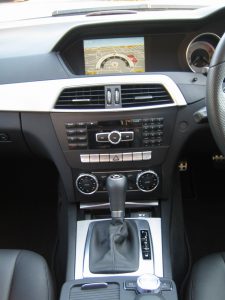 The most expensive option is the Command Online system at £1,995 which adds a 7in colour display, a 10-gig music register, MP3 compatibility, SD card slots, assorted connecting cables and so on. The navigation system with its excellent 3D map display was great for finding our way around Nottingham with its complicated one-way system when we took my son and his friends to see a Death Cab for Cutie gig at Rock City.
The leather upholstery looked very smart, but adds £1,350, while the silky-smooth 7-speed automatic gearbox with cruise control added another £1,500. For £500 you can have the dynamic handling pack, which adds a "Sport" button on the centre console. Press it and the throttle response becomes noticeably sharper and the suspension felt firmer.
The Driving Assistance Package, at £1,895, brings some more interesting toys to play with. Active Blind Spot Assist really does what it says on the tin. An orange triangle in the mirror lights up when a vehicle is in your blindspot. Active Lane Keeping Assist makes the steering wheel vibrate gently three times if you stray out of your lane, but my favourite, and the one which will amaze your friends, is the Distronic Plus system, which takes cruise control a stage further and actually maintains a set distance between you and the car in front.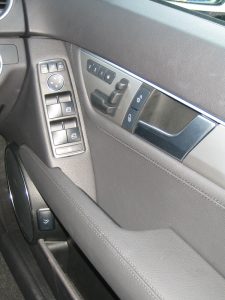 If the vehicle you are following slows down, or even stops, your car will do the same, without any intervention from you. It operates right down to a virtual halt before disengaging. It's impressive to see, and once the slower vehicle moves out of your way, the Merc will accelerate back up to its preset speed. It's very clever stuff, if a little difficult to trust entirely – my foot covered the brake pedal every time!
This C250 Sport is a lovely car to drive. It's comfortable, quick, and helped by the Start/Stop system impressively economical. During my test of just over 400 miles, it averaged 37.7mpg in typical mixed driving that included plenty of town, motorway and A-road work.
Beautifully put together, and great to drive, it's no wonder that the C-Class remains a hugely popular choice. There's still something rather special about the three-pointed star when you see it in the morning as you walk out of your house.
Rating:







THE VITAL STATISTICS
MODEL: Mercedes C250 CDI Sport.
MERCEDES C-CLASS RANGE: From 180 BlueEFFICIENCY SE 4dr (£25,525) to C63 AMG 4dr (£55,065).
ENGINE: 2,143cc, 204bhp four-cylinder engine, driving rear wheels through 7G-Tronic Plus automatic gearbox.
PERFORMANCE: Top speed 149mph. 0-62mph in 7.1 secs.
ECONOMY: City: 47.1mpg.
Country: 68.9mpg.
Combined: 58.9mpg.
Fuel tank: 67 litres.
CO2 EMISSIONS: 136g/km.
INSURANCE: Group 38.
PRICE: £32,020 (£43,700 as tested).
WARRANTY: 3 years/Unlimited mileage.
WEBSITE: www.mercedes-benz.co.uk
• All data correct at time of publication.