Mercedes Sprinter 4×4 gets you to where work is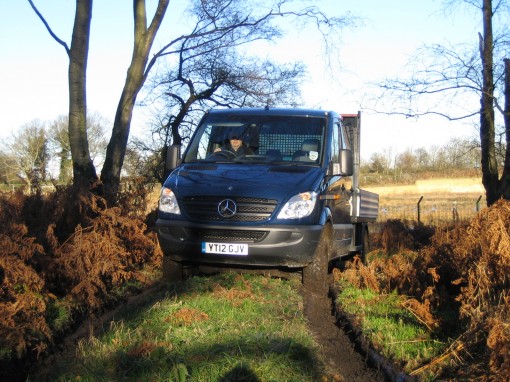 EVERYBODY knows that Mercedes-Benz builds rather nice cars. Some will know that they also make vans – but how many people will know that the German manufacturer makes four-wheel-drive vans and some of the best trucks you can buy?
A driving day in Yorkshire gave me the chance to try out some of the "Big Stuff" that is produced by Mercedes-Benz – and have a bit of fun in the process.
The Sprinter van, which comes in various lengths, is a familiar sight on our motorways, but its reliability and versatility means it is also valued by people who work in those hard-to-get-to areas, so the company now offers 4×4 versions of its trusty workhorse.
I went mud-plugging in the woods at the wheel of this Mercedes Sprinter 316 4×4 Crew Cab, able to take up to five people, and their kit loaded on the back, to some pretty inaccessible places that would defeat a lesser vehicle.
Powered by a 160bhp engine, it made light work of very rutted and slippery muddy conditions. It has a low-range gearbox which can be engaged by the flick of a switch and off it goes. Power is split between the front and rear axles 35/65 and is assisted by an Electronic Traction and Stability programme, similar to the systems you find in road cars.
This Sprinter 4×4 costs £30-£35,000, depending on its specification.
Have you read our other Big Stuff stories on the Unimog and the Mercedes-Benz Actros trucks?